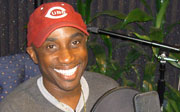 Prolific Bahamian hit song writer Kirk Bodie (KB) interviewed at Mackeymedia takes us into his humorous world of Bahamian Folklore in song

. Well loved by Bahamian and Caribbean audiences, KB is more than ready for the world. In this fun filled interview with Dave Mackey, listeners will also learn of KBs early beginnings performing in Boston, Rhode Island, New York, Connecticut and Nassau. KB also discusses his recent travels around the world with The Bahamas Ministry Of Tourism. As an added bonus, this interview explores the inspiration behind some of KBs numerous number one hit songs: "Just Cause She Fat", "The Stroke Man", "All de Meat", "Civil Servants", "Play by Myself", "Biggest Box in the World", "She want a Thug", "The Coo Coo Soup" and more. KB sheds light on his soon to be released song: "Calling all Crabs", and he explains the ancient indigenous practice of catching crabs

(a delicacy, especially when cooked in rice or boiled with dough and cassava).

Audio samples of KBs music will be uploaded for your enjoyment shortly. Email him at:
strokeman23@hotmail.com
Click on the Play button below to hear this entertaining interview with KB, a true island boy.
KB Interview (18:30)