From:TheBahamasWeekly.com


Video
Alexis 'Goodbye' Official Music Video
Jan 13, 2012 - 10:48:24 AM




Freeport, Bahamas - "GOODBYE" the new single from Bahamian recording artist Alexis. It is rare to find a video that captures the emotion of the song, but this one did. The story of being torn and being in love is displayed beautifully on camera .....

The music video was shot by FreeCityTV.com in Grand Bahama and features model, Drew Palacious.


Undeniably one of the hottest female artists ever to hail from The Bahamas, Alexis has been making waves on the national music scene since 2002 at the tender age of 17. Having shared stages with various music superstars such as Rick Ross, Jah Cure, Buju Banton, Trina, Mr. Vegas, Trick Daddy, Wayne Wonder and Naughty by Nature just to name a few, she has undoubtedly left her mark as a rising star that has only begun to shine. Much more than what some may call a "triple threat", Alexis has mastered it all. Over the years she has been widely known for her talents in not only singing, but dancing and acting for which she has won two national theater awards for as Best Featured and Best Lead actress, one of which was for her show stopping role as "Effie" in "Dreamgirls" a role made popular by singing sensation Jennifer Hudson and the other for her role in "Fame: The Musical."

Aside from her songwriting ability which she began to develop from age 9, along with her talent of violin and piano playing, her performances are known as unforgettable ones not to miss. In addition to that, the young talent has also designed clothing since 16 years old and she can be seen in many of her designs while performing on stage. In February 2004 Alexis got a call from a manager of a new radio station asking her if she would be interested in working as a on-air radio talent, which was a brand new task for her but she was completely up for the new challenge. She started as a full time personality on air six days a week. Since then, Alexis has become a household name for Bahamians. Her last hit "Gangsta Luv" featuring PURE GOLD ENTERTAINMENT'S front man Goldenchild, and produced by STP's Qilla Fang was one of Alexis' biggest hits to date catching the ears and hearts of many Bahamians who anxiously await in anticipation for her album release.

Now with her latest release "Goodbye", a love song that captures the highs and lows of being in a relationship that you just can't seem to let go of, she is well on her way to having yet another great hit song! With talent, beauty and drive that stretches farther than the Islands of her great Bahamaland, Alexis shows amazing ingenuity all while having a kind spirit and a loving personality that will definitely help propel her to the top. "Journey", Alexis' debut album will be released in March 2012.

"JOURNEY" the new album from Alexis drops in March ...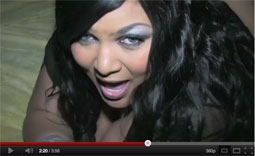 © Copyright 2012 by thebahamasweekly.com -