This Saturday, July 9th at 8am tune in to ArtOvation live on Star 106.5 FM
www.star106fm.com
This week is Michelle M. Miller of the Girls Leadership Coaching Club; and we'll have members of the BayFest Committee.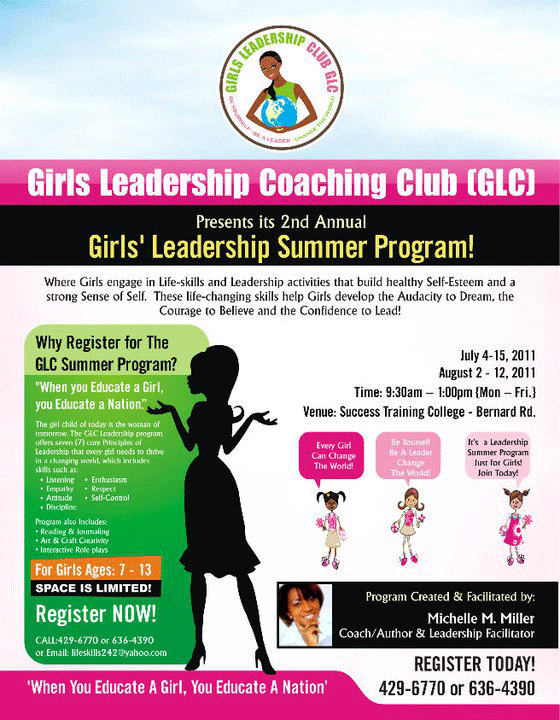 Michelle M. Miller
Michelle Miller was born and raised in Nassau, Bahamas. She has a wealth of knowledge and experience across a broad spectrum of life. Her personal journey as young caregiver for her mother and younger siblings has endorsed her belief in life's possibilities even in the midst of chaos and confusion. She has enjoyed a colorful twenty-three year career between the public and private arenas of Corporate Bahamas, where she was privileged to travel to many amazing destinations around the world. As an enthusiastic learner, Michelle completed several leadership, communication and behavioral modification programs, all of which serve to support her purpose as an Agent of Positive Change
She has published hundreds of articles, facilitated numerous seminars and she has appeared on many Radio and Television programs. Michelle is a certified Life-Coach, an Author, a Learning Facilitator and Founder of The Girls Leadership Coaching Club. She has written and published – Lifeskills242 Workbook and Teacher Guide, which is an interactive Life Skills Education Program designed to assist Teens in Building Confidence by "Putting the Pieces Together". This program has been assessed and accepted by the Ministry of Education for use in the Public Schools System and it is her hope to introduce the program to as many schools in The Bahamas as possible.
As the facilitator of many corporate and professional development training courses, Michelle recognized the myriad of emotional challenges affecting women in the workplace. She directed her efforts into developing an innovative, program to provide Life-skills Leadership Principles for Girls at a young age. In 2010, Michelle founded the Girls Leadership Coaching Club – an interactive Life-Skills Leadership Club that help Girls ages 7 – 14 develop – the Audacity to Dream – the Courage to Believe and the Confidence to Lead.
Michelle prides herself as a Leadership Communication specialist. She believes in the goodness of life and in the power of purposeful living. One of her core values is that we are each individually responsible for our life and collectively responsible for making this world a better place – we owe it to ourselves to make every moment count.
Facebook Page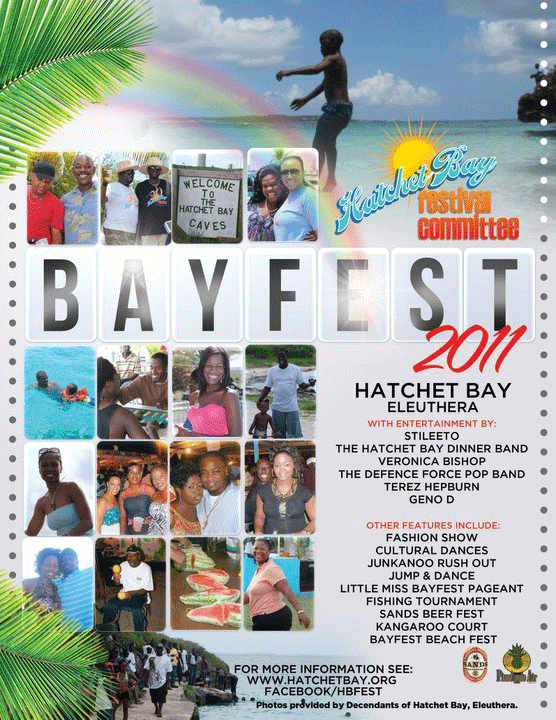 BAYFEST
July 28th to August 1st, 2011
The BayFest Committee will brings you the BIGGEST, BADDEST, BOLDEST and BEST BayFest EVER! This coming August Monday holiday will never be the same. HATCHET BAY ARE YOU READY?????
From Jump n' Dance to Plaiting the Maypole, Junkanoo Rush-outs and a Battle of the Bands to cultural dance shows, a beauty pageant, block parties and a beach bash to Krazy Sports and Kangaroo Court, there's fun for everyone at BayFest.
Bayfest 2011 will feature an exciting lineup of artists including: the Hatchet Bay Dinner Band, The Royal Bahamas Defence Force Pop Band, The Bahamas' "Queen of Calypso", Veronica Bishop, Stileet and Geno D. Other notable highlights include: the Bayfest Fishing Tournament which will take place at the newly constructed Pond Dock and a performance by The Spanish Wells Band.
In addition, Saturday night has been dubbed the "Thaddeus Paul Cultural Night", in tribute to our very own, beloved and most talented Baymen- Musician and Songwriter, Thaddeus Paul. Also this night will be hosted by the delightful and entertaining personalities of the Down Home Duo known as "Cuzzin Rob and Cuzzin Dee" straight from the Red Dirt Bottom of Hatchet Bay. The night promises to be one you most certainly don't want to miss and one that will have you jumping and dancing and rakin' and scrapin'.
Other features include: Jazz in the Park, Sands Beer Fest and so much more.
Forget all the rest and experience the BEST, BAYFEST 2011 BE THERE!

Website: