From:TheBahamasWeekly.com


Tyrina Talks Fashion
Bahamian Designer Dominates Mission Catwalk as 'Fan Favourite'
By Tyrina Neely
May 11, 2013 - 1:56:21 AM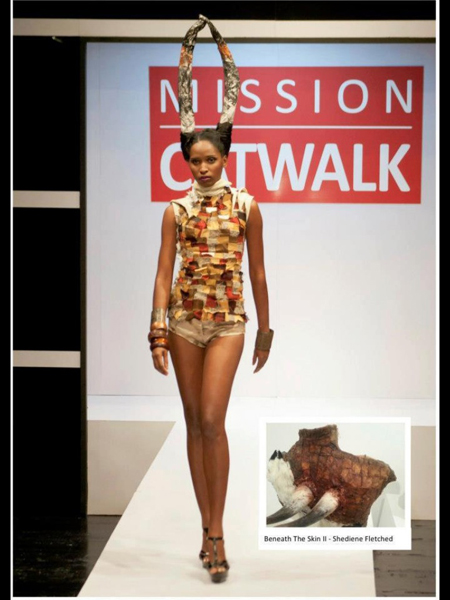 Elyett Secures Second Place with Art on the Runway Inspired Design – Mission Catwalk forerunner Theodore Elyett out-stitched eight designers to secure a second place finish in episode four which aired May 4. The challenge required all designers to use a selected work of art as inspiration for their original design. Elyett's design which featured a patchwork bodice and handmade headdress depicting cow horns drew inspiration from Beneath the Skin 1 & 2 – a two-part bust sculpture by Jamaican artist Shediene Fletched. The sculpture represented the artist's struggle to recover from a horrific car accident.


Nassau, Bahamas – Since capturing the attention of the judges as the challenge winner in the first episode of Mission Catwalk season three, Bahamian Designer Theodore Elyett has stolen the hearts of Mission Catwalk fans securing the coveted 'fan favourite' title for three consecutive weeks.

Elyett emerged as the winner of the popular Caribbean design competition's first challenge, wowing the judges with his interpretation of a look representing the Caribbean. His winning design was the first of the competition to retail at Lee's 5th Avenue in Jamaica, which carries reproduced looks of each week's winning design.

Following episode two, Elyett advanced as the week's 'fan favourite' securing an overwhelming 52% of the votes tabulated in Jamaica by Mission Catwalk sponsor Digicel. The Bahamian designer remains at the forefront of the competition as the show's 'fan favourite' for the third consecutive week securing 37% of the votes. Elyett placed second in episode four which aired May 4, dominating the runway with a risqué look complete with handmade horns in keeping with the challenge theme 'art on the runway'.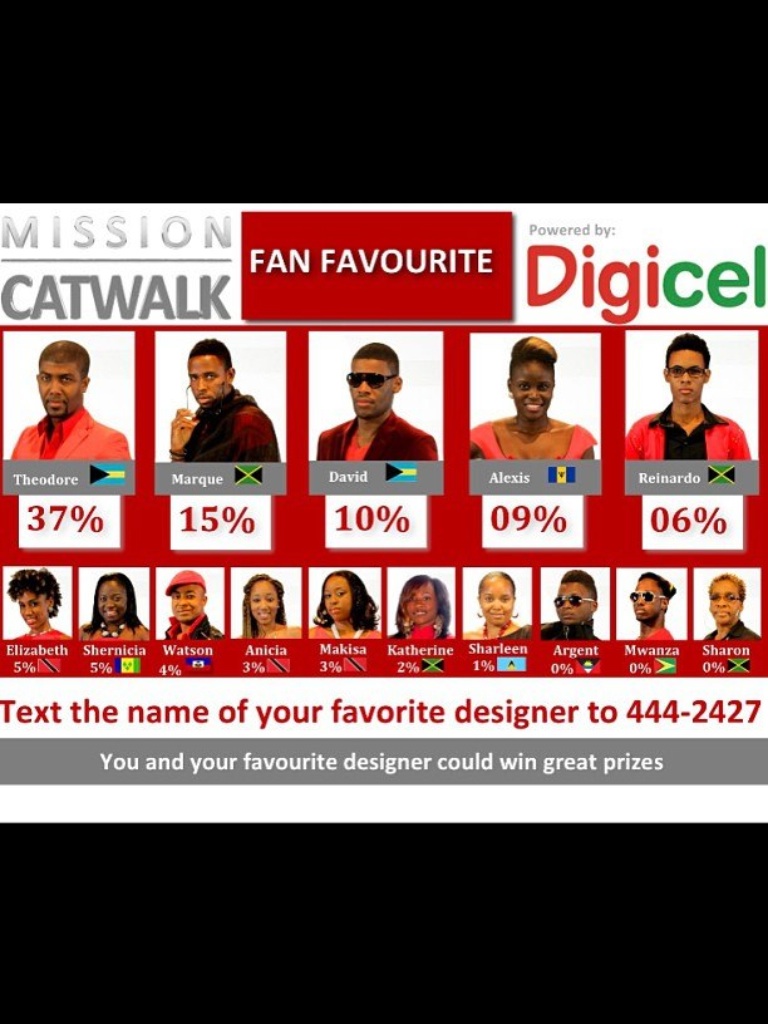 Thedore Elyett Emerges as Mission Catwalk 'Fan Favourite' - Theodore Elyett dominates Caribbean design competition Mission Catwalk as 'fan favourite' for third consecutive week capturing 37% of the votes following episode three. The 'fan favourite' title is tabulated weekly in Jamaica by Mission Catwalk sponsor Digicel.


"It's awesome to know that from day one, to date, I've captured the hearts of Jamaican MCW fans!" stated Elyett. "When you think of participating in a reality TV show, you are in the spotlight 24/7 and to know that viewers enjoy watching me showcase my craft and represent my country, it's fulfilling. A good thing to note as well is that these fans not only 'like,' me as a TV personality or a designer, but they seem to also respect my work. That's amazing because it is one thing to be 'liked,' but it's a completely different ball game when you are also respected."

Local fashion enthusiasts following the show have also shown respect for Elyett's designs, clamoring to own an original Theodore Elyett piece. Since appearing on the show, the designer has outfitted Mrs. Bernadette Christie, wife of the Prime Minister and several other fashion enthusiasts in his winning 'runway to retail' design from episode one of the competition.

The fashion design competition which premiered with 15 designers from around the Caribbean on April 13, now has 10 designers representing nine Caribbean countries remaining, 2 of whom are Bahamian.

The eleven-week series will culminate with a showdown between the top three remaining designers all vying for the opportunity to show a collection at London Fashion Week. The winner will also receive JMD$500K (approximately $5K BSD) funding to start their clothing line, industrial sewing equipment valued at JMD$200K (approximately $2K BSD), a contract to sell their designs at Lee's Fifth Avenue, a fashion editorial in 6 Carlos Magazine and a scholarship to pursue fashion program at London College Of Fashion

Tune in to Mission Catwalk Saturdays at 9:30 p.m. and Wednesdays at 8:30 p.m. on Cable Channel 12 or watch online via Youtube.com.



Tyrina Neely

Tyrina Talks Fashion is your weekly serving of fashion forecasting, trend reporting, figure analysis and helpful fashion tips and tricks. Email Tyrina with your fashion questions and photos at tyrinaalicia@hotmail.com









© Copyright 2013 by thebahamasweekly.com -