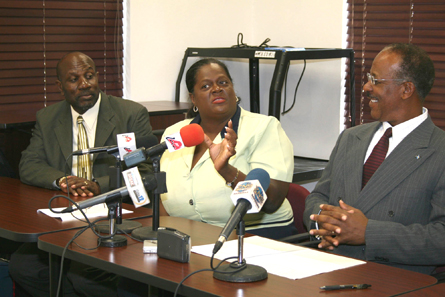 Minister of Lands and Local Government Sidney Collie (left) at the launch of activities for Co-operative Month. Also pictured are co-ordinator for Local Government, Donald Cash and president of the Bahamas Cooperative League Insurance, Cheryl Bowe-Moss. (BIS photo: Patrick Hanna)


NASSAU, Bahamas --- Financial co-operatives offer "good and competitive rates" on savings and loans when compared with commercial banks, Minister of Lands and Local Government the Hon. Sidney Collie observed.

Co-operatives such as credit unions have been contributing to the improvement of the quality of life for members and their families in The Bahamas for the past 33 years, the Minister said.

"Co-operatives are simply persons pooling limited resources for the purpose of meeting economic, social or cultural needs.

"They are owned and controlled by their members and users on the basis of one member, one vote.

"Members also share in any profits realised or risk involved," Mr. Collie said as he launched Cooperative Month at the Bahamas Cooperative League Building, Russell Road.

Also in attendance at the launch were Permanent Secretary in the Ministry of Lands and Local Government, John Thompson; co-ordinator for Local Government, Donald Cash; president of the Bahamas Co-operative League Insurance, Cheryl Bowe-Moss and Assistant Director, Department of Cooperative Development, Theresa Deleveaux.

The cooperative membership in The Bahamas exceeds 30,000 with contributed assets of $200 million, Mr. Collie said.

Mrs. Bowe-Moss said co-operatives encourage mandatory regular savings.

"At the end of every financial year," she said, "members very much look forward to November and December because that is when they get their dividends on the savings that they have put into this organisation.

"Through co-operatives, they have exercised a real business concept that they have never had before.

"When they come to their annual general meeting, they are now educated in how a business is run and they come to discuss their business at their leisure and they answer questions."

Mr. Collie said that during June, the cooperative movement will conduct a vigorous marketing campaign so more Bahamians could be educated on the advantages and benefits of becoming members and securing financial prosperity through co-operatives.

"The Bahamas Cooperative Movement has never recorded any loss of member's savings in any co-operative," he said. "This demonstrates that members' investments are safe and secure."

The new Co-operative Societies Act of 2005, he said, provides a strong legislative platform for registration, supervision, monitoring and growth of co-operative societies.

The co-operative sector includes 16 Credit Unions and six Producer Service Co-operatives. These are located in New Providence, Grand Bahama, Eleuthera, Cat Island, Abaco and the Berry Islands.

There are also three youth co-operatives that serve to teach young people the importance of savings, leadership, teamwork skills and to expose them to the entrepreneurial spirit, Mr. Collie stated.

The Department, in conjunction with co-operative societies, will seek to develop several school co-operatives encouraging students to begin securing financial prosperity through co-operatives.

Activities planned for Co-operative Month are as follows:

During June, co-operatives will have Open Houses to showcase product and services offered.
June 9, the annual fun/run/walk will start on Goodman's Bay at 6:00 a.m. A Health Fair follows.

June 22, the Public Workers Credit Union will have its 27th Annual General Meeting, 7:30 p.m. at the British Colonial Hilton.

June 23, Co-operative Board of Directors and staff will have their annual fun day.

June 28 will be the official opening of the Bahamas Cooperative League building on Russell Road, Oakes Field

June 28, the Transportation and Service Industry Credit Union Health Fair and Car Show.

June 29, the annual awards luncheon will take place at the Police Training Conference Centre, East Street to honour persons within the movement for outstanding leadership, dedication or noteworthy achievement.
During June, a poster competition will take place offering cash prizes for junior and senior high school students.