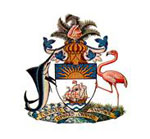 On Thursday, 8th April, 2021, the Ministry of Public Works (MOPW) coordinated a multi-agency operation, with the assistance and advice of the Royal Bahamas Police Force (RBPF); the Royal Bahamas Defence Force (RBDF); Bahamas Customs Department; the Bahamas Department of Immigration; Bahamas Power and Light (BPL); and private sector partners in the unregulated community known as "The Farm" near to Treasure Cay, Abaco.





The operation resulted in the arrest of illegal immigrants and other persons who are suspected of being involved in various criminal offences; the seizure of suspected stolen goods; and the disconnection of a large quantity of illegally operated generators and gas tanks.





The illegally constructed access roadways were closed; and signs written in English and Creole were erected. Signs were also posted on illegally erected buildings. The signs warn inhabitants of the legal prohibition of any new construction, and of the intention of the Government to demolish all of the illegally constructed buildings.

The Royal Bahamas Police Force and Royal Bahamas Defence Force will maintain a presence in the area to enforce these notices as officers of the Ministry of Public Works carry out their legal mandate during the upcoming weeks.