From:TheBahamasWeekly.com


GB Chamber of Commerce
(Photos) Grand Bahama Chamber Business Excellence Awards
By Barbara Walkin, The Freeport News
Nov 18, 2011 - 11:53:07 AM


The Freeport News:

Companies, businesspersons and entrepreneurs were lauded Saturday evening during the Grand Bahama Chamber of Commerce's Business Excellence Award ceremony, for their contributions to the development of the island and the economy, particularly during the economic downturn being experienced worldwide.

Award recipients included Raymond Jones, Erika Gates, Brian Botham, Jeremy Cafferata and MSC, Bahamas.

K. Peter Turnquest, GB Chamber of Commerce president congratulated the nominees, finalists and winners who continue to aspire to build a better business community of the highest standards. "I commend you on your efforts," added Turnquest.

He explained that the Annual Business Excellence Awards serve to recognize outstanding Grand Bahamian businesses and executives.

"On this occasion we pay tribute to the best of those who provide superior service to our community," noted Turnquest.

"This event marks the Fourth Annual Business Excellence Recognition Awards ceremony and I am pleased to join in with the voices of the community to applaud all of the nominees on this special occasion; and further to recognize, reward and celebrate the many businesspersons who continue to make a difference, with excellence, even during these difficult times."


Turnquest noted that it is his hope that these awards will inspire others to deliver continuous, superior service for the enrichment of all.

There are exciting times on the horizon for Grand Bahama businesses, said Ian Rolle, president of the Grand Bahama Port Authority. "We are at the threshold of new and exciting initiatives that will transform our city's business landscape.

"Any future success is dependent on partnerships. As the Grand Bahama Chamber of Commerce forges ahead in its commitment to build, to promote, to serve, the GBPA is pleased to offer its continued support in the mutual quest for business excellence and the overall success of our local economy."

During the evening the GB Chamber honoured the late Edward St. George's legacy and contributions to business development in Grand Bahama.

"Businesses, residents and citizens – past and present – have benefited from the life's work of this visionary leader," said Rolle. "he has left us an ideal template by which corporate Bahamas can significantly impact the environment in which they operate and the individuals whom they employ for the greater good of our island and nation for generations to come."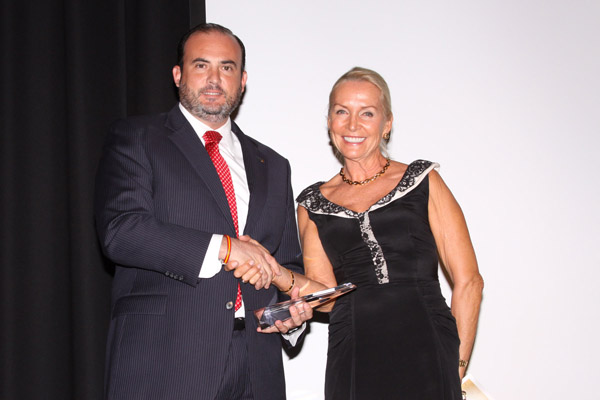 © Copyright 2011 by thebahamasweekly.com -