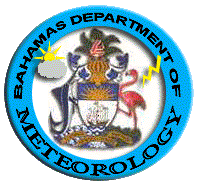 NEWS ITEM ON TROPICAL STORM CRISTOBAL ISSUED BY THE BAHAMAS DEPARTMENT OF METEOROLOGY, FORECAST OFFICE SECTION AT 6:00 AM EDT, SUNDAY 7TH JUNE 2020.




...SQUALLS WITH TROPICAL-STORM FORCE WINDS REACH THE MOUTH OF THE





MISSISSIPPI RIVER.....CONDITIONS EXPECTED TO CONTINUE TO DETERIORATE...




AT 5:00 AM EDT, THE CENTER OF TROPICAL STORM CRISTOBAL WAS LOCATED NEAR LATITUDE 27.3°NORTH AND LONGITUDE 90.1° WEST, OR ABOUT 140 MILES SOUTH-SOUTHWEST OF THE MOUTH OF THE MISSISSIPPI RIVER.





CRISTOBAL IS MOVING TOWARD THE NORTH NEAR 12 MPH (19 KM/H) AND THIS GENERAL MOTION IS EXPECTED TO CONTINUE TODAY, FOLLOWED BY A GRADUAL TURN TOWARD THE NORTH-NORTHWEST LATE TODAY OR TONIGHT. ON THE FORECAST TRACK, THE CENTER OF CRISTOBAL WILL APPROACH THE NORTHERN GULF OF MEXICO COAST TODAY, THEN MOVE INLAND ACROSS LOUISIANA LATE TODAY THROUGH MONDAY MORNING, AND NORTHWARD ACROSS ARKANSAS AND MISSOURI MONDAY AFTERNOON INTO TUESDAY.





MAXIMUM SUSTAINED WINDS ARE NEAR 50 MPH (85 KM/H) WITH HIGHER GUSTS. LITTLE CHANGE IN STRENGTH IS FORECAST BEFORE LANDFALL, AND WEAKENING WILL BEGIN ONCE CRISTOBAL MOVES INLAND.




CRISTOBAL POSES NO THREAT TO THE BAHAMAS.





THE NEXT NEWS ITEM WILL BE ISSUED AT NOON TODAY.

PREPARED BY DUTY FORECASTER: S. MATHER ISSUED: 07/06/2020 @ 5:30AM EDT.