From:TheBahamasWeekly.com


Grand Bahama
(VIDEO) Grand Bahama Goes Green as Young Resident Builds a Water Powered Car
By The Bahamas Weekly News Team
Aug 20, 2010 - 10:40:06 PM

Freeport, Bahamas - (August 16, 2010) Yes you read it right, possibly Grand Bahamas' very first H20 Hybrid demonstration vehicle. You can't miss it on the road, as it is clearly marked "Water Powered Car" and it means what it says. This vehicle uses the properties in drinking water to greatly increase fuel economy while dramatically reducing harmful exhaust emissions and it was built on the Island in less than 2 months using local suppliers and materials. Preliminary tests have shown an outstanding 30 % increase in fuel economy. That means 30% fewer dollars spent at the pump as you go about your regular routine. Think of the potential – you save while going "green" for the environment.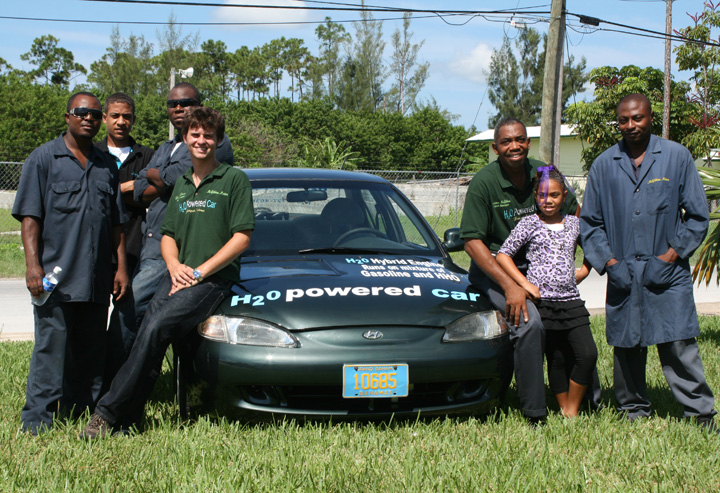 Congratulations goes to 19-year-old James Tuchel, son of Laurie and Charles Tuchel who have been residents of Grand Bahama since 2002. James is the lead Engineer in Training on this project. James grew up on the island. and after graduating with an International Baccalaureate from Lucaya International School, was accepted into the School of Mechanical Engineering 5-year Masters Degree Program at the University of Edinburgh, Scotland. James will be returning to the UK shortly for an internship with Renault Formula 1 Racing team before continuing his third year of Mechanical Engineering studies in Scotland.

This summer James returned to Grand Bahama during his break from University not to relax in the sun, but to put his learning to hard work, and with a purpose. He began a two-month summer apprenticeship with McGibbons Auto under the tutoring and mentoring of Mr. Avelaino McGibbon. Mr McGibbon is a licenced Professional Automotive Mechanical Engineer and President of McGibbon Auto.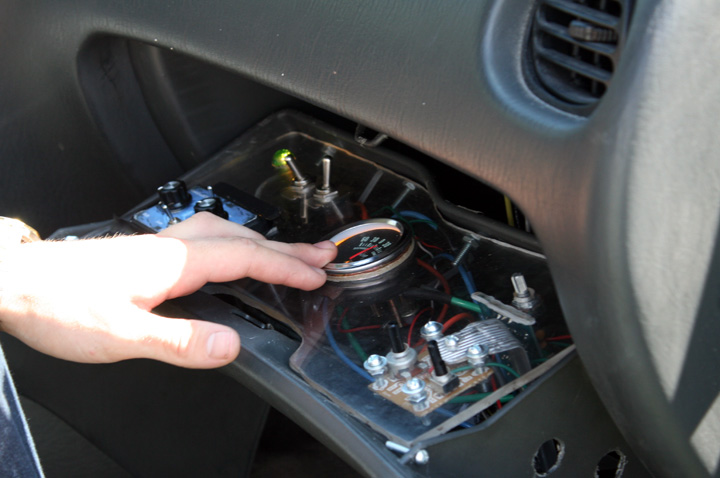 Many years ago Mr. McGibbon left Grand Bahama to study Automotive Engineering in Detroit and graduated from General Motors Institute (now called Kettering University). He was Grand Bahamas first Alumni from that college. He was privileged to engineer several automobiles for GM, Ford Chrysler other auto manufactures including amusement rides for Walt Disney and Universal studios. Among his accomplishments was the Super Sport Roadster truck for Chevrolet (2003 –2007). Mr. McGibbon is back on Grand Bahama and shares his mechanical engineering experience and passion within the community. He is actively guiding and mentoring potential automotive industry students like James; assisting them with interesting worthwhile projects to boost their individual potential and careers.
What is a H2O Hybrid Vehicle?
Effectively, a hybrid vehicle means that there is more than one source of energy for propelling the vehicle. For example the Toyota Prias is an Electric Hybrid –it uses a gasoline engine and electricity stored in batteries, combined to provide propulsion at higher overall efficiency, reduced emissions and higher fuel economy. This "Water Powered Car" demonstrates just one of several technology versions that constitutes a hybrid by taking a 1997 Hyundai Elantra's gasoline engine and altering it to use the elements HHO (Oxyhydrogen is a mixture of hydrogen (H2) and oxygen (O2) gases) in drinking water. The hydrogen which has been taken from the water is combined with the gasoline and dramatically improves fuel economy while significantly reducing exhaust emissions. The vehicle drives and feels just as the original vehicle – possibly with slightly more pep.
How does it work?
This technology uses the 12volt electrical energy in the vehicle battery to separate drinking water into Hydrogen and Oxygen- two useful elements that fuel the internal combustion engine. The elements boost the internal combustion process as it combines with gasoline entering the engine. Thus the vehicle is a hybrid since it relies on more than one fuel source or energy conversion device. The results have been drastically improved fuel economy and lower emissions. It is possible to run the vehicle purely on water (elements within it) without any gasoline, however, that phase of the Project will be left for future demonstration. Stay tuned for more McGibbbon Projects.
Where did the thought come from?
While under the mentoring of Mr. McGibbon, James was encouraged to select from a few future projects that McGibbons Auto plans to debut in the future. James chose this one, knowing that to do it correctly, it would require, planning, organizing, calculations, hands on work and diligence to accomplish it within the time frame. It demonstrated mechanical, electrical know-how, thermodynamics, fluid flow, time management and other skills that he has learned in university supplemented by his education on Grand Bahama.
How was it built?
The first objective for this project was to provide a meaningful summer project for serious minded engineering students. A second objective was to demonstrate that Components and services to build this vehicle exist right within the local community. To save time a few ingredients were purchase from away. However, given enough time it is possible that local companies and suppliers may have been able to provide nearly all of the services in assistance to the McGibbon team to build this hybrid vehicle. In addition to the McGibbon Team, thanks goes to the local sponsors that contributed materials or discounts to assist this project and its objectives: Reformer Group, Sunny Isles Water, Dolly Madison – Ace Hardware, Wells Auto Paint Shop, EPIC Battery, 242 Mobile, Freeport Tire, Teigs Signs, and The Uniform Place.
What's next?
James is not stopping now; he already left for a introductory co-op with Renault F1 racing team of England, then back to mechanical engineering studies in Scotland. James has a passion for auto racing particularly Formula 1 vehicles.

"McGibbons Auto congratulate James' enthusiasm, drive and commitment and wish him well in his future endeavors. It would seem that with such experience behind him we see the possibility of a future rock-solid Engineer who is destined to make a future impact," said Avelaino McGibbon.

McGibbons will continue to develop energy efficient, clean vehicles specifically intended for local use. Stay tuned for future demonstrations from McGibbons Auto who continues to train, mentor and uncover Grand Bahamas hidden talents especially in the engineering field.
Want to know more about the vehicle? Give Mr. McGibbon a call he may be able answer your questions.


© Copyright 2010 by thebahamasweekly.com -