From:TheBahamasWeekly.com


Grand Bahama Labyrinth
Welcome to the Grand Bahama Labyrinth
Jan 18, 2009 - 8:47:28 AM



Check our RIGHT COLUMN for our other articles >>
Check out our EVENTS PAGE here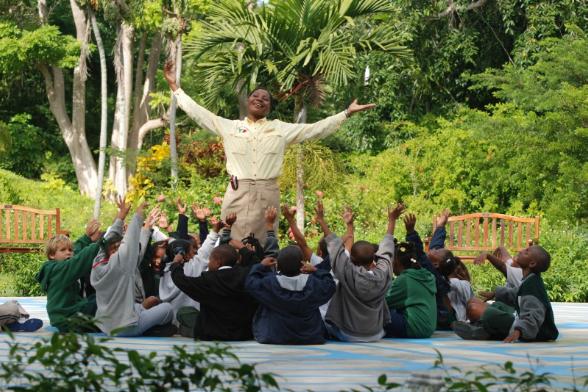 Garden of the Groves guide, Marilyn Laing with visiting school children feel the energy of the Labyrinth in the midst of the beautiful Garden of the Groves on Grand Bahama Island. Photo: Suzanne Cooper


One of the finest places in The Bahamas to commune with nature, the Garden of the Groves, now also houses a beautiful recreation of an ancient sacred path — The Grand Bahama Labyrinth — where visitors of all faiths can walk and reflect on healing, peace, meditation, prayer, our connection to the Divine, and our connection to one another.

This historical monument was founded and created in 2008 by Barbara Chester and the Community of Grand Bahama Island, with the invaluable help and creative guidance of Robert Ferre & Judy Hopen of Labyrinth Enterprises, Limited.

This full-sized Chartres Labyrinth is a replica of the early Christian labyrinth, built in accordance with Sacred Geometry in 1201, in the magnificent Medieval Cathedral of Notre Dame de Chartres, France. This path provided a symbolic way to fulfill the early Christian religious requirements of a pilgrimage to the Holy City of Jerusalem.

Dedicated to God and Creation by Bishop Sobig Kemp on 1 November 2008, in a service conducted by Reverend Dr. J. Emmette Weir, and supported by representatives of all faiths and organizations in the community, the magnificent Grand Bahama Labyrinth is the first 'Chartres' Labyrinth to be created in the Islands of The Bahamas and the Caribbean.

The Grand Bahama Labyrinth is built on a natural concrete octagonal base, 50 feet in diameter. The concrete is made from locally mined limestone. The outlined design, or 'field', is in a material made of ground granite specially formulated in a unique custom-designed colour, which has been subsequently marketed and known as 'Bahama Blue'.

Unlike a maze (which is designed to challenge the mind), this Medieval Labyrinth provides a sacred tool of healing, a sacred walking path, designed to calm the mind with focus, stillness, and contemplation relating to the wholeness and perfection of Creation. On the Labyrinth, as in life, all paths lead to the center, to the source of our being.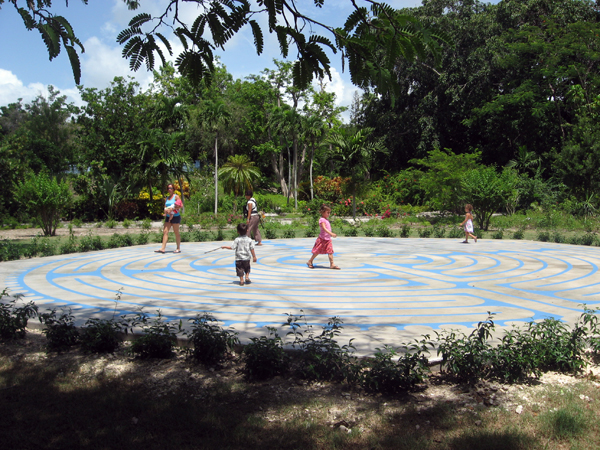 Two women and their children walking the Grand Bahama Labyrinth. Garden of the Groves Visitors are welcome to walk The Labyrinth at any time during the Park operating hours.


Set in a specially chosen corner of the beautiful tropical Garden of the Groves, the Grand Bahama Labyrinth is surrounded by native plants with symbolic and healing properties known as 'Bush Medicine'. The Labyrinth is overlooked by a picturesque chapel atop a little hill — a replica of the first chapel built in 1973 by Freeport's developer, Wallace Groves, after whom the Garden was named.

The 12 acres tropical Garden of the Groves is brimming with flora, fauna, ponds and waterfalls. The wide variety of native and exotic species of plant life provides sustenance and paradise for a plethora of birds and butterflies. The beautiful creatures happily wing-dance around the succulent plants whilst the visitors enjoy a visual and sensual feast.

Special events, celebrations, rituals, festivals, seasons, art performances, and community and spiritual gatherings take place throughout the year. An Events calendar is constantly updated and available here.

Garden of the Groves Visitors* are welcome to walk The Labyrinth at any time during the Park operating hours. (see entry information and hours noted below)

Grand Bahama Labyrinth walks are facilitated on Tuesdays and Thursdays 10am-4pm, and other times by arrangement.

A weekly Meditation at The Labyrinth is held each Wednesday at 8:45 a.m.
For Labyrinth Events and Facilitated Walks, please call Barbara Chester at 373-6026 or request information from the Garden of the Groves 374-7778.

The Grand Bahama Labyrinth has been created and funded by the Community of Grand Bahama Island to encourage Healing, Unity and Peace for all People, Creatures and Creation.

Loving donations for the upkeep of this Community Labyrinth gratefully received: P.O. Box F-42633, Freeport, Grand Bahama Island, The Bahamas.

*Entry to the Garden of the Groves:

Open daily from 9.00 a.m. until 5.00 p.m. (open until 10 p.m. Fridays)
Garden Entry Fee: $3.00 – $15.00 depending on age and Group size.
Free Garden admission for Friends of the Garden and Café customers

Cafe stays open later most evenings (with live music Fridays!) Cafe information -373.7779

Please enquire at the Gate or the Café about annual 'Friends of the Garden' Membership'


The Garden of the Groves is located at the eastern end of Midshipman Road with entry on Magellan Drive, Freeport, Lucaya. Telephone 242.373.7778 Contact by email Grandbahamalabyrinth@gmail.com

Guided tours of the Gardens daily at 11am and 2pm and by arrangement.

Everyone is welcome to visit:
• The exquisite little Chapel (a replica of Freeport's first church)
• THE Gallery (art boutique)
• The Garden Café & Bar (fresh grilled foods in a lovely outdoor setting)
• The Grand Bahama Labyrinth
• The Garden of the Groves Gift Shop

Barbara Chester, Founder of the Grand Bahama Labyrinth.
The Founder's Message
The Grand Bahama Labyrinth: how it came to be, is a story that has grown steadily in my heart, and in the collective heart of our entire Grand Bahama Island community.
The creation of this wonderful spiritual gathering place and tool for insight and healing began with a simple prayer. Like so many people, I was becoming increasingly aware of the tremendous need for healing in the world; the desperate cries for help and the need for peace, both locally and internationally. I searched and prayed to find a way in which I might help to make a difference.
My prayers were answered one Sunday morning in the Spring of 2007 when, almost by accident, I attended O.S.Lutheran Church and heard an incredible sermon about Labyrinths preached by Pr. Andreas Thode of the Krome Detention Centre in Miami. Pr. Thode discussed his experience in seeing firsthand a Labyrinth's healing benefit and transformation in the lives of so many from so many different faiths and walks of life.
I felt a compulsion to learn more about both the history of this ancient tool and its modern day revival… and did! My research led me to study under the world's leading authority on Labyrinths, the Rev. Dr. Lauren Artress, in the Cathedral of Notre Dame de Chartres, France, where I became a Labyrinth facilitator in September 2008.
It was here that I learned Labyrinths have existed for thousands of years – since pre-historic times – and have been used by people of all races and faiths in sacred ceremonies, celebrations and supplications. They are variations on the theme of creation. Different peoples across this globe had their own versions, but all Labyrinths were shown as a circle. The Circle replicates the planetary movements, our life circle, our world; Creation! The circles remind us of the One-ness of our connections with each other and with God. And in each Labyrinth there is a point of entry and a circuitous path to the centre – the holy place.
The Labyrinth's path is one on which men, women and children can walk at their own pace to ask in prayer, to listen in meditation, and to receive blessings and love from their Creator.
The early Christians created the most splendid Labyrinths in the Medieval Cathedrals of Europe; the most famous and spiritually all-encompassing was designed in accordance with the sacred geometry passed down by the Ancient Greek scholars and incorporated with the spiritual symbolism of the wise Theologians of the day; this was built into the magnificent Cathedral of Notre Dame de Chartres, just outside Paris in France.
Over the centuries, the Chartres Labyrinth has resurfaced when there was a particular need for healing in the world. Most recently it was uncovered by Rev. Dr. Lauren Artress some 15 years ago, and is providing the model for many Labyrinths as their resurgence spreads across the planet.
Dr. Artress told me to 'fasten my seatbelt' as 'The Labyrinth finds you, and keeps you moving'! She was absolutely correct! The dream of creating a Labyrinth in Grand Bahama, which I felt compelled to manifest, had taken hold and was growing stronger day by day.
Although not many people in Grand Bahama knew of Labyrinths, I was deeply grateful for the heartfelt encouragement and enormous support of so many, as I continued exploring possibilities for bringing this sacred healing tool to life here on the island.
I decided to start giving talks about the benefits of a Labyrinth to our Island, and I was thrilled to have the opportunity of making my first presentation at Claudette Dean's beautiful Art exhibition, Lumière. At that first presentation, we were able to walk a small Classical 'seed' Labyrinth, painted on the floor of the Freeport Art Gallery by another dear artist friend, Susan Moir Mackay. Susan's Labyrinth will, hopefully, remain in place bringing a lovely energy to the Gallery as the very first public Labyrinth on Grand Bahama.
Community interest rose, albeit somewhat sceptically by many; but the great enthusiasm of my ever growing team of supporters allowed the project to move ahead at its pre-destined speed.
The first hurdle of finding a suitable home for the path was easily overcome when Erika Gates and Michelle Hanson excitedly welcomed a Labyrinth in their, now beautifully restored, Garden of the Groves. They had a piece of (then) uncultivated, overgrown land. It was perfect. With obvious Divine Guidance we selected 'the' exact place for the base to be laid and we decided on the entry place; this was confirmed by a Mother Turtle who laid her eggs on the spot!
In April/May of 2008, Greg Farrington and David Hylton prepared the land and poured the concrete which we had decided should be the natural colour of the shell of the land snail; the morning glory, growing abundantly around our site, provided us with a wonderful sky-blue colour we chose for the 'field' in a selected material called "Granitite".

[The magnificent Cathedral of Notre Dame de Chartres, France, which is the template for our Labyrinth, was built with limestone quarried locally and moved by the villagers who actually acted as human beasts of burden! They harnessed themselves to their carts and pulled the stones about five miles over rough countryside. Our Path was also built with locally quarried limestone, made into cement. It was moved by modern transport!]
We had a tremendous amount of advice and help from Robert Ferré and Judy Hopen of Labyrinth Enterprises Ltd. Judy travelled to Grand Bahama to direct and work with our volunteers during possibly the worst two weeks weather of our Summer. Members of our Community turned up trumps; a total of 30 people aged from 7 years to 70 arrived on site as and when they could, to become 'artists/builders'. They expertly followed Judy's instructions to create the Grand Bahama Labyrinth. We worked under canvass in high humidity, consorting with other creatures on the path; mosquitoes, millipedes and caterpillars, to name but a few! When finally exposed to the World, the blue 'field' defining the path on our Labyrinth sparkled in harmony with the Bahama blue sky, and there was a priceless unity in creation!
From that day, it was obvious that our magnificent Sacred Path of Healing should be surrounded by a beautiful, natural garden of Healing and Symbology. Thus we have worked to encourage and augment the 'Bush' medicinal plants with healing herbs and plants to also nurture the smaller members of Creation.
We have created a place of healing and nurturing of our entire 'being' of body, soul and spirit. A place to rejoin and to hold onto our deep-rooted connection with nature, with Mother Earth and with our Divine Creator. A place to refocus on the most important gifts we possess, but simply take for granted; including our very Breath of Life.
We now have a tool we can use!
.
The model for our Labyrinth, the original Chartres Labyrinth, in place since 1201, was created for the early Pilgrims and represented their walk to Jerusalem, the Holy City. Pilgrims of all faiths have travelled from far and wide to walk this great historical path together to pay homage, give thanks and receive blessings.
We have created, in these beautiful Gardens, our own Chartres-style Labyrinth in a place which I believe was chosen by God Himself…..on our Island which is in need of healing, in a World desperate for Peace.
This is not just a beautiful attraction of historical importance, but a spiritual tool offering repair and renewal; joy and celebration; a sacred path for our community and visitors…to walk together in peace.
The Labyrinth carries its own message to each and every one of us.
I carry my message which is to tell you all that I feel proud, humble, and very blessed to have been allowed to be a part of this wonderful project. I know I have been guided along my path and allowed to meet so many wonderful people who were where they were most needed to bring about this creation.
To all those friends, angels, illuminators: thank you, thank you, thank you …not only from me, but from our entire community who will surely benefit from this Historical Sacred Landmark in the enchanting Garden of the Groves.
Our Labyrinth has been created under God's direction by everyone, for every one of all races and faiths. All are welcome to freely walk the path.
Anyone wishing to become a part of this project is welcome to join our many wonderful 'Illuminators' who have contributed so much of their talents, time, and gifts for the benefits of the Community of Grand Bahama Island. The names of all Illuminators will be etched in stone in a monument being designed by artist Susan Moir Mackay, to reside in our healing garden. A special thank you also goes out for this web site, which has been generously donated to The Grand Bahama Labyrinth by The Bahamas Weekly.
May you all walk in Peace on the Path of the Grand Bahama Labyrinth.
Blessings!
Barbara Chester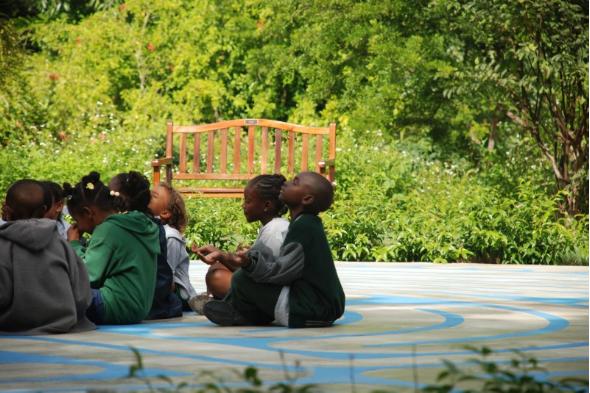 Local Grand Bahama school children sit and 'feel' on the Labyrinth while visiting the Garden of the Groves on a filed trip. Photo: Suzanne Cooper