The world's third largest ship – Quantum of the Seas – made its inaugural voyage to the Port of Nassau on Thanksgiving Day – bringing with it thousands of passengers from the frigid east coast of the United States.
The cruise liner, which is part of the Royal Caribbean International's fleet, has the capacity to carry 4,905 passengers and is the first ever smart- cruise to dock at the Port of Nassau.
The massive ship includes a number of amenities including luxury retail stores like Michael Kors, Cartier, Bvlgari among others, 11 restaurants, a skydiving simulator, a north star tower, adult and children swimming pools, a roller skating and bumper car ring, a casino, a music hall for live entertainment, a flow rider surfing simulation and a state-of-the-art fitness centre.
During a special inauguration ceremony, Director General of Tourism Joy Jibrilu said The Bahamas has a long standing relationship with Royal Caribbean, which has been coming to The Bahamas for over 40 years.
"Royal Caribbean has been docking out shores for 44 years, beginning in 1970 with the Song of Norway just six years following the establishment of Tourism as the primary industry for economic development within The Bahamas," she said.
"As time progressed, The Bahamas became the model and leader in the Western Hemisphere, and Royal Caribbean has stayed with us throughout these years. Our Tourism sector has grown by leaps and bounds and similarly, so have you – your first ship, the Song of Norway at 18,000 tons in 1970 and now the Quantum of the Seas weighing in at 169,000 tons, a mere increase of 151,000 tons.
"The expanse and the vested interest Royal Caribbean has maintained in The Bahamas assures that RCCL has its place in The Bahamas Tourism archives and we are happy that you are our friend and partner," Ms. Jibrilu added.
The director general also lauded the engineering of the ship and its use of a digital platform that allows passengers to create a schedule of activities even before leaving home with a one-of-a-kind downloadable app.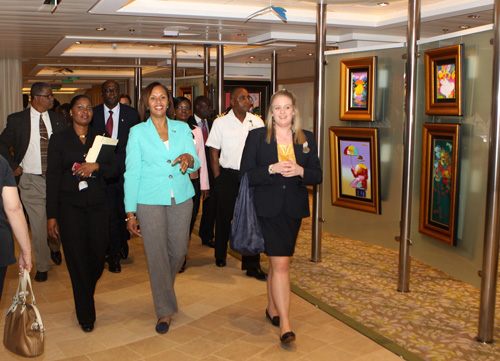 Director General Joy Jibrilu, Ministry of Tourism officials and officials from Bahamas Customs and Immigration and the Port Authority tour the luxurious Quantum of the Seas.


"This is an unmatched innovative concept. Your dedicated satellite with an impressive bandwidth exceeding all other vessels combined, expresses a Quantum leap in RCCL's commitment to a customer base requiring access to technology," Ms. Jibrilu said.

"The Quantum of the seas is said to avidly compete with any five-star luxury hotel brand. This is further undergirded by the complement of enviable activities, innumerable amenities, quality service and real-time access to all telecommunications mediums occurring on land."

The passengers of the boat danced to the sounds of Junkanoo as they were welcomed to The Bahamas.

Ms. Jibrilu said the Ministry of Tourism strives to create authentic Bahamian experiences to add to the overall value of Quantum of the Seas and that of all our suppliers.

"Our goal is to ensure that passengers want to visit The Bahamas again, while showcasing the myriad of diverse experiences in our region. You will hear more about our initiatives at a later date."

The ship's master Captain Srecko Ban said officials of the ship are very proud to bring the unique to Nassau.

"We thank you for your great hospitality," he said. "We will be coming to your fine port throughout the winter until May. We look forward to a successful partnership in the future," he said.

Next winter, Royal Caribbean's Anthem of the Seas will be making its way to Nassau.

Director of Maritime Tourism Janet Johnson stressed that her department continues to work feverishly to ensure that luxury cruise liners dock in Nassau.

"It is very, very important to bring these kinds of ships to The Bahamas because they bring the high-end customers, who have the wherewithal to be able to spend while they are here in The Bahamas. They take tours, dine at our restaurants and sometimes overnight if they wish to stay on and fly back and they shop in our stores," she said.

"We can have lots and lots of ships, but it's better to have the high-end net worth customer that is able to leave disposable income here in The Bahamas."