From:TheBahamasWeekly.com


International
Remnants of Giant Tortoises, 2,000-year-old Crocodiles Found in Abaco Blue Hole
By Diane Phillips
Feb 11, 2009 - 10:06:50 PM






A blue hole in Abaco is gaining international attention, revealing tightly-held secrets preserved for up to 4,000 years, evidence of an era when The Bahamas was home to land-roaming crocodiles, giant tortoises, flightless birds, ancient bats and owls that roosted 85 feet belowground.

Known as the Sawmill Sink, the saltwater-filled blue hole in the heart of the pinelands on the island of Great Abaco was the recipient of National Geographic's largest expedition grant for 2008 and is scheduled to be the subject of a major NG feature this year. The scientific treasure it holds, a fossilised collage of life and culture as it once existed, is now closely guarded by experts under the auspices of The National Museum in cooperation with scientists and researchers from the United States.

The oxygen-free Sawmill Sink holds such treasure that photographer Wesley Skiles, who is shooting on behalf of The National Museum for National Geographic, spent 10 days in December capturing images for the article and a possible show.

And Dr, Kenneth Broad of the Rosensteil School of Marine Sciences describes it as unlike any other anywhere.

"There is no place like it in the world for blue holes," said Dr. Broad.

The hole was first discovered by Brian Kakuk, a former Navy diver, now a respected cave and wreck dive instructor, marine scientist, researcher and owner of Bahamas Underground. .





In 2004, he was leading a dive in a cave near a blue hole south of Marsh Harbour when he saw what appeared to be a giant turtle shell. Buried about 60 feet down, the shell turned out to be that of a tortoise, later carbon-dated to be about 2,500 years old, and like other artifacts found since then, including a 1,040-year old human bone, it was perfectly preserved.

Though rare, the explanation for what has kept remains in the blue hole frozen in time is simple. Absence of oxygen (it's 'eaten' by hydrogen sulphide) means no growth of fungus or bacteria. Detritus like leaves, twigs, seeds, flowers, fruit, bones and shells is naturally preserved. The integrity of the findings excites scientists across a range of disciplines, even those who believe it can help explain everything from evolution to climate change.

"Most sites that we find are polluted so they are actually a health hazard which in a way is fortunate because it keeps people from going in. Water samples are filled with e-coli and other bacteria," says Nancy Albury, a diver who's spent 20 years photographing the blue holes, caves, flora and fauna of Abaco and now serves as the Bahamas National Museum representative in the northern Bahamas isle. Her photos have helped document the wealth of findings in what has been estimated at 100 holes, "But none," she says, "as pristine as Sawmill Sink, so pristine that we can take DNA samples and get accurate readings from animal and plant remains thousands of years old." Only one sink hole, located in Belize, has ever come close to the preserved scientific riches of Sawmill Sink, agree experts, who are studying those riches to piece together a portrait of life and land long ago. They believe that winds blew dust from the Sahara here a quarter of a million years ago. Two thousand feet of passages in the caves of Sawmill Sink are covered and laden with fossilised remains of crocodiles that made their way by what was then land from Cuba when sea level was 420 feet below today's level and land covered much of The Bahamas. Animals could have walked between Long Island and the Berry Islands, and 10,000 years ago, prehistoric owls roosted in trees now deep underwater. Giant slow-moving tortoises, long since extinct, roamed the land, as likely to have been destroyed by humans as by natural predators.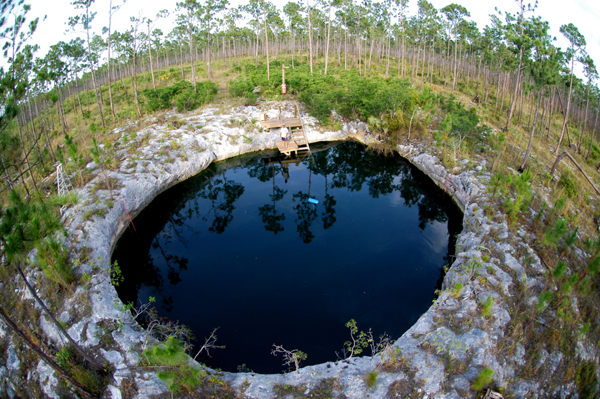 Discovery has not been limited to what lived long ago. A species of shrimp never before discovered in May and a sample was kept alive for six weeks by Friends of the Environment in Abaco, which works closely with The National Museum.
Today, the remains that will become the resources for study and help to guide environmental management are in the hands of The National Museum, which will become the repository for the ruins and remains. According to its director, Dr. Keith Tinker, it is a treasure unlike any ever expected to be found and opens doors for cooperation with universities and researchers around the globe. "We are particularly pleased that in addition to our international efforts, we will be partnering with The College of The Bahamas where additional scientific research will be conducted and where its inclusion in course material will attract serious marine sciences students," Dr. Tinker said. Already, other institutions, including the University of Florida, the Florida Museum of Natural History, Friends of the Environment (Abaco) and the New Mexico Museum of Natural History are participating in joint efforts to continue to discover, uncover, study and preserve the long-hidden natural treasure.
"Sawmill Sink and the riches it holds will help us unlock an important part of history that could teach us lessons of great value, helping to guide future decisions about climate, marine resources and environmental management," said Dr. Davidson Hepburn, Chairman of the Antiquities, Monuments and Museums Corporation which oversees The National Museum. "This is truly a great find and a tremendous honour for The Bahamas."
Related article from University of Florida


© Copyright 2009 by thebahamasweekly.com -