From:TheBahamasWeekly.com


Sports
Bahamas to host Caribbean Rugby Sevens 07
By IRBSevens.com
Aug 30, 2007 - 10:00:14 AM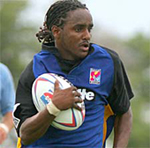 Kevin Salabie in action for the Bahamas in 15-a-side World Cup qualifying (Photo: IRBSevens.com)

IRSBSevens.com - The Bahamas Rugby and Football Union (BRFU) has been awarded the 2007 North American and West Indies Rugby Association's (NAWIRA) Men's and Women's Sevens Tournament.

The regional event will take place in New Providence on 17-18 November at the Winton Rugby Pitch in Winton Meadows.

The tournament will include men's and women's teams from all Caribbean Unions as well as Mexico, Canada and the USA.

At last year's event the Bahamas finished with a 4-3 win/loss record and to make the latter stages this year on home soil will need to beat one of the powerhouses from Jamaica, Trinidad or Guyana.

Last year's men's championship was won by Guyana with Martinique taking the Plate and Guadeloupe the Bowl.

In the women's event a USA development side won the overall NAWIRA title, while Jamaica won the Caribbean competition beating Trinidad and Tobago in the final.