[an error occurred while processing this directive]


Last Updated:

Jan 29, 2013 - 8:11:05 AM
---
Grand Bahama Island - Enjoy

"Le Med" Mediterranean Restaurant and Bar

for Breakfast, Lunch and Dinner!


Le Med is situated waterside on the Port Lucaya Marina at the Port Lucaya Marketplace and specializes in Mediterranean cuisine and American and Bahamian dishes with Mediterranean flair. The menu features European breads and pastries, rotisserie meats, crepes
,
and
tapas.
Bahamian breakfast is our specialty.
A full bar and an extensive selection of wines from around the world.

Le Med is open daily for breakfast, lunch, and dinner.
Le Med Restaurant
at Port Lucaya Marketplace & Marina



"Le Med" Kids Menu
Breakfast $3.00
Choice of Cereal Or Danish/Bagel
Jam & Jelly

Juice


Lunch $6.00
Fried Chicken Strips OR Fish Fingers OR Hot dog
French Fries
Milk or soft Drink


Dinner $10.00
Hamburger /Cheese burger
¼ Rotisserie Chicken
Fish sticks
Mozzarella sticks
Hot dog

French Fries and small salad

Ice cream or Slice of Cake
Juice or soft Drink
BREAKFAST MENU
OFF THE GRIDDLE



French Toast $5.75
3 Eggs "any style" with Bacon or Bangers or Ham-Hash Brown or Grits $6.95
Pancakes $5.95
Morning Crepe $6.95
Steak & Egg "any style" $12.95
Smoked Salmon $8.95



OMELETS



Chouchouka-Peppers, Onions, Tomatoes, Eggplant with Beaten Egg $6.95
French with Bacon and Cheese $6.95
Greek with Feta, Tomatoes and Olives $6.95
Bahamian Filled with Minced Lobster $9.95




FRESHLY BAKED PASTRIES & FRUITS



Muffins with Butter & Jam $2.50
Croissants with Butter & Jam $3.50
Cheese & Fruit Platter $8.95
Tropical Fruit Platter $6.95


BAHAMIAN SPECIALTIES

Chicken Souse $5.95
Corned Beef & Grits "Fire Engine" $5.95
World Famous Boiled Fish $7.95
Stew Fish or Stew Conch $7.95
Minced Turbot $6.95


OFF THE STOVE TOP

Corned Beef Hash with Poached Egg $6.50


BEVERAGES

Coffee $1.00
Assorted Teas $1.00
Milk $1.50
Juices $1.50
Orange Juice $1.50
Hot Chocolate $1.50


15% Gratuity will be added to your check
LUNCH & DINNER MENU


TAPAS & MEZE (Small Appetizers)
Marinated Octopus $7.95
Assorted Olives $5.95
Bruschetta (Tomato-Basil Topping and Fresh Mozzarella) $6.95
Smoked Salmon $9.95
HOT
Spinach & Cheese Phyllo Pie $5.95
Mussels with Tomato Sauce & Fine Herbs $6.95
Fish Fingers $5.95
Mozzarella Sticks $5.95
Conch Fritters $5.95
Grilled Calamari & Shrimp with Salsa Verde $8.95
Shrimp Provencal with Pernod $9.95
CREPES - WHEAT OR BUCKWHEAT
SAVOURY
Ham & Cheese $8.95
Tomato Basil & Prosciutto $9.95
SWEET
Nuttella $7.95
Honey & Nuts $7.95
Raspberry Jam & Fruits $7.95
SALADS
Petite Fruit Salad $3.95
Green Salad $4.50 Greek Country Salad $7.95
Lobster Salad $17.95
SOUPS
Gazpacho Andalouse (Cold Vegetable Soup-Served Chilled) $4.25
Conch Chowder $5.50
BAHAMIAN SPECIALTIES

Chicken Souse $6.95
Corned Beef & Grits "Fire Engine" $6.95
World Famous Boiled Fish $8.95
Stew Fish or Stew Conch $8.95


OFF THE STOVE TOP

Corned Beef Hash with Poached Egg $6.50


SANDWICHES
Served with French Fries

HOT
Black Angus Burger/Cheese/Bacon ($0.75 per topping) $7.95
"Le Med" Cheese Steak Sandwich $9.95
French Dip (Tender Roast Beef on French Baguette) $9.95
"Croque Monsieur" (Grilled Ham & Cheese) $6.95
Jumbo Hot Dog $5.25
Reuben Sandwich (Pastrami/Sauerkraut/Cheese on Rye) $8.95

COLD
Turkey $7.95
Prosciutto $9.95
Mediterranean Club $9.95

GYRO
Gyro Platter (Served with French Fries and Small Greek Salad) $10.95
Chicken With Herbs De Provence (TO GO) Whole Rotisserie Chicken (Plain — No Side Order) $9.95


FISH & SEAFOOD



Cracked Conch $13.95
Snapper Filet, Pan-fried with "Salsa Verde" $17.95
Seafood Combo Platter (Lobster, Shrimp, Fish, Conch) $22.95
Broiled Lobster Tail $27.50
Surf & Turf $27.95
Fresh Salmon Steak $19.95




ENTREES


Entrees served with Greek Salad, Rice Pilaf or French Fries and Vegetables (Child Portions Available)




PASTA



Seafood Medley Fettuccini $21.95
Shrimp & Chicken Pesto - Penne $18.95
Primavera with Vegetables - Penne $11.95






ROTISSERIE/OFF THE GRILL



Half Rotisserie Chicken $11.95
BBQ Baby Back Ribs with 'Le Med" Special BBQ Sauce $17.95
Shashlick "Beef Kebab" Served with Shashlick Sauce $17.95
Braised Lamb Shank (Cooked in Red Wine Sauce) $18.95
Delmonico Steak (Ribeye Steak with Herb Butter) $25.95
New York Strip Steak(Served with Herb Butter) $24.95




SIDE ORDERS



French Fries or Rice Pilaf $2.75
Vegetables $3.25
Cheese Platter $8.95

DESSERTS
ASK ABOUT OUR DAILY SPECIALS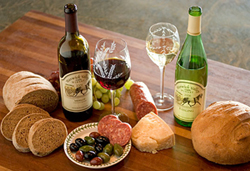 WINE LIST




WINE BY THE GLASS



White
1. Chardonnay, "San Nicolas" (Chile)$5.00
2 Chardonnay, "Sabrina" (Chile) $6.00
3. Trivento, Sweet Blend (Argentina)$5.00
4. Sauvignon Blanc, Sauvion (France)$7.50
5. Pinot Grigio "Delle Venezie"(Italy)$7.50

Blush
6. White Zinfandel, Sutter Home (California)$5.50

Red
7. Cabernet Sauvignon,"San Nicolas" (Chile)$5.00
8. Merlot, "San Nicolas" (Chile)$5.00
9. Sweet Malbec, Trivento (Argentina) $5.50
10.Mavrodaphne of Patras, "sweet red wine) (Greece)$6.50
11. Beaujolais, "Domaine Des Bas Cieux" (France)$8.00
12. Merlot, "Vin du Pays D'Oc", Georges Duboeuf $7.50
13.Cabernet Sauvignon, "Sophia" Gran Reserva $7.50
14.Henckell Trocken ,"Piccolo" Sparkling (Germany)$8.50

WINE BY THE CARAFE
15. Red or White Table Wine
½ Liter $12.75
1 Liter $25.00
16.Spritzer by Glass $ 5.00

CHAMPAGNE & SPARKLING
1. Speroni "Asti" D.O.C.G. (Italy)$34.00
2. Henkell Trocken "Dry Sec" (Germany)$30.00
3. Freixenet "Cordon Negro" Brut (Spain)$46.00
4.Veuve Clicquot Ponsardin Brut, Yellow Label $120.00

ROSE & BLUSH
5. White Zinfandel, Bare Foot(California)$26.00
6. Cotes De Provence, Domaine de Blanquefort (France)$39.00

WHITE WINE
7. Sauvignon Blanc, "San Nicolas" (Chile)$22.00
8. Sweet White Blend, "Trivento (Argentina)$24.00
9. Sauvignon Blanc, Sauvion (France)$32.00
10. Moscato, Sutter Home (California)$27.00
11. Chardonnay, Yellow Tail (Australia) $32.00
12. Chardonnay , "Sabrina"Curuco Valley ( Chile)$26.00
13. Pinot Grigio "Valdadige" DOC, Santa Margherita (Italy)$49.00
14. Chardonnay, Chateau Ste Michelle (Washington State) $50.00



RED WINE
15. Merlot "San Nicolas" (Chile)$22.00
16. "Sweet Red Malbec," Trivento (Argentina)$24.00
17. Côtes du Rhône, Antonin Rodet $28.00
18. Beaujolais, Domaine des Bas-Cieux (France) $34.00
19. Mavrodaphne of Patras "sweet" (Greece)$32.00
20. Shiraz, Yellow Tail (Australia)$32.00
21. Santa Christina, Villa Antinori (Italy)$32.00
22. Cabernet Sauvignon, "Sophia" Gran reserve (Chile)$30.00
23. Cabernet Sauvignon "Woodbridge", Mondavi (California)$32.00
24. Chianti DOCG, Bolla (Italy) $36.00
25. Pinot Noir, Louis Latour (France)$46.00
26. Malbec Catena, Mendoza's Andes Foothills (Argentina)$54.00



15% Gratuity will be added to your check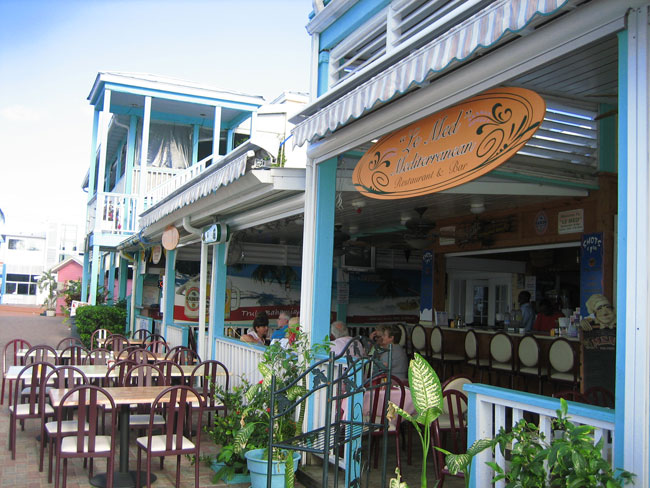 Le Med


at Port Lucaya Marketplace & Marina

For reservations or inquires please contact us by phone
or email:

lemed@coralwave.com


phone (242) 374 2804





© Copyright 2012 by thebahamasweekly.com

Top of Page



[an error occurred while processing this directive]