[an error occurred while processing this directive]


Last Updated:

Jan 29, 2013 - 8:11:05 AM
---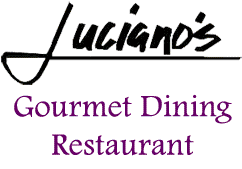 Freeport, Grand Bahama Island -

Luciano's presents

their

NEW Weekly Gourmet Menu for only $39.50

which includes a glass of wine!
We still have our Pre Fixe menu for only 29.50, and our popular Early Bird menu for only $23.50.
Luciano's Restaurant

offers fine dining with classical European entrees and a selection of Island dishes. We offer the best

steakhouse menu

in town as well we carry the widest variety of

seafood choices

.
With a beautiful view of the Port Lucaya Marina and only a few steps off Count Basie Square, Luciano's will cater to your every taste.
Luciano's of Port Lucaya
New Weekly Gourmet Menu
Feuilletté d'Asperges Grillèes, Hollandaise
(Grilled Asparagus Filled Pastry with Hollandaise sauce)
Or
Lobster Bisque
**** *
Caesar salad
****
Entrecôte Bordelaise
(Rib eye steak served with a Red wine sauce)
Or
Bouillabaisse
(Grouper, Lobster, Shrimp, Mussels, stone Crab and Potato Cooked in a Delicious Saffron Broth
Or
Lion fish fillet, Mediterranean Style
(Baked With Peppers, Fennel, Onions, Tomato and Wine
All Entrées Served with Fresh Vegetables
*****
Crème Brulèe
Or
Strawberry Romanoff
1 Glass of Sauvignon Blanc from Chile central Valley
Or
1 Glass of Carmenere from Chile
Osetra Caviar "Molossol"
One ounce of our finest, served with a traditional garnish and a glass of vodka

130.00

Bloc de Foie Gras
Our finest Goose Liver from France

45.00

Chilled Seafood Medley
Stone Crab, Lobster, Jumbo Shrimp and Norwegian Smoked Salmon (for 2)

78.00

Emincé de Langouste Créole
Delicious minced Lobster with "Creole" accent. A creation of Chef Francis Marque

24.50

Oysters Rockefeller
Fresh Oysters cooked in their shell garnished with spinach

18.50

Demi Langouste des Bahamas Parisienne
Half Bahamian cold lobster with mayonnaise sauce (in season)

24.50

Pinces de Tourteau au Beurre Aill ou Sauce Moutarde
Stone crab claws hot with garlic butter or cold with mustard sauce (3/4 lb)

28.00
Les Hors d' Oeuvres

Magret de Canard Fum


Thin slices of smoked duck breast served over sweet cantaloupe melon

13.50

Saumon Fumé de Nouvelle Ecosse
Lightly smoked salmon thinly sliced, classically garnished

12.50

Cocktail de Crevettes Rose
Jumbo gulf shrimp on a bed of lettuce, blanketed with a piquant red sauce

14.50

Melon Glacé au Vieux Porto
Chilled melon with port wine

9.50

Crepe de Fruits de Mer
Delicate French pancakes stuffed with a mixture of seafood, then browned slowly to the peak of perfection

13.50






Coquilles St. Jacques Florentine


Deep sea scallops sauted with garlic butter served on a bed of Spinach topped with Hollandaise sauce

14.50

Petit Crabe a l' ail


Sautéed soft shell crab served on toast with lemon garlic butter

13.50

Fettuccine Alfredo
Traditional pasta in cream (Half Portion/Dinner Portion)

10.50 / 19.00
Les Potages
Soupe de Conques des Bahamas
Fresh conch chowder, a tasty Bahamian specialty

7.00

Soupe a l'Oignon
Classical French onion soup glazed with Swiss cheese

7.50

Soupe du jour
One of Chef Francis' culinary inspirations for the day

6.50

Bisque de Langouste
Creamy lobster soup flavored with cognac, garnished with dices of lobster meat

10.00
Les Salades

Caesar Salad (for two)
As regal as its name-sake, with the traditional dressing

14.00

Luciano's Salad
Well suited to our tropical climate, this exotic combination of avocados, hearts of palm, baby shrimp, pineapple chunks, sweet corn and tomatoes is artistically seasoned with a lemon cream sauce

13.50

Supreme de Volaille Grille en Salade
Grilled Chicken breast served over Caesar salad.

18.50

Seafood Salad
Combination of fresh lobster, shrimp and crab served on a bed of crisp greens

22.50
Les Poissons et Crustaces

Filet de Merou des Bahamas aux Amandes ou Grenobloise
Island grouper filet topped with roasted almonds or a lemon butter and caper sauce

29.00

Sole Poelée Belle Meunière
Whole dover sole sautéed in butter and lemon juice, served with delicate boiled potatoes

48.00

Supreme de Saumon et Langouste Cardinal
Salmon Fillet stuffed with seafood served with Lobster Medallion and Crayfish sauce

38.50

Scampi Flambé Luciano's
The fastidious preparation at your table promises this to be an unforgettable delight. Flambéed in fine cognac with shallots at precisely the right moment. This seafood delicacy will be served with fettuccine

35.50

Broiled Bahamian Lobster Tail
Fresh island lobster broiled to perfection, served with warm butter and lemon

39.50

Filet Mignon and Lobster Tail
Choice center cut tenderloin and fresh Bahamian lobster tail

43.50

Filet de Thon Bordelaise
Seared Yellow Fin Tuna cooked to your exact specifications and served with a delicious Cabernet Sauvignon sauce

34.50
Les Viandes Blanches et Volailles
Magret de Canard Poivrade
Breast of duckling cooked like steak and coated with an interesting sauce in which green peppercorns are added at the end to give it a spiciness. Served with the vegetable of the day.

33.50

Medaillon de Veau Luciano's (Specialté de la Maison)
The finest milk fed veal carefully sautéed with shrimps and plump pieces of lobster

42.50

Demi Canard Roti Aigre-Doux
Half Peking Duckling roasted witha coat of Honey & Vinegar, served with Orange Sauce

35.50

Escalope de Veau de lait aux Champignons
Sautéed veal cutlet flamed with Armagnac, topped with shallots, wild mushrooms and a velvety cream sauce

38.50

Grenadin de Veau Grand Mere
Thick veal filet sauteed and topped with mushroom, bacon, and pearl onions

39.50

Caille Farcies Flambees au Cognac
Semi Boneless Stuffed Quail Flamed with cognac and served with Pinot noir Sauce

34.50

Supreme de Volaille Grille Alfredo
Grilled boneless chicken breast served with creamy fettuccine.

25.50
Les Grillades et Rotis

Steak Diane
One of Luciano's classics, this selection is delicious; served with a baked potato

36.50

Carré d'Agneau Provencale (for two)
Rack of spring lamb, perfectly roasted. A bouquetiere de legumes accompanies this delicate meal

84.00

Filet de Boeuf sauté au Poivre Vert
Filet mignon rubbed in green peppercorns, sautéed butter flamed, topped with peppered brandy sauce

36.50

Chateaubriand a la Francaise (for two)
Classic heart of beef tenderloin, one of the preferred French cuisine, broiled to your exact convenience. The maitre'd will offer you a choice of fresh vegetables and béarnaise sauce to complete this magnificent entrée

72.00

Filet Mignon au Roquefort
Choice filet broiled to your preference, topped with a very unusual Roquefort cheese sauce; served with vegetable of the day

38.50

New York Strip Steak
Center cut sirloin grilled to your exact preference. Served with vegetable of the day

35.50

Cote de Boeuf Angus Grillée (for two)
Black Angus beef chop grilled to your exact preference, served with fresh vegetables and three sauces: Béarnaise, Pinot Noir and Roquefort.

68.00

Cote d'Agneau Vert Pré
Charcoal grilled Colorado spring lamb chops served with a choice of fresh vegetables and Béarnaise sauce

42.00
All Entrees Served with a Caesar Salad


Les Legumes

Haricots Vert au Beurre
Buttered French green beans

6.50

Champignons Provencale
Button mushrooms sautéed with garlic, shallots and parsley

6.50

Epinards a la Creme
Creamy fresh spinach

7.50

Asperges Isigny
Asparagus served with a delicate butter sauce

7.50

Pomme de Terre Viennoise
Baked potato stuffed with cream, butter and cheese

7.00
Les Desserts et Patisseries

Crêpes Suzette (for two)
These sweet French pancakes are flamed in Curacao and Grand Marnier--the sauce is delicious and highly flavored.

16.00

Cerises à la Diable (for two)
Dark sweet cherries flamed in Grand Marnier and cognac served over vanilla ice cream

15.00

Banane Flambee au Rhum des Caraibes (for two)
Bananas Foster flamed with Caribbean rum and served with vanilla ice creams

15.00

Gateau Fondant au Chocolat


Chocolate melting gateau with vanilla ice cream

7.50

Pêche Glacée Chantilly
Halved peaches, over vanilla ice cream, covered with raspberry sauce and whipped cream

7.00

Tarte des Demoiselles Tatin
Warm caramelized apple tart served with ice cream

8.00

Fraises Romanoff
Fresh strawberries marinated in Grand Marnier and cream on a bed of ice cream

7.00

Crême Brulée
Cream custard with caramelized sugar

7.00

Les Glacés et Sorbets
A selection of ice cream or fruit sherbet, served with cookies.

6.00

Mousse Truffee au Chocolat
Chocolate Truffle Mousse

7.50

Key-Lime Pie

7.00
at Port Lucaya Marketplace & Marina
For reservations or inquires please contact us by phone or email:
(242) 373-9100 | Email: chefboulet@coralwave.com



© Copyright 2012 by thebahamasweekly.com

Top of Page



[an error occurred while processing this directive]