Last Updated:

Feb 13, 2017 - 1:45:37 AM
---
Providenciales, Turks and Caicos Islands; Monday, March 31st 2014 – The beauties of the 2014 Miss Universe Turks and Caicos Pageant vying for the country's coveted and most esteemed title put their high-heels aside, slipped on their sandals and toured the islands of North Caicos and Middle Caicos on Saturday, March 29th courtesy of B&B Service Station and the Festerama Committee.

Onboard a ferry from Providenciales to North Caicos, the excitement begun as the contestants anticipated their second off island trip during sixteen weeks of appearances, coaching sessions, rehearsals and other activities in preparation for the big competition nights. The week before the North Caicos and Middle Caicos adventure, the contestants visited Grand Turk and took part in a grand motorcade and enjoyed themselves at a beach party at Governor's Beach.


Whilst exploring North Caicos, the Sassy Six – Gabreann Capron, Miss Salt Cay; Codee Coalbrooke, Miss South Caicos; Todeline Defralien, Miss Middle Caicos; Tashy Forbes, Miss North Caicos; Shanice Williams, Miss Grand Turk and Shante Williams, Miss Providenciales visited the Grace Farm and Nursery in the settlement of Kew ran by Pastor Courtney Missick.

"The contestants really enjoyed themselves. I felt honored to have the ladies on the farm and show them around. It was one of my most exciting tours. I showed them a kind of farming we once did in North Caicos but more modern, and showed them that there is loads of potential to grow food in North Caicos." said Pastor Courtney Missick.


In Middle Caicos, the contestants visited the Caves in Conch Bar, explored Mudjin Harbour and enjoyed lunch at Mudjin Bar and Restaurant before returning to North Caicos for a guest appearance at the 3rd Annual Rake and Scrape Festival produced by the Festerama Committee at the Horsestable Beach.

Tueton Williams, Festerama President said, "Having the Sassy Six in attendance at this year's Rake and Scrape Festival was truly remarkable for the community of North Caicos and the beautiful ladies alike. The community and the ladies got a chance to connect personally while enjoying the festivities."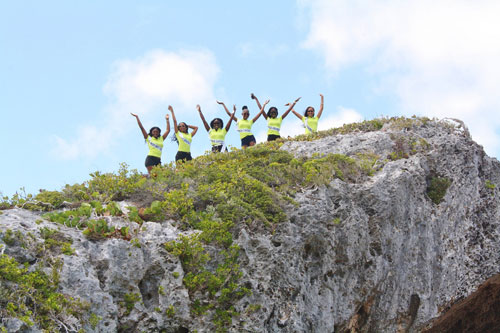 "In effort to promote North Caicos as the next viable destination of choice within the Turks and Caicos Islands, the Festerama committee is extremely honored and privileged to once again reintroduce contestants of the Miss Universe Turks and Caicos Beauty Pageant to our island's beauty, culture, heritage and rake and scrape music. Last year the Sizzling Six made an appearance and this year the Sassy Six graced us with their presence."

The beauties who has already proven themselves as eager and capable of representing the Turks and Caicos Islands on a local and international stage will compete to find the one who personifies the beauty, elegance, poise and grace of a Miss Universe Turks and Caicos Titleholder. The winner will dominate the local and international scene, as the cultural, beauty, fashion and goodwill ambassador of the Turks and Caicos Islands and compete in the Miss Universe 2014 Pageant.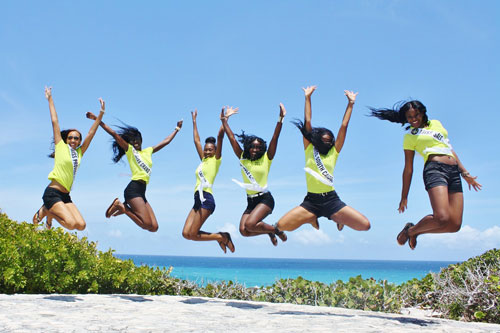 The Miss Universe Turks and Caicos 2014 Pageant National Events will take place April 24th to 26th, with a motorcade from the Tourist Board's office to Island Fish Fry on the 24th, and will see two exhilarating nights of competitions on the 25th and 26th at Brayton Hall, Providenciales. Tickets to the competitions are limited and sold at Digicel and FOTTAC in Providenciales and at Wally's Restaurant in Grand Turk.

As of 2012 the Miss Turks and Caicos Universe Beauty Organization (MTCUBO) produces the pageant events under the direction of Kazz Forbes/Saint George Fashion House, in partnership with the Turks and Caicos Tourist Board.


To date the pageant's sponsors are Digicel TCI, Beaches TCI Resort Villages and Spa, Cargo Express Services, interCaribbean Airways, Saint George Fashion House, Villa Del Mar, Paradise Smiles, Everything TCI, Power 92.5 FM, 102.5 Kiss FM, Nirvana Magazine, Tremm Jocale, BowTie VIP Transfers, Zanzi Bar and Restaurant, Rock It Hot Fitness, Magnetic Media, Philosophy Boutique, TCI Sun Newspaper, Forbes Concierge, West Bay Club Resort, Courtyard Chiropractic, Gilley's Enterprises, TCI Cinemas, Couture Lips Cosmetics, Spotlight Communications, Turks and Caicos Friends of the Arts Foundation, Parrot Cay Resort, Jai's, Floral Couture Lounge, COXCO, CBMS, A La Mode Boutique, Turks and Caicos Hotel and Tourism Association, Royal Jewels, Times of the Island Magazine, Regent Palms Resort, FOTTAC, Wally's Restaurant, Flatline Videos, B&B Service Station, the Festerama Committee, Paradise Photography, Turks and Caicos Islands Department of Sports, Graceway IGA and AVON by Shirley Hentutler.

To view the 2014 Miss Universe Turks and Caicos Pageant calendar of national events visit www.MissTCI.org.







© Copyright 2014 by thebahamasweekly.com

Top of Page