---
BeachCottage242.com - Grand Bahama Getaway
-
Dec 7, 2018 - 2:45:59 PM
Turtle Reef, East Grand Bahama Island - The slice of paradise that so many crave is finally available for those seeking a serene oceanfront lifestyle.
Seabreeze
is a beautiful custom built 775 Sq ft one bedroom, one bath turn key move-in-ready Beach Cottage home on a 32,300 sq ft oceanfront lot, with 100' ft on the beach. The perfect fantasy island getaway from city noise to peace and tranquility. Located 20 miles east of Freeport, just outside of Highrock in the quaint settlement of Turtle Reef. When you arrive at
Seabreeze
you'll breathe a sigh of relief as you take in therapeutic ocean breezes and chill out on your choice of the upper level...
Commercial Property 'Dream Deal' Freeport Bahamas
-
Dec 7, 2018 - 2:01:13 PM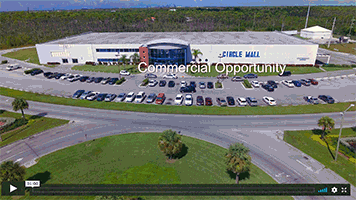 Freeport, Grand Bahama Island - Touted as the best large commercial real estate property value in the center of Freeport, the Circle Mall building along with 4.5 acres of prime land is now on the market. With its 25 foot high ceilings and 80,000 Sq feet interior, the building could be a filmmaker's dream come true, the hub of a national or multinational corporation, a massive worship center, a venue for large events and more. Complete info along with plot map and building plan are available on
CircleMallfpo.com
. The property is being offered by exclusively by Coldwell Banker James Sarles Realty. For info and request a viewing, go directly to the
information request form
.
This commercial property is located on West Atlantic Drive. It formerly housed a large food store and a building supplies store and presently houses an additional 54 shop spaces. The asking price is $4.5 Million however,
All offers considered
.
Investors eye Old Bahama Bay anticipating Skyline Announcement
-
Dec 6, 2018 - 10:36:29 PM
West End, Grand Bahama Island - During The Bahamas Weekly News Team's trip to the western tip of the Grand Bahama with estate broker James Sarles, an expert on West End real estate, our team was pleasantly surprised to find that the desire for high end Real Estate has has taken on a new life with the announcement of Toronto based Skyline Investments deal to acquire the former Ginn Property. Skyline Investments. will purchase 2,012 acres of the former Ginn property which includes portions of Old Bahama Bay resort.
The Bahama Weekly News Team had the opportunity to do a walk through of a property called
Villa Gardenia,
a 4 bedroom, 4.5 bath canalfront home with over 5,200 feet of living space which, although...
Freeport Commercial Property website launched
-
Nov 9, 2018 - 10:03:25 PM
Freeport, Grand Bahama Island -
CircleMallfpo.com
has been launched to provide comprehensive information on for persons and entities interested in purchasing Freeport, Grand Bahama Island's premiere commercial real estate offering by Coldwell Banker James Sarles Realty. The centrally located building sits on a 4.5 acre lot with close proximity Grand Bahama International Airport and downtown Freeport. WIth an 80,000 Sq feet interior and 25 foot high ceilings , the building is ideal for single or a multi-purpose usage. The investor has great flexibility to execute their creative vision.
The international Investor would be happy to note that Freeport, is just 86 miles from West Palm Beach...
Circle Mall Bldg for Sale: CircleMallFpo.com
-
Oct 18, 2018 - 12:31:12 PM
Freeport, Grand Bahama Island - The 80,00 Sq. Ft
Circle Mall Building
situated on 4.5 acres of land is now available for sale at a fraction of the original build cost, presenting an excellent opportunity for a centrally located multi-purpose facility. Great for retail operations, Events, Worship Center, Film Studio and more. This property represents a unique opportunity to purchase an 80,000+ square foot building located on 5 lots totaling 4.5 acres in a prime high traffic area near the heart of Freeport, Bahamas only 85 miles from West Palm Beach. The building is located on West Atlantic Drive and has a large parking lot. The building with its 25 foot high ceilings is the former home of Butlers Supermarket, Freeport Building Supply and the current Circle Mall with 54 shop spaces. The zoning is Commercial Retail and would be ideal for Retail or other unique specific use. For full info, large pics and video, visit
CircleMallfpo.com
or go directly to the information request form
HERE
.
<< prev page next page >>