Last Updated:

Feb 6, 2017 - 2:32:04 PM
---
PROVIDENCIALES, Turks & Caicos Islands – Less than six months after appearing on an historic two-cover edition of Turks & Caicos' own - Times of the Islands magazine - along with an eight-page editorial spread therein – Samentha Etienne, TCI Top Model 2013 has landed her first United States magazine cover!

The publication, UPTOWN Magazine, featured the leggy 16-year old on the cover and in an editorial spread of its 2014 UPTOWN Weddings & Travel Issue which hit American newsstands last Thursday, December 5th. The 2014 issue also features 17 year-old Washanda Registre, TCI Top Model 2012 - was photographed on location at the Regent Palms Resort on Grace Bay, Providenciales. Published annually, this is UPTOWN Weddings & Travel fifth edition and its first utilizing models from the country in which the shoot took place.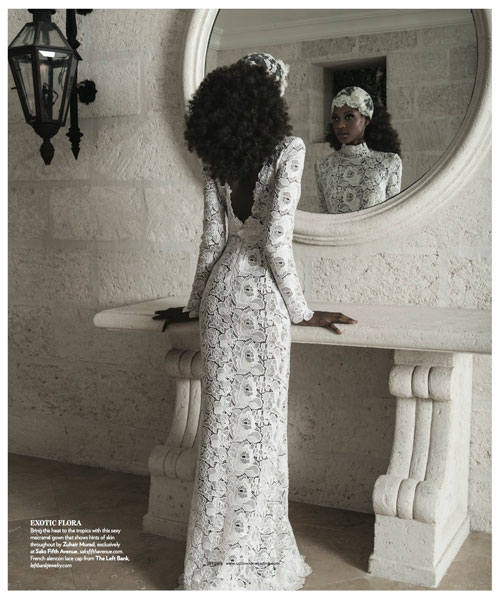 "UPTOWN Weddings & Travel magazine has given Samentha and Washanda an incredible opportunity – exposure in the American fashion marketplace and destinations where it is sold. For Samentha, its her first U.S. magazine cover and for both – nine editorial pages in a renowned publication that showcases the glorious and stunning beauty of people of African heritage," said Courtney Robinson, Director of Production for the annual TCI Top Model Contest & Fashion Extravaganza.

"Magazine covers are an important vehicle in the career of a professional model. Covers set the tone for the magazine, it lets it buyer and her potential clients know that the model featured is strong enough to carry the issue, an issue that is geared to generate revenue. We are indeed proud of our homegrown talent and the potential of what is to come for these two young ladies," said Robinson, who went on to add: "Of this honor, we the organizers of the TCI Top Model Contest say a hearty thank you to UPTOWN Weddings & Travel Editor in Chief Dana Powell for selecting our models for this issue and to Karen Whitt, General Manager at the Regent Palms Resort for the introductions."


"When we decided to shoot this issue in Turks and Caicos, we figured it only fitting to feature one of the Island's own as our cover model," said Powell. "With her exotic features and beautiful sun-kissed skin, Samentha is sure to have a bright future in the industry."

Founded in 2004, UPTOWN affords luxury purveyors the broadest access to a radically distinctive group of male and female consumers: affluent African-Americans (AAAs). UPTOWN Magazine celebrates the luxury lifestyle of professional and influential urban consumers across the United States with city-specific editions in New York, Philadelphia, Charlotte, Atlanta, Detroit, Chicago, and Washington, D.C. Editorial content highlights the best in home décor, automotive, technology, fashion and jewelry, fitness, health and beauty, travel and leisure, food and wine, sports and entertainment, and arts and culture. It also includes provocative profiles of the tastemakers who represent this audience. Inside its 2014 UPTOWN Weddings & Travel issue, readers will find articles that focus exclusively on exotic travel destinations and perfect wedding tips.

The stunning images were shot by photographer Sander Martijn, with hair and make-up by Candace Corey, and Summer Marie as the Production Assistant. The photographs capture the natural beauty, luxury and sophistication of the models and Regent Palms Resort alike. There in, TCI Top Models Samentha and Washanda were donned in the latest couture bridal gowns that were flown in just for the photo shoot.

The 2014 UPTOWN Weddings & Travel Issue is currently available in the United States. However issues will be made available in the coming days in the Turks & Caicos.

To view Samentha and Washanda's editorial spread featured in the 2014 UPTOWN Weddings & Travel issue log on www.tcitopmodel.com or facebook – www.facebook.com/tcitopmodel. For more information on the TCI Top Model Contest & Fashion Extravaganza, contact us on (649) 232-6796 or via email at tcitopmodelcontest@gmail.com. What is more, you can also follow us Twitter - @tcistopmodel and Intsgram – TCIsTopModel.







© Copyright 2013 by thebahamasweekly.com

Top of Page