Last Updated:

Feb 6, 2017 - 2:32:04 PM
---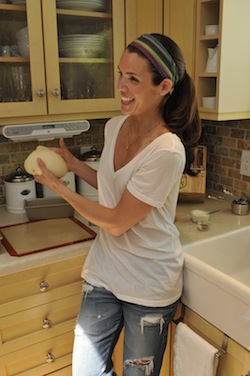 Miami, FL - Lissette Diaz is a homegrown Miami girl who has turned her love for Bahamian bread into a business. She grew up in a house with a cake- baking mother and spent summers in the Bahamas. She remembers early morning bread runs with her father with affection, and these proved to be the perfect inspiration for this budding entrepreneur and her Bahama Bread Company.

Breadmaking is an old art form and not much has changed since the first documented production back in the Neolithic era when a combination of grain paste and water was baked into a loaf. Today, Lissette loves the daily ritual of bread making. "I feel like I'm providing. Bread is a staple and you can make so much with it." This spirit of giving is continued in her business. She donates a portion of the proceeds to Island Relief. "I want to give back to the community that gave me the gift of bread," she tells us with her hands full of dough.

Anyone who's been to the Bahamas has tried the traditional bread. Lissette created her own recipe by watching women knead and bake while on her morning bread run. After a lot of trial and error, she's developed a loaf that has received accolades from local Bahamians. In addition to the original and coconut breads, there is a honey whole wheat in development. And let's not forget the sand dollar cookies. These sweet discs of grated natural coconut, baked to perfection, come in original and chocolate flavor.

Most of the business is word-of-mouth and online. There are also a few gift baskets available that include The Bahamian Calendar, an island exclusive with watercolor scenery and local recipes. But the star is of course, the bread.

We graciously accepted a few loaves and decided to put the coconut variety to a test over the holiday weekend in our breakfast French toast. With a slight sweetness and airy texture that soaked up the egg, it was a delight. Add a touch of rum and you've got yourself some true island flavor for a sunny Saturday in Florida.



Rum and Coconut French Toast


4 slices of coconut Bahama bread
3 eggs
1/2 cup milk
1/4 cup heavy cream
1/4 cup rum
pinch of salt
1 tsp cinnamon
butter for pan
honey and rum for drizzling (optional)

Mix the eggs, heavy cream, rum, salt and cinnamon with a hand whisk or fork. Pour into a shallow bowl and add slices of bread to the mix. Let soak for about 3 minutes, turning them over halfway through.

Add to a pan with butter and cook on each side for 3-5 minutes, or until golden brown and crispy on the outside.

Plate two slices per serving. Drizzle rum and honey on top.
Article SOURCE





© Copyright 2010 by thebahamasweekly.com

Top of Page