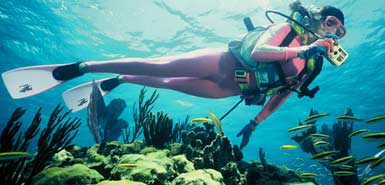 Photo: Tourist Board of The Bahamas


The name for The Bahamas comes from "baja mar", Spanish for "shallow sea", most appropriate as many of the islands are surrounded by seductive turquoise water made luminous by the sunlight reflecting up from the shallow sandy bottom.

However, its 700 islands and sandy cays offer plenty of adventurous playgrounds for divers, whether just starting out or more experienced, to explore.

The most popular destinations are New Providence, with its capital city Nassau, and Grand Bahama, both providing some of the best and most varied diving of all. The Tongue of the Ocean is a dark blue shape on the map that licks round the western side of New Providence so that it's surrounded by deep blue water.

This gives it excellent diving because the fish of the ocean come up the steep reef walls to visit divers in the shallows. At the southern end of the island sits Stuart Cove's Dive South Ocean dive centre. Stuart and Michelle Cove are the glamorous couple that supply underwater facilities to filmmakers.

Not only can you learn to dive here but also as Hollywood's favourite location for underwater sequences there are many exciting wrecks to visit, some of which were intentionally sunk for the benefit of divers and others for use by film producers, notably of the James Bond films. In keeping with that, you can rent underwater scooters to see a lot more of the underwater reef walls than you might otherwise by simply being self-propelled.

If you've seen a movie with scary sharks in it you can almost bet it was shot with Stuart Cove's help but enlightened divers get a very different view to filmgoers of these magnificent creatures. You'll mainly see Caribbean reef sharks. There's something very special about being close to a swirling mass of sharks as they get fed in an orderly manner by the feeder with his helmet and chain mail gloves.

Grand Bahama also has deep water and can compete equally with New Providence for diving variety, and maybe more so. The intentionally sunk "SeaStar" and "Theo's Wreck" have been adopted as homes by huge numbers of Caribbean fishes including schoolmasters and spectacular amberjacks.

If shark-diving is your choice, regular shark-feeding dives are staged too but what makes diving here unique is the chance to dive with Atlantic Bottlenose dolphins. These have been rescued from dolphinarium and circuses around the world, rehabilitated and now live comfortably at Sanctuary Bay.

Some off the younger animals are actually offspring. Still dependant upon handouts of food from their human hosts, selected dolphin will accompany divers out to sea for a wonderfully close encounter yet return home when the time comes.

The UNEXSO dive centre, based at colourful Port Lucaya and close to Grand Bahama's excellent Pelican Bay Hotel, can arrange any of these diving experiences for you. If you want something extra special, the people there can also organise a cavern dive accompanied by an expert cave diver in one the submerged cave systems called the "blue holes".

These are caves complete with stalactites and stalagmites that were formed millions of years ago before sea-levels rose. They are so-called because where their roofs have collapsed they form dark blue patches in what would otherwise be shallow turquoise water.

Inter-island flights connect you with the rest of the Bahamas. Andros, the largest of the Bahamas, is famous for these blue holes. Many of them are found close to the coast and are so large that no special skills are needed to dive in and around them.

Andros is the largest yet least developed of the Bahamas and is fringed by a barrier reef that forms part of the third largest in the world. Small Hope Bay Lodge was built along the water's edge and it's a get-away-from it-all sort of a place.

The bungalows are basic and the food is buffet-style. When you're not diving you make your own entertainment or read a book. There are no phones or televisions.

Green Turtle Cay in the Abacos further North is a tiny island with white sand beaches, pretty reefas and where the main form of transport is a rented golf-cart. A great place to stay is the Bluff House hotel with its hot tubs, heated pools and adventurous dining.

Brendal runs the diving here though he's just as likely to take you out sailing in his sloop or take you over to an uninhabited cay for a beach barbecue where you can hand feed the stingrays in the shallows.

If you want to experience as much variety as possible underwater, a good solution is to book on a live-aboard dive vessel. These come with a varying degree of comfort to suit all pockets but they all give divers access to reefs that would otherwise be out of range of a boat that returns to its home base each evening.

The Aquacat is top-of-the-range and embarks its passengers at Paradise Island in Nassau. This vessel plies the waters between Eleuthera and the Exumas. The sloops of Blackbeard's Cruises are more basic. These depart from Grand Bahama and give you access to places like Cay Sal Bank, Bimini, the Berry Islands and North Andros. The Gingerbread Grounds are an area of reefs that are pristine and untouched by fishing, and thronging with marine life.