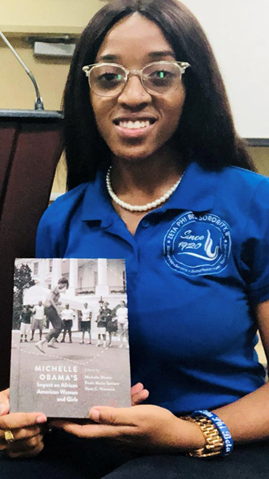 A former student of the Grand Bahama Catholic High School, Freeport, Grand Bahama, and now a senior at Florida Memorial University, Charleigha Knowles is certainly making her mark as her writings have been included in the book, "Michelle Obama's Impact on African American Women and Girls.

The edited collection explores how First Lady Michelle Obama "gradually expanded and broadened her role by engaging in social, political and economic activities which directly and indirectly impacted the lives of the American people, especially young women and girls. The volume responds to the various representations of Michelle Obama and how the language and images used to depict her either affirmed, offended, represented or misrepresented her and its authors. It is an interdisciplinary evaluation by African American women and girls of the First Lady's overall impact through several media, including original artwork and poetry. It also examines her political activities during and post-election 2016."

Charleigha' s excerpt can be found on page 285 with the subtitle, "A Title Removed: First Lady Michelle Obama since Leaving the White House." Charleigha speaks to the significant impact of Lady Obama's rise, and the influence it had on young women of colour in particular. The writing expresses the ability and examples she lived as a mother, a wife, and daughter who cares for her own mother, while achieving her own success on her own terms. Lady Obama's achievements began with the importance of obtaining a good education, a Harvard and Princeton graduate, a lawyer in her own right, she walked into the White House as an achiever, and she left as a global influencer.

The writings of Charleigha encapsulates a brief summary of a life unexpected, against all odds, yet a glimmer of hope to all women seeking to go beyond the barriers that society deems limited.

Charleigha is the daughter of Charles and Odette Knowles of Pine Dale, Eight Mile Rock, Grand Bahama. She is a certified advocate for HIV/AIDS education, a drummer, and a former member of The Grand Bahama Youth Choir. She is the current president of the Iota Alpha Chapter of Zeta Phi Beta Sorority, Inc. and also Miss Junior 2018-2019.