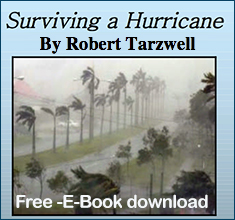 The Bahamas Weekly is pleased to present a free e-book download of "Surviving a Hurricane" written by Robert Tarzwell, a former resident of Grand Bahama.

Robert Tarzwell, a former member of the Grand Bahamas Red Cross, was an assistant manager and coordinator of the Red Cross medical FAST teams, which respond to medical emergencies and is a trained Red Cross hurricane shelter manager. A former member of the Bahamas Air Sea Rescue Association (BASRA), Robert was regularly seen out on the rescue boat assisting people in trouble. Robert has extensive boating and automotive knowledge, as his hobbies are fishing and car racing. Robert is also very knowledgeable in all construction techniques, having built many residential homes as well as commercial buildings.

Robert has first-hand experience in disaster survival. He and his wife rode out 15 days in Ottawa, Canada with no electrical power and limited supplies, during a major ice storm where the outside temperature was a very cold –25º C. As well, he has survived two major hurricanes and a tropical storm in Florida in a motor home. Robert has written and published ten books on electronics, car racing and other subjects.

What makes Robert able to write this book? The fact, that he has experienced all types of weather, dangerous situations and extreme conditions. Robert has the ability to read, study and talk to people with first-hand knowledge about a subject and filter out the important data from the unnecessary, and of course, the ability to get it to print.


The overwhelming problem that you will face in trying to get prepared is how to get over the mental barrier and the "I don't want to deal with it now, attitude." By planning ahead, you can minimize the dangers of these storms. By planning now, you also reduce the discomforts of recovery and the time required to return your life to normal. Please read this guide thoroughly and discuss it with your family - you should develop your family plan together. The contents of your survival kit should be personalized for you. My suggestions are just a starting point. Think about your needs, whether you stay or evacuate, and include these additional items in your checklist.





I have found it very effective when formulating a hurricane plan to list all the possible options. Then, upon a hurricane's approach, choose the options that best fit the particular circumstances.



Download your Free E-Book HERE

Robert Tarzwell, October 2004