The Manila Bulletin writes:

On the other side of the world, Oliver Tolentino, the boyish-looking Filipino fashion designer who has done the gowns of Patti Austin, Lea Salonga, Kuh Ledesma, and former First Lady Imelda Marcos to name a few, recently won the "Sustainable Eco Fashion 2010" award on the final night of the "Islands of the World Fashion Week" in Nassau, Bahamas.
"The experience was amazing," revealed Oliver in an exclusive interview. "I didn't know what to think at first when they offered to fly me down there, but the Bahamian people are so nice and friendly and the organizers are so professional. They had a lot of prominent international guests from the fashion industry who attended."
It was also the first time any Filipino fashion designer has been invited to participate in the Bahamas Fashion Week.
At the said event, which was held at the British Colonial Hilton Hotel and was televised in the Bahamas and in Miami, Florida, Oliver presented a 40-piece collection comprised of native fabrics pineapple fiber (piña), abaca plant fiber, and raw silk cocoon. Oliver was one of three international guest designers, alongside Jay McCarroll ("Project Runway" Season 1 winner), who was invited to the show.
Asked about his collection, Oliver revealed, "We were limited to a 30-piece collection, but I made and took 47 pieces! I wanted to really showcase Filipino fabrics. I was flattered that once they saw my collection, they asked me to show 40 pieces instead. My collection was probably 85 percent piña, abaca, and raw silk cocoon. I embellished several pieces with Philippine fresh water pearls. My favorite would be the winning piece. The hardest part in working with our fabrics is how to modernize the look so it can be worn in New York, Los Angeles, or Paris."
The "Sustainable Eco Fashion Award" was voted on by guest judges McCarroll, Simon Collins (Dean of the Parsons New School of Design in New York), and Louis Sarmiento (Sr VP of IMG in New York).
Host Nick Verreos ("Project Runway" Season 2) and Owen Bethel (founder of Islands) presented Oliver with the award last November 13, the same night boxing champ Manny Pacquiao won his eight title over Antonio Margarito in Dallas, Texas.
Oliver, who had flown in his signature supermodel, Tutay Maristela, just for his show, explained why he brought Tutay. "I wanted a Filipina to 'represent,'" he explained. "And boy did she! Host Nick Verreos joked to me that he understood why I would fly her anywhere in the world to walk. He loved her. By the end of the week, she had her own fans. The Caribbean models had a lot of respect for her once they saw her on the runway."
It was the first time to be in the Bahamas for both Oliver and Tutay. "Tutay's husband traveled with her and they were able to sight-see on their own," Oliver disclosed. "I got to see Lyford Cay, an exclusive area of Nassau where I had a Sean Connery sighting just a few feet away from me. He waved! Apparently, he's lived there since the days when James Bond filmed in the Bahamas."
Oliver, who just opened his new Makati boutique and is now back at his Melrose shop, narrated how he received the good news.
"The award was presented a couple of hours before the Pacquiao-Margarito fight started," he said. "I was so honored to be recognized by people such as the dean of the prestigious Parsons school and designer Jay McCarroll. Host Nick Verreos announced the award on the last night of the fashion week. After the ceremony, I was a guest at a fight viewing party with 150 kababayans. It was hosted by the Filipino Association of the Bahamas, which had been informed I was coming by the Embassy in Washington DC. I was proud to announce my win to everyone. They cheered. Then it was great watching Manny win in such a classy way."
What a great night, indeed, for the Philippines!
Formerly a Manila journalist, Los Angeles-based Janet Susan R. Nepales is a member of the Hollywood Foreign Press Association.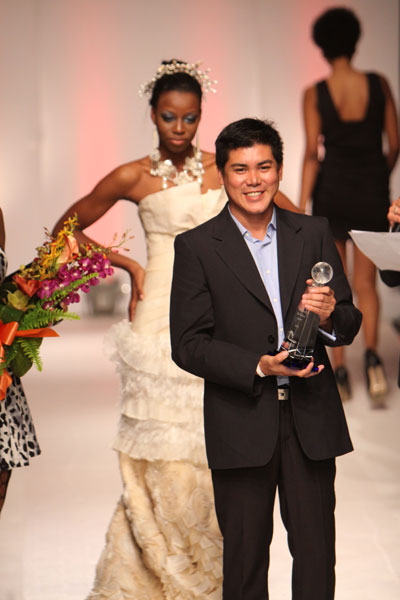 On the final night Oliver Tolentino wins the Eco-Fashion Award.
Photo: Ricardo Saint