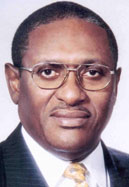 Bradley B Roberts
National Chairman
Progressive Liberal Party
Statement on the appointment of
Ellison Greenslade
As Acting Commissioner of Police
December 6, 2009
The Progressive Liberal Party wishes to extend congratulations to Mr. Ellison Greenslade on his appointment as Acting Commissioner of Police of the Commonwealth of The Bahamas.
Mr. Greenslade, whose career on the Police Force began in 1979 after leaving the Government High School has always been recognized for performing his duties with a standard of excellence, and for going beyond the call of duty in achieving the goals of the Royal Bahamas Police Force. From the very beginning, he was awarded the coveted, Baton of Honor for graduating top of his class at the Bahamas Police Academy.
This certainly set the tone for what has been a very distinguished and successful career for Mr. Greenslade thus far. We note that Mr. Greenslade,Canada, holds a Masters Degree in Business administration from the University of Miami and a post graduate certificate in police management and criminal justice from the University of Leicester in the United Kingdom. who has recently returned from further training in
It is perhaps, the people of Grand Bahama in particular, who appreciates most his dedicated service. For seven years, Mr. Greenslade served as assistant Commissioner of Police for the Northern Bahamas, under the headship of Commissioner Paul Farquharson. At the end of his exemplary tenure in Grand Bahama, the community gathered in gratitude for his altruism and working relationship with them. Former Chairman of the Grand Bahama Port Authority, who is also a retired Deputy Commissioner of Police Sir Albert J Miller summed up the words of thanks to Mr. Greenslade by describing him as a "people's police officer" and a "man of the street."
Commissioner Farquharson whom many had thought wanted to name Mr. Greenslade as his successor, said this about him at his farewell banquet, "Good leadership and role models are a rare product these days and when we find it, we have to harness it and make sure that it is harvested properly and we have good quality leadership and role model in our honoree tonight."
The Progressive Liberal Party in light of the many accomplishments and accolades of Mr. Greenslade has not withheld our own public confidence in him. We remain disappointed over the initial "political" appointment of outgoing Commissioner of Police Reginald Ferguson. This was a human example of the FNM's policy of 'stop cancel and review'; in what would have been the most appropriate appointment of Mr. Greenslade. This decision we feel, contributed to the disintegration of trust on the Royal Bahamas Police Force as well as very regressive crime fighting strategies during one of the most socially chaotic periods in the history of our Country.
Mr. Greenslade in our opinion is therefore forced to begin his new post at a grave disadvantage with murder and armed robbery statistics higher than any other time in the life of our once peaceful Nation.
Nevertheless the Progressive Liberal Party salutes Mr. Greenslade's appointment as acting Commissioner of Police. We feel that our Country will now receive the innovation and attention it so badly needs through a recommitted Police Force. We have no doubt that under his able and non partisan leadership; we are in the right hands during such a time as this. Serious times have now been given serious leadership.