Last Updated:

Feb 13, 2017 - 1:45:37 AM
---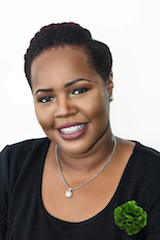 Nassau, Bahamas - The following is a ratification speech by Claire Basden - North Abaco, made on October 31st:

I first would like to give God all honor and glory for entrusting me with this opportunity. I do not take this moment lightly and I accept this position in all humility. To our Leader of the Democratic National Alliance movement; Mr. Branville McCartney, Deputy Leader Mr. Chris Mortimer along with the Executive and Supporting Team; my mother and mentor Deborah Basden, my family, friends and to my fellow Bahamians good morning.

I remember many conversations discussing how the Bahamas needs change in its political system and fast. This change we agreed needed to be a radical one. One that will definitely shift the direction our country is headed. For too long we have been accustomed to accepting the status quo of politics; while allowing our country to be taken away from us right before our very eyes. Even though these discussions were numerous I had an epiphany; that in order for change to come we then must be the change that we want to see. North Abaco, starting today onward I will be that change for you.

I stand before you today because just like you I am tired. I am tired of working so hard week after week, day after day, only to hear that my hard earned dollars are yet again the target for some form of taxation and not given the decency to be informed as to how it is being spent. I too am tired of high levels of crime making it harder for me to enjoy what we once called paradise. And to be brutally honest I am tired of all the lies therefore I stand here firmly to say enough is enough!

North Abaco has an immense amount of potential and the opportunities are endless. I would like to cultivate a community mindset where the churches, schools, local government, civil servants, community organizers all come together to make my vision become a reality. First I would like to see my people more educated and more empowered to own. That being said I will be sure to assist with soliciting and providing opportunities for training. There is an old adage that states GIVE a man a fish and you feed him for the night but TEACH him how to fish and you feed him for the rest of his life. I would like to see more educulture within our schools, and speaking of schools the softball fields, and basketball courts need to be repaired and maintained. That way those who choose to do something positive with their spare time will have a place to go. I will work along with our educational system to bring life to learning and implement and E-book system. I want Regatta back by the Green Turtle Cay dock and the Treasure Cay Airport to be revived with more flights; granted this will be a work in progress however nothing is impossible when we are all on one accord and I will not back down.

Granted at this point you feel powerless and hopeless BUT may I remind you today that the power is indeed all yours it always has. Not just during election time but as long as we are a democratic nation, you the people have the power. I admonish you to take advantage of that power and choose wisely. The bible says wisdom is the principle thing and in all your getting get understanding. Listen to the facts, take note of the details, watch what is going on around you. Time enough for the infamous saying "THAT'S MY PARTY" and I know its so hard to say goodbye to yesterday but its time to focus on the now and the future. Therefore I would like to leave you with a quote by US President JFK and I quote Change is the Law of Life and those who look only to the past or present are certain to miss the future. So may I remind you today of The Power of Now.

Once Again Thank you!








© Copyright 2016 by thebahamasweekly.com

Top of Page