Last Updated:

Feb 6, 2017 - 2:32:04 PM
---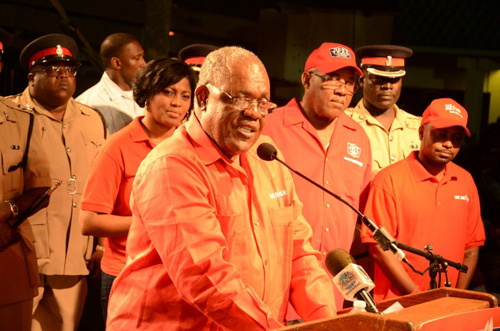 "Ingraham Reveals Details into Court Case Involving PLP Deputy Leader Brave Davis"



Freeport, Bahamas - The following are Remarks at the Free National Movement (FNM) Rally held at Sunrise Shopping Centre, Grand Bahama by the Rt. Hon. Hubert A. Ingraham, FNM Party Leader on 5 May 2012:

Grand Bahama;
Bahamians everywhere;

I report to you tonight that the Wave of Colour Red is headed for victory! I just came from MICAL over the weekend. I went to make sure they were in the bag. We tied the bag and tagged them – they are FNM!

We've been to Exuma, Central and South Eleuthera – we tied that bag and they are now tagged FNM!

After firing up torches in the Family Islands in advance of Election Day, we are making even brighter the torch of victory here in Grand Bahamas and later tonight in Nassau.

Now, let me make sure you understand. Don't worry about these names on these ballot papers – you're voting for the Torch. Here in Central Grand Bahama they have another man named Grant running, so don't look for no name, that's confusing. You look for that Torch, and Neko's name is in the middle.

Now I also promised my Rastafarian friends (as) they don't like to mark an "X" you know, that they can also do a 'tick' and it will still be good. So all Rastas, look at this! (holding ballot in hand).

I met with the Rasta High-Command two days ago when they came to pledge their support to the FNM.
Grand Bahama:

On behalf of the FNM I am asking you to send to Parliament the Fantastic Five of Neko Grant, Kwasi Thompson, Norris Bain, Peter Turnquest and Pakesia Parker Edgecombe.

West End, I'm going to do a walkabout down there tomorrow (Sunday) afternoon, and Bimini I'm going to come in there tomorrow evening. I'm also going to stop down here (Freeport) in the ghetto, and have a look at Hawksbill.

Grand Bahama:

We are engaged in very promising negotiations for you in terms of an increase in hotel rooms to take advantage of the new air capacity being brought in by Bahamasair. I will have more to say about this, God willing, fairly soon after we are returned to office with your help.

But as there are many a slip between cup and lip, I will keep my counsel for now. Unlike Christie and the PLP I don't deal in fantasyland and make-believe. If I tell you something, you can believe it. I'm in the delivery business, not the promising business.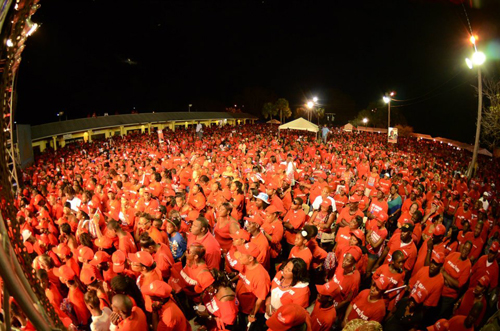 Grand Bahama:

Whoever came up with the expression, "can't walk and chew gum at the same time" must have had a vision of Perry Christie's Government, a textbook example of switch and bait.

Perry Christie and his PLP are responsible for the single biggest loss of hotel rooms at one time here in Grand Bahama and in The Bahamas. He has absolutely no credibility to talk about Tourism...none whatsoever, yet he came here and talked about it.

For five wasted years in office, Mr. Christie was the Best Actor in his party's campaign of switch and bait. "As Prime Minister", Perry Christie:

• Talked endlessly, but said very little of substance;
• Couldn't move from talk to action;
• Was passionate when it was time to talk, but lost his energy when it was time to work;
• Had words for every occasion, but lacked detailed action plans when it counted;
• Promised everything to everyone, but typically delivered nothing to anyone;

Remember Ginn? Remember Freeport as Las Vegas? Remember that Marshall Plan he promised? Remember hope and help for Royal Oasis? Remember that Moon project? Remember the promises made after the hurricanes. I hope somebody remember where that missing hurricane relief money disappeared to.

One of the best examples of this switch and bait was Mr. Christie's big failure on National Health Insurance (NHI). With his usual flamboyance he spoke providing help and hope on health care. Yet, when it came time to move from talk to action, his promise of NHI for every Bahamian never became a reality for a single Bahamian.

Incapable of shame for abandoning the Bahamian people on expanding health care coverage the Opposition tried to explain away their incompetence, just like a child might when his mommy finds him trying to "tief" from the cookie jar. Here's how their switch and bait works, the ultimate smoke and mirrors.

As the last election approached they rushed to produce a so-called NHI plan as if words on paper will cover the costs of things like prescription drug benefits. This last minute PR exercise failed and the Opposition lost the 2007 general election.

Now they are trying to use this same switch and bait again. So the people, who absolutely failed Grand Bahama, now tell you that they have even bigger plans. The same Christie who couldn't appoint a Defence Force Commodore in four years or buy a single vessel now says he has big plans for the Defense Force.

Here the definition of switch and bait PLP-style: Articulate a promise, utterly fail to get it done, and then promise it again while making excuses for failing to act.

The PLP is so envious of the FNM's many accomplishment that they are claiming that we stole their ideas. I guess we tief them out their minds and then put them in the ground.

This is typical PLP, talking out of both sides of their mouth, often on the same day. Perry Christie is an excellent example of switch and bait. Remember when h used to excuse his Never-Ready governing style as consultation? The PLP is:

• Big on saying what needs to be done, but can never get it done.
• Superb at fabrication when the facts become inconvenient;
• Smooth-talkers, but not doers;
• Good at manipulating words, borrowing ideas and manufacturing slogans;
• Masters of using distractions and dishonest rhetoric to conceal their failures and corruption.

They lie straight – they have no compunction about lying. I heard Alfred Gray on television the other night saying we got run out of Acklins. What a liar!

Fellow Bahamians;
FNMs:

Grand Bahama don't need more talk. You need a Delivery Team.

• Talk didn't produce a prescription drug benefit. It took FNM leadership to do that.
• Talk didn't build new schools. It took FNM leadership to do build the Sr. Mary Patricia Russell School.
• Talk didn't save the jobs of 20,000 civil servants. It took FNM leadership to do that.
• Talk didn't build the new C.A. Smith Administrative Centre or the new A&E at the Rand Memorial. It took FNM leadership to do that.

Our vision for Grand Bahama requires a full-range of on-island government services, improved public infrastructure outside of Freeport, in East and West Grand Bahama, expanded access to quality health care, and greater education and training opportunities. It requires also effective public safety and enhanced recreational amenities.

I told you before that I am not one given to overstatement. That's the business those others are in -- grandiose plans that never move from talk to reality.

But, it is my view that there are a variety of truly promising opportunities on the horizon for Freeport and Grand Bahama which will generate jobs, business opportunities and serve as a magnate to attract more Bahamian and Foreign Direct Investment to this island.

Grand Bahama, your interests will be best served with us than with them! They never meant you no good. That's why Gran Bahama is FNM Country. We know you love us. We love you back.

Next term we will also relocate two Government Departments here which will be a major, direct and sustainable boost to this island's economy. And, there's more to come.

And we are going to make sure the West of Grand Bahama will be able to get services without having to come to Freeport for government services.

Grand Bahama;
Young People:

Not even in office, the PLP is again faced with a massive conflict of interest by Perry Christie and Brave Davis. He went on record as saying he was a consultant, but we know he was a consultant because he told me he was a consultant. He spoke to me. He lobbied me. But he is dead quiet now when it comes to answering serious questions about his position as an oil lobbyist.

You cannot and you must not trust Christie and Davis on this oil business. As for me, my hands are not tied. My hands are free to make the best decision in the interest of the Bahamian people.

If there is oil in The Bahamas and it is to be drilled in The Bahamas, the benefit would be shared with yourselves, not consultants and those lawyers.

That Perry Christie has gone silent on his role as an oil lobbyist and refuses to answer important questions speaks volumes. It is those unanswered questions that you should be very worried about if that Gold Rush crew come back. I remind you that oil is called black gold.

You know, there is a case in court with a man named Weissfisch. Brave Davis is mixed up in that case and some allegations are made against him in that case.

So he went to court and asked the court to keep secret the allegations made against him in the case, and he asked the court to postpone the hearing of the case until Wednesday, May 9, and said:

'I was elected Deputy Leader of Her Majesty's Loyal Opposition the Progressive Liberal Party, and a highly charged political season is about to commence with a general election on the horizon. As I now hold a position of substantially more significance in the PLP, Weissfisch will no doubt seek to put into the public domain the baseless allegations made against me in these proceedings, with the objective of forcing me to capitulate to his demands or face the risk of being potentially prejudiced during the next general election campaign by the attendant publicity. My concern about that – putting the allegations against me in the public domain – is not based upon a fear of public embarrassment on my part. I have a good defence to all of these claims.'

Now, you would not know what is in these claims. I know what is in the claims. If you know what's in the claims, you wouldn't vote for Perry Christie and Brave Davis. But you will find out what's in the claim on Wednesday – two days after the general election, because they have sealed the records.

We had to banish influence peddling at the highest level of government back in 1992. We must not let it return. There is a deep underlying and disturbing pattern in the PLP.

While we, in the FNM see the precious land and resources of this country as the natural patrimony of the Bahamian people, the PLP see your land as their personal patrimony that they can auction off to foreigners so they can fill up their bank accounts.
And we are not going to sell The Bahamas to the oil company, nor to Weissfisch and Brave Davis and them.
For our part, the FNM is very greatful for the opportunity to be able to serve you, and I hope that you realise what the PLP is up to down here in Grand Bahama.
The FNM is winning all over The Bahamas. Monday night, God willing, we will be the government once again.
Before I went to San Salvador this morning I went on a tour of Fox Hill, and even I was astonished and astounded by the support in Fox Hill for the FNM. Fred Mitchell is gone, gone, gone!
Now you know, all of us have been invited to address the nation tomorrow night to the people of The Bahamas on ZNS television and radio.

My address will come on at 10:00pm on ZNS television and radio. It is uncertain whether or not Perry himself will speak tomorrow night for the PLP – you wait and see.

In a National Address on the 1st of May 2002, on the eve of that year's General Election, Perry Christie promised some things. He said:

"All PLP ministers, including myself, will be held to the toughest Code of Ethics we have ever had in this country. And I solemnly promise you tonight that if any minister should violate this Code, he will be dismissed in disgrace from my cabinet and prevented from ever again standing for election as a candidate of my Party."

Ten years later he is running a disgraced former Minister who brought shame to this country in one of the worst scandals in modern Bahamian history. He's running this same man again in a shocking contradiction of his so-called solemn pledge.

No newspaper has had to have any bad news reports about corruption or kickbacks over the last five years. We restored our name and we kept it clean out of people's mouths.

They could talk about us, but as good decent people and a good government.

Recently, The Miami Herald reported: "Five years after returning to power amid an international scandal involving a former Playmate of the Year, the Bahamas ruling party will face-off against opposition parties Monday in national elections to win a second consecutive term."

The paper went on to report: "...Critics say Christie has failed to reinvent his party after it lost re-election in 2007 amid a scandal involving...a former Playboy model..." The story also said that there were questions about the model's "relationship with Christie's immigration minister at the time. The scandal renewed focus on government scandals in the Bahamas..."

The PLP even ain't back in and we're already hearing again about Gibson, Gibson, Gibson around the world.

Remember what the Leader of the Opposition also who said in his 2002 National Address: "All people who know me will tell you that in my personal political creed there are absolutely three things I absolutely abhor: the first of these is corruption..."
Then over five years he presided over a scandal-ridden cabinet filled with corruption and wheeling and dealing. Now, in 2012, he is again running most of the very same bunch that brought shame to the country.
He promised to run a clean, honest government. But, the wheels quickly fell-off the PLP's golden chariot of greed and corruption that was the Christie Government of 2002 to 2007. It would be ten times worse if they came back.

The FNM has worked to change the political culture in this country. We have provided honest, accountable and transparent governance. The PLP is stuck in the past. They must be sent a decisive message on May 7th that The Bahamas is moving in a different direction. They must not be afforded the privilege of Government if they refuse to abide by decent norms of good governance.

I am proud that it was on our watch and mostly because of the work my Government has done that the group Transparency International has rated The Bahamas favourably in terms of transparency in government. We placed ahead of the great U.S. in this area.

Grand Bahama:

Tonight I wish to speak to our young people about service to country and to make two announcements that we believe will help to empower the youth of the nation including throughout Grand Bahama.

Those who oppose us claim that a program they ran in Andros for a relatively small number of adolescent males was National Youth Service. If you call something by a name long enough some people might believe it, even if it isn't true. That program was geared to helping at-risk youth. But it was nothing even remotely approaching a National Youth Service program.

While that program had some good results, we wanted to reach even more young people especially given the cost of that program and the fact that it only assisted a small number of young men every year.

Two weeks ago we gave $1 million dollars in grants for urban outreach and youth which we think will reach even more people. And we will do even more especially in the area of genuine National Youth Service that will be worthy of the name.

For those 18-25-year olds who seek to serve we will launch the Bahamas Youth Corps. Corps members will be able to give service to our country while helping to build community. They will receive stipends which can go towards further education and training or towards starting one's own business.

This program will be a genuine form of National Youth Service. But it will be voluntary. All of this is a part of the Opportunity Society we seek to build.

Young Bahamians: You country wants you to ask what we can do for you. In return, your country asks what you can do for your country.

We ask you to become responsible citizens by demonstrating individual responsibility and mutual responsibility in helping to build a better Bahamas. You are not only the future. We need your ideas, talents and energy to help build a better country today.

In the spirit of genuine National Youth Service we will make community service programmes a requirement for graduation in the Government-operated school system. We will review and revamp existing community service programmes to make them a better service and learning experience.

Thousands of students will have the opportunity to give back to their community through service. We seek to develop in our young people a sense of respect for others and a greater sense of citizenship and belonging.

This will all help to reduce crime and violence among young people. But its main objective is to cultivate in our young people, compassion for others and personal character within themselves.

Tonight, I also announce that to nurture the gifts and skills of students in the Government-operate school system we will introduce a "Work Experience" programme. This will help to ensure that all 12th grade students have the opportunity to do real world apprenticeships prior to graduation.

I would also like young entrepreneurs and young professionals in Grand Bahamas to take advantage of the Heritage Tourism Initiative. As a part of this initiative we will upgrade and improve access to heritage sites and assist with the training of tour guides. Those developing businesses related to Heritage Tourism can look forward to accessing a mix of incentives including small grants and microloans.

Grand Bahama;
Young People:

Don't let anybody bamboozle you. This election is and has always been about leadership. I couldn't find Christie's posters in Nassau, so I came looking for them in Grand Bahama. You seen them? I ain't seen them yet.

Why you think they hiding their Leader from you? If the PLP is hiding him now while they are out office, ca you imagine what they would do to him if they were in office? I'm proud to say that the FNM is proud of its Leader.

Grand Bahama:

The same Perry Christie who couldn't even manage this campaign properly will be just as weak in any other office. He produced a botched-up, rig-up platform two weeks ago. Their Town Hall meeting at the Wyndham in Nassau was a disaster.

He and Fred Mitchell are still not on the same page about the national Education budget. He couldn't convince his people to put up posters of him. The same Party that failed to deliver on the vast majority of the promises in their 2002 platform now wants you to believe that they have even bigger plans for you.

If you voted for against PLP in 2007, why in God's name would you vote for them now? You've already had them and you know they've been no good for you. What do they think you think of them, having voted them out of office, that you are going to put them back in office?

While Christie was in office he like to play tourist you know. It took teamwork to complete 95 per cent of the promises in our Manifesto, and even the likes of Brave Davis, Leslie Miller, Shane Gibson, Allyson Maynard Gibson, Bradley Roberts, Valentine Grimes, V. Alfred Gray, Obie Wilchcombe, Jerome Fitzgerald and others – without supervision is like leaving the room and telling a two year old not to put his hand in that cookie jar!

FNMs
Grand Bahama
Young Women and Men:

As we depart tonight, I ask you, come go with me and the FNM. Fortify yourself with good cheer, confidence, and prayer. Press on mightily, for in the end and God-willing the Bahamian people will reach for the torch of freedom and say no to those hands reaching for that gold in the cookie jar.

Go to vote peacefully. Avoid any possible confrontations. Only mark your X next to the Torch. Don't write anything in the area where you are supposed to vote. This can spoil your ballot.

Grand Bahama:
Let us join in one accord as together we build an even better Bahamas. Thank you. God bless our young people and God bless Grand Bahama and the entire Commonwealth of The Bahamas. Good night. Now I have to go heat up that Nassau fire!





© Copyright 2012 by thebahamasweekly.com

Top of Page