Last Updated:

Feb 15, 2017 - 1:37:22 PM
---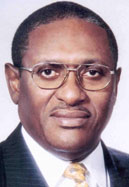 With so many important issues facing this country, I am loathe to respond to media comments attributed to FNM candidate Dionisio D'Aguilar. While I regard his comments as unfortunate and at odds with reality and the facts, I make a few observations at the invitation of the press and for the record.

The record PLP's record of empowering Bahamians from all walks of life is legendary. Our major beneficiaries of our policy of Bahamianization and our economic policy are our white brothers and sisters who comprise much of the merchant class. That is a fact.

A member of that merchant class is Dionisio D'Aguilar, a local business leader who has benefitted much from that protectionist policy and the overall prudent management of the Bahamian economy by the PLP administration – an administration he seems obsessed with demonizing and slandering – but facts are stubborn.

As he runs to the media and seeks to convince Bahamians that the PLP is evil and bad for The Bahamas, D'Aguilar continues to earn profits hand over fist from his wash houses, this supermarkets and his fast food franchises; his business empire is in full expansion mode. In fact, notwithstanding his empty vitriolic invective, his supreme confidence in the Christie led government to manage this economy is tangible and evident by the expansion of his business empire.

D'AGUILAR CUSSES THE PLP GOVERNMENT ALL THE WAY TO THE BANK.

His continued attacks on the PLP government present him with a dilemma and credibility problem because he is challenged to explain his expanded wealth in the face of what he calls an evil and incompetent government. He must also explain how and why he relishes in demonizing these same black Bahamian customers and employees who continue to facilitate the expansion of his wealth, hand over fist.

To poor complaining multimillionaire D'Aguilar – some unsolicited advice. Firstly, Bahamians would not sympathize with a crybaby spoiled brat millionaire with a gold spoon in his mouth. Secondly, instead of complaining, D'Aguilar needs to be about campaigning and winning the hearts and minds of those he seeks to represent. Thirdly, he should apologize to voters for reportedly saying that he will never enter politics because Bahamians beg too much.

D'Aguilar's credibility problems continue.






© Copyright 2017 by thebahamasweekly.com

Top of Page