Last Updated:

Jan 31, 2019 - 3:23:52 PM
---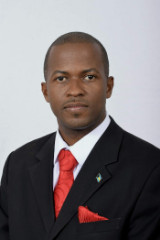 Madam President,

I want to start off by saying that I want to take this time to wish the Bahamian people, my fellow Hon. Senators here in this upper chamber and also the MPs representing the lower chamber, a very, very happy new year. Serving as a Hon. Senator I am truly honored. I take this opportunity to serve my Bahamian people very seriously and truly a humbling experience. I want to wish everyone in our Bahama land a very safe and prosperous new year.

Madam President,

Proverbs 25:14 A person who promises a gift but doesn't give it is like clouds and wind that bring no rain.

Last year this document was tabled in the lower house to be debated on. I recalled listening clearly where members opposite heckled in the usual manner that this will never come to light. Madam President unlike those opposite whose record is clear as crystal when it comes to not fulfilling their political promises, the FNM on the other hand has a radiant and distinct record in fulfilling its political promises to the Bahamian people and today is another shining star being added to that proud legacy of being a government in the sunshine.

Madam President,

The Government of The Bahamas is seeking approval for the conveyance of 1.2 acres of land in the Fox Hill community to be developed for the sale of serviced lots, and is part of the Government's commitment to develop new subdivisions to address the demand for affordable housing and home ownership.

If we look around the country particularly in Nassau, lots are selling for $80k a pop or even more. And the reality is the majority of hardworking Bahamians cannot afford that. The FNM government is steadfast in ensuring that the Bahamian people who are interested in owning a piece of the rock to build their homes to either start a family or move their family in can be able to afford it at a low cost value. Unlike the former government and those opposite who made promises like the mortgage relief program according to them was supposed to help thousands of Bahamians. It never scratch the surface of its objectives, instead they helped a chosen few and intentionally forgot the people but now the same people are hell bent to be critical on this FNM government doing something they couldn't do and that is delivering its promise to the Bahamian people. This is what caring governments do. We help those who want to help themselves.

Madam President,

I've been saying for months now that old ways doing things have to cease. The Minister responsible for Housing Hon. Romauld Ferrearh highlight how the old way of doing business under the PLP cannot continue. He said that under the Christie & Davis leadership, low cost home were being overpriced. There was a few subdivisions that had houses overpriced between 13-18 thousand dollars." In my view Bahamians were shafted by that so called Bahamian first government and instead they were more focused on that gold rush agenda.

Madam President,

These lots that the government is offering comes with proper infrastructure, cesspit, electricity, phone and water all of which will be available upon purchasing. Bahamians who buy their piece of the rock will be responsible to find their own architect, contractor and build their own dream homes. In addition if they wish to use preexisting plans by the department of housing then they can. The first phase of this promise came into existence in July 2018 when the government opened the sunset closed subdivision. We did this because we have Bahamians who couldn't afford market price costs to still have an opportunity to be able to purchase lots, own a piece of the rock and build their dream home. In Matthew 25:40-45

40 'Truly I tell you, whatever you did for one of the least of these brothers and sisters of mine, you did for me.' with that being said, this is 2019, we are going to do more for the Bahamian people not just in Nassau, but also in the family islands.

Madam President,

In For Fox hill, the subdivision will comprise of 10 serviced lots that will be sold to young Bahamians and will be called the Lionel Davis Subdivision." These new serviced lots are part of the Government's new access to affordable homes programme. For those who don't know, The late Lionel Davis served as the Member of Parliament for the Fox Hill constituency from 1968 to 1977. He was one of the founding members of the modern day Fox Hill Festival.

Under the Access to Affordable Homes Act 2018, owners of serviced lots in a government-approved subdivision may apply to the Minister of Finance for exemption from customs duties and excise tax on all materials necessary to construct a single-family dwelling home.

According to the Minister responsible for housing "The serviced lots in Sunset Close were sold for under $20,000 to police officers, defence force officers, customs officers and teachers, said Mr. Ferreira. A number of mortgages have also been approved for the construction of homes."


To my understanding, the lots in Lionel Davis Subdivision are expected to be sold for a similar price, he added.

Madam President,

In addition to my questioning high level personnel at The Department of Housing, they have already identified land for subdivision development in Abaco, Andros, San Salvador and Carmichael Village Subdivision in New Providence.

Madam President,

I remember this personal incident very clearly because it stayed in my mind. I remember as a younger chap going to Mortgage Corporation applying for a government home in 2003. I brought all my information which was required, I remember getting the horrible news that I was not qualified and they explain to me because of my loans here and there plus my salary was too small. I was devastated. I told an elder in the community at that time what happened and he advised me to don't feel bad because I have made an important, but positive step in my life to own a piece of the rock in my young age. He asked me how much more years do I have on my car loan and I told him 2 more years. He said ok Two years later you should have also a salary increase. Two years later, I went back to Mortgage Corporation and reapplied for a government home. They lady then told me that I will not approve. I asked why? I already paid off my loans. She said it's because of your salary. Again, I felt devastated but she told me to get someone who will be willing to sign on with you as a co-sponsor so your file can look more attractive and you can be approve to go to the next level for consideration. I did that and thankfully was able to find someone to sign on with me just so I can be one step closer to achieving my goal.

Madam President,

During that year I waited and waited for a phone call to tell me Mr. Jamal Moss, you have been approved. Instead during the last 3 months I wasted money on answering every strange number on my cell phone thinking this was housing people calling me. And ya know minutes wasn't cheap back in the day. In mid-2005 while at work I received a call from an unknown number. I went outside because I was in the receptionist area and I answered it saying hello good afternoon the person on the other side of phone said hello, is this Jamal Moss? I said yes this is he. May I asked whose asking? They say Jamal Moss who campaigned with Carl Bethel? I said yeahhh, Jamal this me the minister? I was alerted about your application and when I saw ya name and where you work, I had to call you to be sure. Now in my naive mind he's calling me to tell me that I have been approved. I asked him so I am approved? Instead only to tell me "een nuttin happening for you!" I was like huh?? He said man you is a FNM, I can't do this for you plus the board already declare that they aren't approving it. He told me to wait until your party get back in power and that will be a very long time. He then said he has to go and hanged up.

Madam President,

I was left in shocked! I felt like someone ripped me off of my life savings. My zeal to work that day dropped big time. My coworker saw me sitting so quiet in the production rom with clear sadness on my face asking me what happened is everything ok. I said yeah, I am ok. He was like Jamal, I know you always happy and excited now you seem unusual. I told him what happened an hour ago and he couldn't believe it. He told me not to worry because what God has for you, it will come no matter what. 2years later they were thrown out of office. I then went back to Mortgage Corporation to follow up on my application and update it only to be told that the file did not exists. I was like what you mean did not exist? I brought all my documents here etc. Thankfully a ranking employee of the corporation kept a copy of my file because of me constantly updating it was able to assist me. In 2009, I was able to obtain a home.




Madam President,



Senator Hon. Foulkes said earlier that owning a piece of the rock, building a home to move your family into is one of the best goals that can be achieved. It brings a high level of sense worth, achievement etc to the average Bahamian man. And he's absolutely right and that is how I told my story and this is why this FNM government is helping Bahamians especially YOUNG Bahamians to realize that dream. As a young senator I can tell you that the average Bahamian out there are not looking for a hand out, but instead looking for a shot! We want to do things for ourselves, but just need that assistance from those in whatever positions they have to respect that. The FNM is doing just that so when the opposition can come with these redirect that we aren't doing this or that, again I want them to appreciate that not everyone wants a hand out , but a shot! We are giving people HOPE! We are giving them a shot at a future! We are building and strengthening the Bahamian middle class!. That is what this FNM government is doing!!!I applaud this government for understanding that and respecting Bahamians to give that shot because like the bible teaches us, and reminded us that whatever you do for the least of these brothers and sisters of mine you did for me. Madam President this what caring and righteous governments do for the people.








© Copyright 2019 by thebahamasweekly.com

Top of Page