Last Updated:

Mar 27, 2019 - 11:45:43 PM
---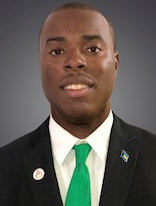 The Young Democrats Alliance (YDA) is saddened by the recent violence at the T.A. Thompson Junior High School which resulted in the death of a student. Another promising life has been cut short by a senseless killing on our streets.

We wish to extend our sincere condolences to the parents, immediate and school family of the student that was fatally stabbed earlier today. Our thoughts and prayers are with them during this difficult time.

This unfortunate incident brings to mind a similar stabbing at the Doris Johnson High School some time ago and it is heartbreaking to see history repeating itself.

The YDA is appealing to the youth of our nation to drop their weapons and stop the killing. The future of our nation lies in the hands and collective effort of the youth. We are the ones that must take on the mantle of leadership and receive the baton of nation building for the sustenance of our commonwealth.

It is time for us as Bahamians to come together and address the menace of youth violence. The YDA is calling on both Ministers of Education and Youth & Sports to collaborate with the families of all murder victims to implement initiatives aimed at preventing further killings and stemming retaliation in our communities.

We must come together as community leaders and patriots to strengthen the communities. Every member of a community can make a difference and help prevent youth violence. We are calling on all Bahamians to:


Be a mentor, tutor or volunteer at schools or youth-serving organizations to guide youth and model non-violence;
Support the healthy development of all young people in the community; whether they are youth at more immediate risk for violence or youth who don't show obvious signs of difficulties;
Provide meaningful and appropriate opportunities through businesses or social/civic groups so youth can develop their interests, skills, and talents;
Encourage our youth when they behave well and help them see the benefits of making good choices;
Take immediate action when youth violence occurs by letting young people know violence is never okay, coach them on how to resolve conflicts calmly and nonviolently, and involve other adults such as parents, teachers, or law enforcement in this process.
The YDA is calling on all those who love our country to come together regardless of our differences for a common good. This is indeed a call to action. The Democratic National Alliance is grieved by the level of youth violence in our nation and stands ready to lead the charge to stem this epidemic.

Laron G. Moxey
YDA President






© Copyright 2019 by thebahamasweekly.com

Top of Page