Nassau, The Bahamas – As the government continues its mission of celebrating those who dedicated their lives to education, another such person has been memorialised.
That person, the late Anatol Carridad Rodgers' legacy was officially recognised during a dedication service concretising her passion for education. Although the school was constructed in 2008, an official opening ceremony commemorating the event was held on Friday, January 20 at the school.
Calling the event a momentous one, Prime Minister, the Rt. Hon. Hubert A. Ingraham shared his sentiments on the occasion.
"The Bahamas and its people have been fortunate to benefit from the services of many dedicated and committed educators over the years," said Mr. Ingraham. "Still, from among that elite group, there is a small cadre whose names are synonymous with excellence in education and training. Anatol Rodgers' name looms large among those.
Minister of Education, the Hon. T. Desmond Bannister echoed the same sentiments, saying that he was especially proud to be present as Mrs. Rodgers was his former teacher and principal.
"I am truly overwhelmed because Mrs. Anatol Rodgers was instrumental in me being here today," said Mr. Bannister. "She was my teacher. She was my principal; and I can tell you that she not only looked the role with her dignified and stately bearing, and her kind, gracious demeanour; she also had the intellect to bring academic rigour to the classroom and the presence to put her students at ease so that we wanted to please her by doing our best at all times."
Also present was Minister of Public works and utilities, the Hon. Neko Grant who gave a breakdown of the school's construction.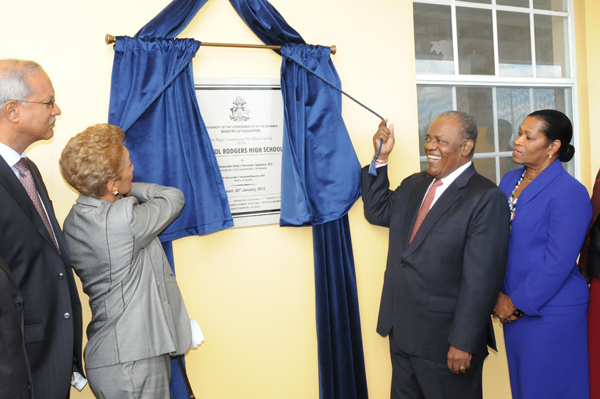 Anatol Rodgers was the eldest child of Cleveland H. Reeves (after whom C. H. Reeves School is named) and Lucille Robinson Reeves. She was home schooled by her mother before she enrolled at the Eastern Senior School and the Government High School. After receiving a Cambridge certificate with exemption from matriculation at the age of 15, she taught at the Western Junior School as a junior assistant tutor. Later, she pursued a Bachelor's degree from Spelman College in Atlanta, Georgia. She also received a professional elementary teacher's certificate from the Georgia Department of Education and obtained a Master's degree in Latin from Atlanta University. Upon her return to The Bahamas, she became Assistant Mistress at GHS, teaching English and Latin. She later obtained a postgraduate certificate in Education from Cambridge University in England. In l971, she became the third Bahamian and first female to head the Government High School. She was married to the late D. K.V.A. Rodgers in l942 and the couple had three children, Emily Rodgers, Dr. Patricia Rodgers and Dr. Jonathan Rodgers.
The Anatol Rodgers High School was constructed in 2008. The school boasts of being the only government school in New Providence that caters to both junior and senior high school students. With a student population of 1260, the school has 89 teachers.
The school offers two Magnet programmes – Pre-Engineering and Information Technology. The cost of this modern facility exceeds $16 million and contains laboratories for Science, Music and Computers; a multi-purpose gymnasium; state-of-the-art Hospitality and Family and Consumer Education rooms; an industrial kitchen and Carpentry and Technical workshops. The school also features sporting facilities for basketball, tennis and track and field events.
Official Opening Remarks of Anatol Rodgers High School - Prime Minister Hubert Ingraham‏