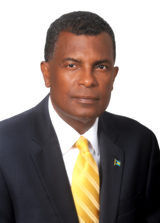 Nassau, Bahamas - The following is a Communication "Update To The House On Immigration Policy" by Fred Mitchell MP, Minister Of Foreign Affairs And Immigration in the House Of Assembly, Nassau delivered on 19th November 2014:

I wish Mr. Speaker to repeat to the House the policy of the government on Immigration announced on 30th October of this year. This concretized months of work announcing that these changes were coming.This announcement should therefore not have been a surprise to anyone.
The Public is reminded that as of 1ST November 2014 the following will apply:
No applications will be accepted in The Bahamas for first-time work permit applicants who have no legal status in The Bahamas. All first-time applicants for work permits without legal status in The Bahamas will have to be certified as having been seen by The Bahamas Embassy in their home country or the nearest Consular Office of The Bahamas. There are no exceptions to this rule.
This does not apply to renewals once those are made before the current permit expires.
As of 1st November, 2014 the Passport Office will no longer issue Certificates of Identity to those persons born of non-nationals in The Bahamas. Those individuals who have valid Certificates of Identity must now obtain the passport of their nationality and apply for a residency permit which will show that they have a right to live and work in The Bahamas. There are no exceptions to this except in accordance with our international treaty obligations.
A Special Residency Permit will be available for those individuals who have the right to apply for Bahamian citizenship at the age of 18 and before their 19 th birthday. The processing fee is 100 dollars and the annual permit is 25 dollars . These permits will only be issued to those persons whose parents are lawfully in The Bahamas. This will allow the holder to live, work and go to school in The Bahamas until such time as their citizenship status is determined. These are obtained upon application at the Department of Immigration. Applications can be obtained for the special permit beginning on Monday 3rd November.
All people who live and work in The Bahamas are reminded that it is prudent to have a document on your person, at all times, which shows that you have a right to live and work in The Bahamas.
The public is asked to be patient as the new policies unfold.
Any comments on the policy may be addressed to the Director of Immigration.
The Ministry of Foreign Affairs and Immigration thanks the public for their support and cooperation.