Last Updated:

Jun 18, 2019 - 3:37:54 PM
---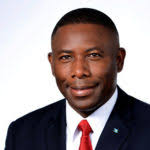 Contribution

of

Hon. Renward R. Wells

Member of Parliament (Bamboo Town)

Minister of Transport and Local Government

to the

Budget Debate – Fiscal Year 2019/2020

"Implementing Government's Policy Agenda and Securing Core Fiscal Objectives"





17th June 2019

House of Assembly

Commonwealth of The Bahamas



Mr. Speaker

I rise today in this Place on the grace and unmerited favour of Yahweh, Elohim, The Lord of Life. For in Him we live, move and have our being.

Mr. Speaker

King Solomon was the wisest man who has ever lived and no one after him has possessed such wisdom. This most wise gentleman wrote the book of Ecclesiastes where he spoke about all that he had experienced in this life; and how he went to parties (wine and women), and had a good time, how he amassed great wealth but couldn't take it with him. How he ended up with three hundred (300) wives and seven hundred (700) concubines (sweethearts) and could not find any fulfilment in all of that.

Mr. Speaker

Our Chaplain last week spoke about this.

Mr. Speaker

At the end of the book of Ecclesiastes, at the end of Solomon's life, he summed his life up this way; that the total responsible of man is this: In Chapter 12, verse 13 and 14, "Let us hear the conclusion of the whole matter: Fear God, and keep his commandments: for this is the whole duty of man. For God shall bring every work into judgment, with every secret thing, whether it be good, or whether it be evil."

Mr. Speaker

Because there is going to be a day where our thoughts and intentions, the inclination of our hearts and our actions are going to be judged, it is wise for all of us to continuously undertake self-audits to ensure our thoughts and intentions are good.

Mr. Speaker

In regards to our thoughts and intensions, I heard in this Place the conversation about the poor and a number of persons have gotten up and spoken about our love or lack thereof. Love or Lack thereof is based on my interpretation during this debate. But I want the Bahamian people to hear me and be on guard when individuals speak about their love and concern for the poor in future.

Mr. Speaker

I am not imputing impure motives to anyone because Rule 33, section 17, says that we are not supposed to do that in Place. But, I have come here today with what I believe it is a teachable moment from History. His-story.

Mr. Speaker

Judas Iscariot was a man of influence. He was the banker, the accountant, he was the treasurer for the disciples of Jesus; and I do believe that all of us in here are keepers of the public purse. In John Chapter 12, vs 1- 7it reads:

"Six days before the Passover, Jesus came to Bethany, where Lazarus lived, whom Jesus had raised from the dead. Here a dinner was given in Jesus' honour. Martha served, while Lazarus was among those reclining at the table with Jesus. Then Mary took about a pint of pure nard, an expensive perfume; she poured it on Jesus' feet and wiped his feet with her hair. And the house was filled with the fragrance of the perfume. But one of his disciples, Judas Iscariot, who was later to betray him, objected, 'Why wasn't this perfume sold and the money given to the poor? It was worth a year's wages.' Judas did not say this because he cared about the poor, but because he was a thief; as keeper of the money bag, he used to help himself to what was put into it." "For The love of money is the root of all evil (1 Timothy 6:10)", "for money answers everything (Ecclesiastes 10:19)" and "By their fruits you certainly will know them (Matthew 7:15-20)".

So for all of us, let our thoughts and intentions be pure in regard to the poor and not political posturing in this place. Selah

Mr. Speaker

I have heard it also said during this debate that this budget has no vision, lacks vision. In differing, I say that it is vision and shared values that bind this Free National Movement government together. We know and understand that "Where this is no vision the people perish (Proverbs 29:18)." We know that vision is the end destination, where we intend to go.

Mr. Speaker

The Good Book says that we are to "Write the vision, and make it plain upon tables, that he who reads it will run with it and if we act on it, it will surely come to past. It shall not disappoint (Habakkuk 2:2)."

Mr. Speaker

The last time I checked, we wrote the vision down. I looked at our Manifesto, The Speech from the Throne, this Budget…all written. Vision, our end destination for all to see...

Mr. Speaker

Money answers everything. This budget is for us, the government's irrefutable proof of us putting money to our continued vision to rescue the Bahamian economy and, yes, poor people.


We have a vision of food security. We have put measures in place in the budget relative to BAMSI, farmers, and fishers. Our vision being fulfilled.
We have a vision of energy security. We have made allocations for renewable/ solar energy and new generating equipment for BPL. We intend, Mr Speaker, to solarise the Family Islands and our public schools. Our vision being fulfilled.
Our vision of social transformation, a renaissance in the over-the-hill communities, our heritage communities, is being further pursued in this budget. Tax incentive for residents and businesses are still in place. Cleanup campaigns are still underway. Southern Recreation Grounds is still under construction. Our vision being fulfilled.
Our vision of a highly educated and vocationally trained society is being further pursued. Free tuition for students at UB in the Fall/September and continued free tuition at BTVI is in this budget. Our vision being fulfilled!
Our vision to assist the poor and economical vulnerable is being further pursued. Zero rate of VAT on breadbasket items, on electricity under $300 and Water and Sewerage bills under $50 dollars. As well as reduction on custom duties on certain items in this budget. Our vision being fulfilled!
Our vision of more transparency, more accountability in how we deal with the finances of our country is being pursued through the Fiscal Responsibility Act passed in this Parliament, which requires us to have a quarterly report relative to how the nation is doing, not just a mid-year budget review. The Act mandated that last year's budget deficit could only be 1.8% of GDP, which we did. This year, budget deficit had to be 1% of GDP, which we did. And next year's overall budget deficit will be no more than 0.5% of GDP and eventually, to a balanced budget. In order to achieve this feat, we have to bring our spending in line and simultaneously grow the economy; which incidentally grew last year by 1.6% and I do believe will grow by an even larger number this year. Mr. Speaker, that is our vision being fulfilled.
We have a vision Mr. Speaker yet to be achieved where our capital spending in the budget is larger than the $372M interest that we pay on our national debt. And Mr. Speaker, I believe if our history is any indication of our capacity to achieve, the Bahamian people can look forward to seeing that feat achieved in a future budget. In this budget we have allocated some $207M to capital works. We have accomplished goals toward our vision…some in part, some in full. Stay tuned Mr Speaker! The best is yet to come and the half has never yet been told.

Constituency Matters

Mr. Speaker

I am reminded of another scripture. No apologies, Mr Speaker. I can only be who I am. I grew up having to memorise the Book and it is just like fire shut up in my bones. Jeremiah, in chapter 29 verse 11 wrote, "For I know the plans I have for you," declares the LORD, "plans to do you good and not evil, plans to give you a future and a hope." It is God speaking to Israel and I have used it as my statement of purpose for the constituency of Bamboo Town.

Mr. Speaker

When I ran in 2012 and 2017, I said to the people of Bamboo Town that I know the plans I have for you, plans to do you good and not evil, plans for a future and a hope. And I said to Bamboo it is about you. Mr. Speaker, I have not lost sight of that and I have asked the people of Bamboo Town to never lose sight of it either. Indeed, that is why I have come into this place.

Mr. Speaker

In my constituency, we have done a lot of work and I take this opportunity to say a Happy Belated Father's Day to all the fathers in Bamboo Town and the entire Bahamas. I hope you enjoyed your crab and rice. I certainly enjoyed mine.

Moving along, Mr. Speaker

Let me offer my condolences to the families of Alrae Rahming and Blair John, while I offer condolences to families of my constituents:


31-year-old Able Seaman Kennedy Carroll Storr Jr. of Taylor Drive, Bamboo Town;
96-year-old Glyde Dean Gardner of Seven Hills;
84-year-old Vera Smith of Joan's Heights;
29-year-old Ashanti C. Hall of Bamboo Town; and
80-year old James Smith of Kennedy Subdivision.

Surely, there are others in my constituency, Mr. Speaker.

For all of their families, I pray that God the Father of Compassion, the God of All Comfort, in His infinite mercy and love, provides peace in their circumstances. May the souls of the faithful departed rest in peace and rise in glory.

Mr. Speaker

I offer congratulations to my constituent, the National Teacher of the Year winner, Mrs. Waynette Bethel-Hanna as well as her parents, who are also my constituents, Mr. Wayne Bethel who works at the Port Department and runs a very successful construction company, Nassau Construction and her mother, Mrs. Glendina Bethel, Accountant, Ministry of Social Services. I congratulate them all.

Mr. Speaker

In Bamboo Town, I have sponsored a number of programmes;


Summer school, summer science and Entrepreneurship programmes through Mr. Malcolm Foulkes.
Mr. Speaker, We have partnered with The Ministry of National Security and our National Neighbourhood Watch Programme in Bamboo Town to ensure the safety and security of the residents of Bamboo Town.
Mr Speaker, for the record, my constituency office is opened from 9am to 5pm, Monday through Friday, and every Thursday starting at 3pm.


Mr. Speaker,

Bamboo Town is a progressive group of communities. When I sought re-election to that area, flooding was a significant challenge for residents, due in part, to unscrupulous individuals who allegedly stole the metal grills off of the top of drainage wells resulting in a lot of the wells filling up with silt. With the cooperation of the Minister of Public Works, we are securing improvements of the drainage systems in various areas of the constituency. Drainage wells on Sapodilla Boulevard, around the Kennedy Park, and at the entrance to Gamble Heights are functioning well and their maintenance/cleaning has been ongoing. The drains at the rear of Super Value require either the road to be lifted or repositioning of the wells to get the effective hydraulic head.

Mr. Speaker

Our speed control programme has added to the safety of the streets of Bamboo Town. The road bumps have slowed the pace of vehicular traffic through the residential area, which is used as short cuts by impatient motorists who give no thought to folks who may be crossing or playing near the streets.

Mr Speaker

I also thank my colleague Minister of The Environment for his attention to Bamboo Town. The increased and on-time collection of household garbage has provided tremendous relief for residents. Our clean-up campaigns have been successful and our efforts will be sustained in the next fiscal year.

We are happy with our Derelict Vehicle Removal Programme, and look forward to the new initiative in this budget, of $50 for owners to remove some derelict vehicles in the over-the-hill communities.

Mr. Speaker

We continue to have great challenges in the area of Dorsettville near Resurrection Catholic Church and the community next to Zion Baptist Church on Zion Blvd. Both were cleaned the other day and two days later, bulk waste was deposited there again.

I find it hard to believe that people who live in that area are the perpetrators. I therefore urge residents to be watchful and report any and all incidences of dumping; and I urge those that are responsible to take to properly disposing of their waste.

Mr. Speaker

If I were a betting man, I would likely win a wager that the culprits were paid to take those items to the New Providence Landfill but did not do so.

Mr. Speaker

We will implement counter-measures to catch these culprits and seek their prosecution in our new Environmental Courts. So perpetrators, be forewarned.

Mr. Speaker

This Government believes in the empowerment of people – not simply locating jobs. That is why I fully support our implementation of one of our most impactful initiatives, the Small Business Development Centre (SBDC).

We are breaking the cycle of dependency on Government, facilitating growth and expansion, as the Minister of Finance communicated to this House.

I urge my constituents, business persons, who are not members, to join the Bamboo Town Business Bureau (BBB) to take advantage of the offerings of the SBDC that the fund provides in grants, equity and loans. We have also held business seminars for edification of members of the Triple B (BBB) which was conducted by Mr. Malcolm Foulkes and associates.

Mr. Speaker,

I am pleased to congratulate all of Bamboo Town Students who have graduated from high school. In life, academic success is not achieved by all, but it is important that all find value and work. So, for those who need additional training/classes to graduate, we will implement an afterschool programme. This programme will seek to shore up academics and to promote trade works to bolster the workforce. We intend to build what is known as a FAB lab, in conjunction with MIT (Massechussets Institute of Technology), in the building next to my constituency office. Working people will need higher levels of education to tackle the technological demands of all occupations as we enter the 4th industrial age and this FAB lab will assist in that development. You can Google FAB Foundation for those interested in more information.

Mr. Speaker

This summer, Bamboo Town will again host its annual basketball tournament among polling divisions and a science camp to encourage students' interest in science, technology, engineering and mathematics (STEM) subjects.

Mr Speaker

Our Backyard Farming Initiative will bear fruit this budget season as we begin our constituency farm and greenhouse at Carlton Francis Primary School and at our Constituency Office.

For Bamboo Town constituents who may feel perplexed, hold firm, for you are next. Be assured, Bamboo, it is still about you.

The Ministry of Transport and Local Government (Head 40)

Mr. Speaker

Following the Minister of Finance's Budget Communication, my Ministry and its Agency Heads digested the template to establish the following guides:


Maintain fiscal discipline;
Maximise revenue and limit borrowing;
Modernise and improve revenue collection;
Eliminate low priority spending;
Greater responsiveness to the public; and
Adhere to a strict process for procurement of goods and services.

For my Ministry's part, we are excited and are busy strategising ways and implementing policies that embracing new ideals, understanding that we are committed to the general principles of accountability, responsibility, stability, transparency, inter-generational fairness and inclusive growth.

For its administration, my Ministry has been allocated just over $9.6 M ($9,627,059), which is relatively the same level of funding when compared to the closing FY2018/19 ($9,622,942).

We are guided by the principle that we must do more with less and look forward to making the new system of accountancy work with public managers having greater visibility and control over budgeting and spending, lending to more effective human resource planning. My Ministry has shifted its gears to focus on long-term policy planning and effective governance.

Notwithstanding our immediate cost-saving measures, my Ministry will actively pursue initiatives and proposals that will enhance value for money, realising more savings, and improving service efficiency.



Road Traffic Department (Head 54)

...




To view full see attached
Click to download the attached file(s):





© Copyright 2019 by thebahamasweekly.com

Top of Page