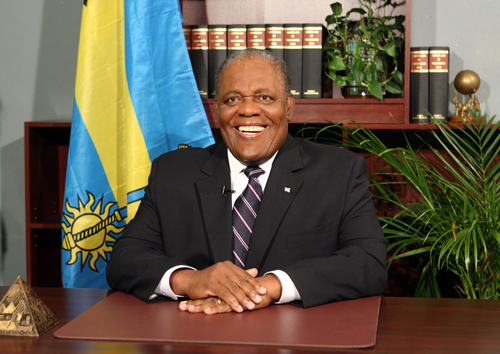 Prime Minister and Minister of Finance the Rt. Hon. Hubert Ingraham delivers his Christmas message at the Bahamas Information Services broadcast studio on Monday, December 24, 2007. (BIS Photo/Tim Aylen)
Christmas Message from
Rt. Hon. Hubert A. Ingraham
Prime Minister
December 2007
It gives me great pleasure, on my own behalf and that of my wife and family, and on behalf of the Government of The Bahamas to extend very best wishes for a blessed and peaceful Christmas to Bahamians everywhere and to all those resident or visiting with us during this season
Christmas is a special time of year for Christians. In our tradition it is both a holy and joyful time. It is a time for special worship that kindles in us a generosity of spirit toward all.
It is also a time for merry-making with family and friends, in our homes, and very especially as spectators or participants in our special Christmas extravaganza -- Junkanoo -- on Boxing Day.
I hope that this year Bahamians will continue what is our time-honoured Christmas tradition of sharing our bounty with those in less fortunate circumstances than ourselves.
We must always be conscious that not all families in our Bahamas enjoy plenty at this time; indeed, some do not have enough to meet their needs.
We are especially pained that many families in Grand Bahama continue to suffer the impact of a weakened economy on that island. We trust that action taken by the Parliament during its last sitting this year will ease some of that suffering during this season.
We expect that effective public and private sector cooperation and partnership will facilitate the resuscitation and expansion of that island's economy in the New Year providing an increase in jobs and business opportunities.
We express sympathy to all those who suffered losses this year as a result of flooding rainfall especially during October and early November. We are especially mindful of affected residents in Cat Island, Eleuthera, Exuma and Long Island where the damage was greatest.
In the area of crime, 2007 extracted a terrible toll on our communities. An unacceptably high incidence of violence -- including domestic violence and murder -- continues to blight too many of our neighbourhoods; and too many traffic fatalities have once again plagued our streets.
On Saturday past, the peace and quiet of the Bimini community was shattered following police action which resulted in a fatality. There was a serious disturbance involving a small number of citizens who chose to take the law into their own hands. Law and order has now been restored to that community.
We must pray for and work toward achieving greater levels of tolerance and understanding among our people. In that way we may, next year, enjoy reduced levels of crime and far less violence in our communities, particularly in New Providence, home to our capital and to the majority of our citizens.
Yet, even in the midst of such challenges, we are reminded to be grateful for what we have.
Around the world many communities continue to be torn by civil strife and ethnic warfare, political unrest and economic uncertainty.
Others are challenged by the fallout from diseases, communicable and non-communicable, that threaten to destroy the economic and social potential of far too many.
We must remember all these in our prayers at Christmas and remember to give thanks to God for His many blessings.
I take this opportunity to recognize and thank the many corporate and individual donors who respond to tragedies by opening their hearts and their homes and by contributing financially to assist those impacted by disaster.
I thank also all those individuals, businesses and non-government organizations who continue to give time and financial resources to national charities and non-profit organizations dedicated to the care of orphaned and abandoned children, the aged, the sick and the shut-ins. We are grateful for their generous response.
This year brought many changes including a change in Government. I especially wish to extend special thanks to all those in the public and government service for their continued good service.
As always, we must be especially mindful of those who will work during the holiday season so that others of us may enjoy the season: members of our Police Force and our Defence Force, of the Fire Brigade and the Prison Service, as well as our police reservists; the uniformed service - the staff of Customs and Immigration and Civil Aviation; and doctors, nurses, and health care workers who labour to improve the well-being of people throughout our land.
We also acknowledge social service workers and their assistants for their important work in our communities.
To teachers, teachers' aides and support staff of all government, church and privately operated schools, I voice the thanks and appreciation of the Government and people of The Bahamas.
On behalf of the Government, my family and myself, I am pleased to wish you a blessed, peaceful and safe Christmas, and the joy that only Christ can bring.