Last Updated:

Aug 1, 2020 - 7:49:35 AM
---
Contact surveillance is a time-tested public health strategy that breaks the chain of COVID-19 transmission


By Llonella Gilbert
Aug 1, 2020 - 6:06:12 AM


Email this article
Mobile friendly page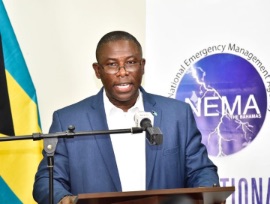 Nassau, The Bahamas - Minister of Heath the Hon. Renward Wells stated that a fundamental way that healthcare officials respond to the COVID-19 challenge is through contact tracing.

"Contact surveillance is a time-tested public health strategy that breaks the chain of transmission and limits the spread of infections. Contact tracing, though, is heavily dependent on individual honesty," Minister Wells said at a COVID-19 Update Press Conference at the National Emergency Management Agency Headquarters, Friday, July 31, 2020.

He said everyone must be honest and open when contacted by the COVID-19 Surveillance Team.

"We beg you not to refuse to answer calls, block calls, or purposely lose contact with Surveillance Officers; and not to provide untruthful accounts of activities. If you have been directed to self-isolate or self-quarantine, please do so – without exception."

Minister Wells explained that when positive COVID-19 patients and others who may have come in contact with them are not cooperative, the risks for the spread of disease is higher and health officials are not able to make critical decisions to stop the virus in its tracks.

"This means the general public will experience more lockdowns and restricted activities. As we ramp up testing, more persons will be found to be COVID-19 positive."

He stated, "It is important to advise the public that, in COVID-19 positive cases:


A member of the Surveillance team will contact you and notify that you have been tested positive.
A series of questions will be asked such as name, age, sex, where you work, and if you travelled to another country.
Details about your home will be gathered. Questions like how many rooms or bathrooms in the home will help health officials to determine if you can isolate properly at home.
Information about COVID-19 is shared to ensure you understand the disease and the importance of isolating while sick.
Arrangements are made to provide food and medication if required. If psycho-social support is needed, this is quickly addressed.
All persons are encouraged to isolate. If you are unable to safely do so at home, options will be provided for your safety.
Quarantined persons are signed up with Hubbcat, an electronic monitoring system that can locate the person with the use of their cell phone.
There is a daily assessment of all persons to see how they are coping with the new illness. Efforts are made to ensure that the person communicates with the same surveillance personnel as far as practicable.
If the person becomes symptomatic, a physician is sent to their home."

If the public has any questions or concerns about COVID-19, please call the hotline at 502-7382 or visit www.covid19.gov.bs for more information.






© Copyright 2020 by thebahamasweekly.com

Top of Page