Last Updated:

Feb 6, 2017 - 2:32:04 PM
---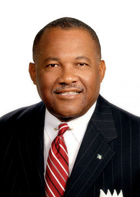 Nassau, Bahamas – The Government has awarded a contract for $1,174,127 to Coastline Construction and Development Co. Ltd. to restore Pompey Museum.
Housed in the Vendue building on Bay Street, the Museum was destroyed by fire in December 2011.

The Hon. Neko Grant Minister of Public Works and Transport said the scope of work to restore the two-storey 3,600 square feet structure includes space for a reception area and gift shop on the lower floor. A storage room, staff restroom, kitchenette, expanded exhibition hall and curators' offices will be located on the upper floor.

"It is expected that the amenities of the new Pompey Square (that is being developed) will complement the Museum's operations when they are both completed," Mr. Grant said.

"This project along with the refurbishment and repairs undertaken to the Hansard, Senate and House of Assembly buildings in Parliament Square all contribute to the ongoing effort to enhance the physical condition of public infrastructure as necessary while (in these cases) preserving historic sites for the benefit of future generations. Bearing in mind the historic significance of these buildings, the designs were prepared in consultation with the Antiquities, Monuments and Museums Corporation."

Mr. Grant noted that Coastline Construction and Development "successfully" completed the works to restore the Hansard building and external repairs to the Senate and House of Assembly buildings.

He acknowledged staff of the Ministry of Works including Caldwell Pratt, deputy director, Levi Somerville, electrical engineer and Gerard Symonette, mechanical engineer for their work. He thanked Alicia Oxley, project officer of the Antiquities, Monuments and Museums Corporation, John Stewart of Construction Cost Engineering (Bahamas) Limited and Hammond Rahming of the Engineering Group Co. Ltd. for their contributions to the project.

The project should be completed by November 2012.

In the 1800s the historic building was used as a slave trading post and for the past 22 years has served as a museum dedicated to the study of slavery.





© Copyright 2012 by thebahamasweekly.com

Top of Page