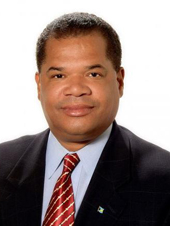 Nassau, The Bahamas -- The global economic recession continues to have "a severe impact" on The Bahamas' economy, Leader of Government business in the Senate and Minister for Labour and Social Development, the Hon. Dion Foulkes said.
He revealed that due to the global recession, the real Gross Domestic Product of the country is projected to contract by about 1.7 per cent in 2008 compared to expansions of 0.7 per cent and 4.3 per cent respectively in 2007 and 2006.
Mr Foulkes was speaking in the Senate during debate on the Government's $1.7 billion national budget, June 25.
"This accelerated downturn in economic activity reflected weakened tourism output characterized by lower occupancy levels, lower hotel room rates and declines in both stopover and cruise activity," Mr Foulkes said.
"The corresponding slump in foreign investment inflows further suppressed construction activity, which adversely affected employment conditions."
During the current economic climate, private sector credit expansion is subdued and consumer spending has declined, he explained.
And, while increased public sector investments provided some support to the economy, pressures on the Government's fiscal position continue to mount, resulting in an extraordinary fall-off in revenue growth, he said.
"Hence, the need to make the very difficult choices necessary to respond to this financial emergency, the worst that any government has had to respond to since independence," said Mr Foulkes
Domestic annual inflation was "significantly elevated" in 2008, as the retail sector adjusted to higher prices on imported fuel and other commodities, including food items, he said
Total visitor arrivals decreased by more than 4 per cent, in 2008 extending the 2.9 per cent contraction in 2007.
Cruise traffic, which makes up more than 60 per cent of the tourism market, declined by an estimated 3.6 per cent and air arrivals weakened by more than 6 per cent.
Nevertheless, preliminary data through September 2008 showed that hotel sector performance still managed to retain cumulative growth of 5.8 per cent in room revenues, due to room pricing gains, he explained.
Preliminary data for the four months of 2009 showed that, although total visitor arrivals fell by 1.2 per cent, this included a marked 15.5 per cent contraction in the air segment, outstripping the 5.5 per cent increase in sea arrivals, which represent more than two-thirds of all visitors.
Port of entry data reveal that visitors to New Providence and the Family Islands declined moderately.
The respective 10.5 per cent and 27.6 per cent reduction in air traffic outweighed gains in sea arrivals. The decrease in air visitors to Grand Bahama was estimated at 28.9 per cent.
"Amid the operating strains, the employment reductions continued among hotels, with adjustments expected to persist throughout the summer months," Mr Foulkes said.
The "latest significant development" has been the temporary closure of the Four Seasons Resort in Exuma in May, affecting almost 500 employees.
"The Government is working diligently to find a buyer for that property with a view to bringing that resort back on stream as soon as possible.
"We also responded swiftly to the closure by sending a cross-departmental team to help recently displaced workers with everything from signing-up for unemployment benefits to job and personal counseling," Mr Foulkes said.
Indications are that construction output was subdued during 2008, as the downturn in tourism-led investments outweighed gains in domestic and commercial construction activity, he said.
"The contribution from the foreign sector was significantly less, amid the fall-off in foreign investments, including a sharp contraction in second home developments," Mr Foulkes said.