Last Updated:

Feb 9, 2018 - 4:20:13 PM
---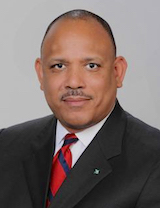 NASSAU, The Bahamas -- Minister of Health Dr. the Hon. Duane Sands gave an update on the bed shortage in the Princess Margaret Hospital's (PMH) Accident & Emergency Department (A&E) during a press conference at the Ministry, February 8, 2018.

"As of yesterday, I think we were down to 24 boarders; and we had I believe a total of 16 patients in the A&E waiting admission. This problem is going to continue for some time at least until we can get definitive completion of the first ward, which used to be the Male Chest Ward, now the Corey Newbold Ward," Dr. Sands said.

"Once that Ward is completed it will add an additional 24 beds to the available complement of beds and will dramatically reduce the need to house patients in other areas either in the Emergency Room or virtual wards throughout the hospital."

He explained that the Corey Newbold Ward is expected to be completed by April. There is another ward being renovated but there is no definitive date yet as to when that will be completed to further add beds.

Dr. Sands said there is no simple fix to the boarder situation at PMH, but they are constantly looking at ways to dramatically reduce the chronic challenge of having boarders at the hospital.



These boarders are discharged in-patients on the Clinical Wards and A&E for whom relatives and emergency contacts continue to be unreachable or unwilling to collect. According to hospital staff, this not only drains vital hospital resources but regrettably has further impacted the hospital's ability to provide bed space for new admissions.

A nursing shortage is making problems at the hospital more difficult. Dr. Sands said that it is a problem that cannot be solved in a day or a week. "These are chronic problems and if you have a shortage of 440 plus nurses across the healthcare system, you are not going to fix that problem in the short term.

"We have made it very clear that this demands a very considered approach to try and stem the tide. So we need to not only recruit but we also have to retain."

The Health Minister explained that the loss of Bahamian nurses is leading to the hiring of International health professionals, which can sometimes pose some language and cultural challenges for patient care.

"Ideally, even though we are extremely grateful to have been able to attract an international team of professionals, we would like to have the core of our nursing team be Bahamian."

Noting that the general finish and appearance of the Maternity Ward leaves much to be desired at PMH, Dr. Sands said there are plans to identify reasonable upgrades that can suffice until a new Maternity Ward can be constructed.







© Copyright 2018 by thebahamasweekly.com

Top of Page