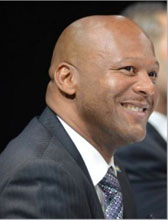 Opening Remarks
by
Senator the Hon. Keith Bell
Minister of State in the Ministry of National Security
Given at
DRUGS AND ALCOHOL DATA COLLECTION TRAINING SEMINAR
Implementing a Standardized Data Collection System for Drug and Alcoholic Treatment Agencies in the Caribbean
Place: The Public Treasury Building
East and North Streets
Nassau, The Bahamas
Date: Wednesday 9th April, 2014 at 9:00 a.m.

Salutations:

· OAS Representatives

· Programme Manager, OAS-CICAD , Mr. Pernell Clarke

· Participants from both Public and Private Sectors

· Distinguished Guests

· Members of the Media

· Ladies and Gentlemen

Good Morning:

I am pleased to join you this morning at the opening of this training seminar on drug and alcohol data collection as we seek to implement a Standardized Data Collection System for Drug and Alcohol Treatment Agencies in the Caribbean. This, ladies and gentlemen, is an important and significant initiative as we continue our efforts in addressing drug and alcohol use and abuse in our individual countries and in the region collectively.

As partners and stakeholders with OAS and CICAD, we share the responsibility to gather better data. The Executive Director of the United Nations Office on Drugs and Crime in the 2011 the World Drug Report noted that a lack of comprehensive data continues to obstruct our full understanding of the markets for illicit drugs.

He points out that more comprehensive data collection allows for more and better analysis, which in turn enriches our responses to the world drug challenge. He went on to urge countries to strengthen their efforts to collect data on illicit drugs in order to strengthen our research and analysis, better understand the drug phenomenon and pinpoint areas where interventions are most likely to achieve positive results.

Last year The Bahamas was privileged to host the Multilateral Evaluation Mechanism (MEM) Sixth Round in workshop sessions which was designed to share our resources, expertise and best practices.

A lack of comparable alcohol and other drug treatment data undermines the overall effectiveness of the services we are able to provide our citizenry. I am advised that the standardised data collection system that is to be shared during this training seminar is designed to collect data and generate information from all facilities, both public and private sectors, in our various territories, that provide substance abuse treatment. The data captured can assist in assessing the nature and extent of services provided, analyze general treatment services trends, and assist in forecasting treatment resource requirements.

Ladies and gentlemen, illegal drug use and abuse has increased in countries across the Caribbean since the 1990s. Statistical indicators such as admission rates to treatment facilities and drug arrests have provided evidence for the increased rates of illegal drug use and abuse.

Preventive measures in schools and various forms of media programmes have raised awareness. However, drug use and abuse and other drug related activities still persists at a significant rate. Programmes that target improvement of treatment facilities and increased inter-agency collaboration may be successful in enhancing drug arrests and treatments.

We gather statistical data daily from our law enforcement agencies and other governmental sectors on drug seizures, monies confiscated from proceed of drug trafficking and other crimes. Information on persons who are convicted is documented to give us a view on who, where and how drugs is filtered in and through our society. We have come to realize that having this information alone will not suffice. It is also essential for the care, treatment and rehabilitation of each person who is in a drug treatment programme to be properly documented.

I trust that this training seminar will be the catalyst for us to move towards better record keeping of those who struggle with the abuses of drugs and alcohol. There must be better cohesion in our drug control efforts to reduce the supply, to curb the demand, to disrupt the trafficking of drugs and ultimately promote healthy drug free life-styles. Here in The Bahamas, there is a need for improved networking between and among agencies engaged in drug treatment.

In conclusion, I want to reaffirm the commitment of Government of The Bahamas to the ongoing process of creating a Bahamas that is free of illicit drugs and drug abuse. Workshops such as this one will sharpen our tools as we seek to achieve this goal.

I take this opportunity on behalf of The Government of the Commonwealth of The Bahamas and all Countries participating at this seminar to express heartfelt thanks and gratitude to the Government of Canada for providing the necessary funding for this initiative.Thanks is also extended to OAS/ CICAD for organizing and facilitating this training.

I also extend on behalf of the Government and people of The Bahamas, a warm welcome to our participants who are visiting from abroad. I trust that you will find some time to during your stay in The Bahamas to participate in bolstering our economy and embracing the hospitality of our people.

Thank you once again for your attendance at this seminar. I wish you all a good day and a most enlightening and productive experience.