Last Updated:

Feb 13, 2017 - 1:45:37 AM
---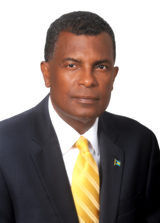 Nassau, Bahamas - The following is a Communication by the Hon. Fred Mitchell, Minister of Foreign Affairs and Immigration delivered in the House of Assembly on March 25th:

Mr. Speaker,

I wish on behalf of the Department of Immigration and the wider government to give public thanks in this House to the Member of Parliament for South Eleuthera for the excellent representation and advocacy which he executed on the country's behalf at the hearing held in Washington D.C before the Inter American Commission on Human Rights on 20th March.

I have said publicly that the hearing and the preliminary measures of the Commission were misdirected but we found ourselves by reasons of comity before this Commission, notwithstanding our profound belief that the petitioners themselves were misdirected and were making exaggerated claims to the international community without first exhausting domestic remedies.

I now wish to share information with the general public about the state of our immigration policies.

I believe that the policies have been generally successful despite the criticism.

We are working assiduously for the integrity of the labour force so that those who are working here have the right to work here. It reinforces a policy of Bahamians first.

I am advised that on 12th March at around 10 p.m. at Double Bay, Eleuthera near Savannah Sound, residents of the area happened upon persons walking the beach who appeared to be Haitian. Immigration was alerted and was able to arrest 78 people and brought them to Nassau.

I am advised that on the 21st March 2015, acting on intelligence, the RBDF intercepted a a vessel off Abaco around 1 a. m. that morning:
45 males and 11 females and 5 children all Haitians were intercepted without visas.

They were brought to Nassau later that afternoon for repatriation.
They are now in the custody of Immigration awaiting repatriation.

I am advised that on 23rd December 2014, 24 people were arrested in Exuma.

One man was charged with assisting illegal landing, he was a work permit holder; he pleaded guilty and was sentenced to 2 years in prison and fined $3,000.00 dollars, the maximum sentence.

The others were repatriated.

I am advised that when the vessel was searched, they found packed luggage and passports. This was an arranged journey not a random act of escape from poverty.

I am advised that in Inagua last year our questioning of the people on a boat that was intercepted revealed that people paid $1,500.00 per head for the journey.

The Member of Parliament for South Beach while at the Detention Centre on 23rd March spoke to one of the persons detained from the 21st March arrest at Abaco who said that she paid $2,500.00 dollars for the journey and when she is sent back to Haiti she will try to accumulate the money again, and try again.

The vessels used in Abaco and Eleuthera are not your usual vessels and appear to be modern and up to date vessels not the rickety boats which are normally featured with these incursions. I am advised that the vessels are not registered in Haiti.

In light of the foregoing, there is a need to change the conversation on this from one of portraying this as an issue as a fight to stop poor migrants escaping poverty, to one which recognizes that there is a sophisticated criminal enterprise involved here where people are breaching our borders and undermining our security. This has become a national security issue.

Our territory should not be a staging ground for unlawful activity into another territory.

In pursuance of this I invite the country to consider the following:

There is a need for more intense public education to solicit support from the public on the matter and give a greater understanding country wide of what we are facing.

Secondly, the Immigration Amendment Bill now before the Senate which is expected to become law shortly is likely to address several areas: the increase in penalties from the present 2 years and 3,000 dollar fines to five years and ten thousand dollars. These penalties will apply to illegal landing, assisting illegal landing and harbouring illegal persons and hiring illegal persons.

The public has to decide whether to embrace more intense prosecutions of the illegal persons themselves, the smugglers, and those employers who hire and harbour illegal persons.

The Bill when it becomes law will deal with the status of the children of non nationals in the country and there should be no excuse for anyone not to have some form of identity and status so long as they have pending citizenship applications or a contingent right to apply for citzienship. In this regard there has to be an outreach to all communities here to understand that there will be a no tolerance policy with regard to this. Everyone must have a status. To borrow from another campaign: you must know your immigration status.

We are negotiating now a Memorandum Of Understanding with the United States for the sharing of assets and intelligence on migrant smuggling.

Our intelligence operations will be working across our law enforcement agencies to study this anecdotal evidence with a view to attacking this issue including covert operations.

As the Royal Bahamas Defence Force fleet ramps up to size and the necessary improvements are done to bases at Inagua and at Ragged Island, the expectation is that a more effective chokehold will be possible at sea to stop boats from making it to the north of the country from our southern neighbours.

The Immigration Reserve will likely be activated in the next fiscal year and start with islands that do not now have any immigration officer stationed. This will substantially expand the manpower capability of the Department and the eyes and ears on the ground.

Grand Bahama: people have been calling for special operations there. That island with Bimini continues to be staging points for nationals to be smuggled into the US.

The North Eleuthera community and Exuma are also calling for special operations.

We are not certain if we will ever get all the people who enter the Bahamas illegally because we continue to hear that boats come in undetected; like the 60 or so that reportedly came into Abaco, undetected, two weeks ago which led to our operations there. I am advised that communities in New Providence are being utilized as hiding places for those who are smuggled into The Bahamas as they await trips to the United States.

The impression we have is that the smuggling community believes that the country can do nothing about this. It is my impression that the smugglers believe that they can overwhelm us with numbers and we do not have the political will to fight it. The continued portrayal of us as human rights abusers and a country that attacks poor migrants may be part of the strategy to sap our will. It is in that context that I repeat what I have said that those who make exaggerated claims of abuse and fight tooth and nail to stop these measures must answer to the Bahamian people as to whether or not they are wittingly or unwittingly furthering the work of the criminal enterprise or enterprises that seek to breach our borders and undermine the rule of law.

The incursion in Abaco on 21st March demonstrates the contempt which smugglers have for our law enforcement measures. For them to come into Abaco on 21st March in the middle of a special operation by the combined work of the Immigration Department, the Royal Bahamas Defence Force and the Royal Bahamas Police Force shows a chutzpah.

Knowing this, our country and our countrymen, all law abiding citizens have to have a steely ruthlessness when it comes to illegal migration. There can be no flinching in the face of this until the back of it has been broken.

It is in that context then that I thank the country for its support. I am deeply conscious that all that we do must meet the constitutional test as being reasonably justifiable in a democratic society. I believe that we meet that test. We have a principled but humane policy. I commend it to the Bahamian people and I ask for their continued support.





© Copyright 2015 by thebahamasweekly.com

Top of Page