Last Updated:

Feb 13, 2017 - 1:45:37 AM
---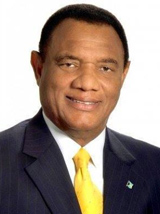 MARSH HARBOUR, Abaco, The Bahamas -- Prime Minister and Minister of Finance the Rt. Hon. Perry Christie noted that if one closely examines the facts, one can demonstrate that Abaco has consistently delivered historical growth trends based on steady and methodical performance in both its air and boating sectors.

"In fact, it is one of only a handful of islands in our archipelago that has experienced a kind of robust, organic and measured multi-sector development delivering economic returns that are the envy of other destinations within The Bahamas and in the region," Prime Minister Christie said, at the Abaco Business Outlook, held at Great Abaco Beach Resort & Marina, in Marsh Harbour, Abaco, September 22, 2016.

Prime Minister Christie pointed out that in the first half of the year, Abaco experienced incremental growth in each of its top ten US markets, which puts it on track to deliver solid returns for the full year 2016.

He noted that, with over 99,000 visitors coming by air to the destination in 2015, Abaco is also one of only three islands in The Bahamas that was able to meet or exceed the region's overall growth rate of 7.3 per cent in foreign air arrivals last year.

"Abaco's performance is magnificent when you place it in context because according to the Caribbean Tourism Organization, the Caribbean outpaced the rest of the world in global growth of international visitors for the second consecutive year, with a seven percent increase in the number of international visits overall, and double digit increases from the United Kingdom and South America in 2015," Prime Minister Christie said.

"Only three destinations in The Bahamas have been able to match that level of performance consecutively for two years running," he added. "They are Abaco, Bimini and Exuma, and of the three, Abaco consistently eclipses Bimini and Exuma in visitor volume by large margins."

Prime Minister Christie pointed out that, according to the Caribbean Tourism Organization, 60 per cent of all travelers to the Caribbean came from the USA and Canada. Therefore, he said, Abaco, like Bimini, Grand Bahama, Eleuthera and Exuma, is well positioned along the boating and flying routes of the Southeast USA, to capitalize on that traffic.

In the northern Bahamas -- also lying along international boating and sailing routes -- marina hotels function as anchor properties for their destinations, Prime Minister Christie noted.

"Abaco has more marina hotels than any island in The Bahamas, which, on the whole, have fared better than traditional hotel products," he said. "With over 17 marinas providing 1124 slips, Abaco has been able to capitalize on the naturally-occurring pastimes of yachting, cruising and boating, as well as private flying from both near and far-flung markets in the north-east USA and offer winning combinations of flying, fishing and boating and diving experiences for travelers."

"There is no question that Abaco has developed over the years into a market leader, keeping ahead of trends and parlaying challenges into opportunities," Prime Minister Christie added. "Although others are catching up, Abaco is still ahead of the game, utilizing its strengths of location and physical diversity and optimizing on customer behaviours of an older and more affluent demographic to create a product mix that is unique among its competitive set."

In terms of room inventory, Abaco has seen "robust" growth in each of its product segments, some of which continue to outpace the performance of traditional hotels, Prime Minister Christie said.

"Research has demonstrated that marina hotel properties, apartment/villas, vacation rentals, second homes and bonefish lodges collectively produce a higher and more distributed spend within destinations than traditional hotels," Prime Minister Christie stated. "In fact vacation rental properties today account for almost 50 per cent of the 1850 fifty rooms on the Island.

"Although much of the business is still seasonal, the uptick in demand has caused many hotels to transition to year-round operations."








© Copyright 2016 by thebahamasweekly.com

Top of Page