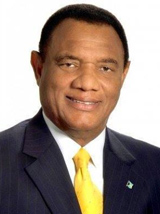 Bahamas, Nassau - Prime Minister, the Rt. Hon. Perry G. Christie leads a ministerial delegation on Tuesday, 1st July 2014 to attend the Thirty-Fifth Regular Meeting of the Conference of Heads of Government in capitol city of Saint John's, Antigua and Barbuda. The four days of meetings will officially open at 5pm on Tuesday at the Sandals Grande Antigua Resort and Spa.
The delegation includes Tourism Minister, Hon. Obie Wilchcombe; Foreign Affairs Minister, Hon. Fred Mitchell; Transport and Aviation State Minister, Hon. Hope Strachan; CARICOM Ambassador HE Picewell Forbes and several government officials and aides.
These meetings are being held under the chairmanship of the newly elected Prime Minister of Antigua and Barbuda, the Hon. Gaston Browne, who will assume the Chair of the Conference for the six-month period from 1 July 2014, in accordance with the Rotation Schedule approved by the Conference at its Thirty-Second Meeting held in Saint Kitts and Nevis in July 2011.
Items on the agenda for these round of Inter-sessional meetings include the tabling of a final draft of the Five-Year Strategic Plan for the Community; the report of the Commission on the regional economy; Small Island Developing States (SIDS); Climate Change; the Post-2015 Development Agendas; the CARICOM-Canada Trade and Development Agreement; the Regional Commission on Marijuana and regional security.
The Prime Minister and his delegation are scheduled to return to Nassau on Friday, 4th July.