Last Updated:

Jul 23, 2021 - 8:39:33 PM
---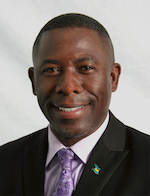 PRESS STATEMENT

The Hon. Renward R. Wells, M.P. Minister of Health

Ministry of Health 22nd July, 2021 2:00p.m




Good Afternoon, Bahamas!


Here is the latest national COVID-19 Report.

On Thursday, 22nd July, 2021, there were 110 newly confirmed cases of COVID-19. This brings the total number of confirmed cases in The Bahamas to 13,957.

Currently, there are 23 moderately ill COVID-19 patients hospitalized in the Grand Bahama Health Care System, and there are 2 patients currently receiving intensive care in Grand Bahama.

In New Providence, there are 20 hospitalized COVID-19 patients at Doctor's Hospital. Thirteen are moderately ill and 7 are currently in the Intensive Care Unit.

There are 7 moderately ill COVID-19 patients being treated at the South Beach Acute Care and Referral Centre.

At Princess Margaret Hospital, there are 39 COVID-19 patients. Thirty-eight are moderately ill and 1 patient is receiving care in the ICU.

One person is also moderately ill at the Sandilands Rehabilitation Centre. In all, there are 1351 active cases of COVID-19 in country. Twenty-four persons have been recently classified as recovered from COVID-19. This brings the total number of recoveries from COVID-19 to 12,238 persons for a recovery rate of 87.68%.

My brothers and sisters, unfortunately, a fifty (50) year-old female from New Providence died yesterday. This brings the total number of confirmed COVID-19 deaths to 280 persons. Twenty-three deaths remain under investigation. One COVID-19 death to us in the Ministry of Health, as we continue to say, remains one too many. We continue to pray for the families in The Bahamas who have lost loved ones to this awful global COVID-19 pandemic.

A total of 115,959 RT-PCR tests have been carried out for COVID- 19inthecountry. 434testswereperformedyesterday,with110positives and 317 negatives. Seven tests were repeated to determine recoveries. There were no inconclusive test results.

Ladies and Gentlemen,

The Ministry of Health continues to monitor the increase in the number of confirmed COVID-19 cases and hospitalizations. On 17th July, 2021, The Bahamas experienced 100 newly confirmed cases. This was a déjà vu not experienced since September of last year at the height of the second wave.

Hospitalizations in this third wave have been much higher than in our second wave for The Bahamas. In fact, on 20th July, 2021, the country experienced a peak in hospitalizations at 92. These excessive numbers have placed our public health system to the test and our gallant and valiant health care workers continue to rise to meet this challenge.

Currently, there are a total of 38 beds available on Grand Bahama for COVID-19 patients. At the Cancer Association of The Bahamas there are 24 beds for COVID-19 patients with mild to moderate illness. At the Isolation Ward, also known as Medical-Surgical 3, there are 14 beds for acute COVID-19 patients.

Ladies and Gentlemen,

On the other hand, in New Providence, the situation at Princess Margaret Hospital is much more critical. There are six (6) wards closed to new admissions because of COVID-19 exposures. This has reduced the bed capacity of the PMH by 96. Therefore, there are approximately only 32 beds currently being used for COVID-19 patients –


8 beds in the Legacy Unit; and


27 beds in the Special Pathogens Unit.



You would recall the Special Pathogens Unit attends to only COVID-19 patients at this time. It consists of the 3 tents with 9 beds that were handed over to The Bahamas Government by Samaritan's Purse in the second

wave. With increased numbers of COVID-19 and non-COVID-19 patients, PMH is currently running over its capacity to render our desired level of care and medical attention.

Whilst there are no pediatric patients or children hospitalized with COVID-19 at this time, there is a continuous stream of COVID-19 patients ranging from ages 27 – 86 seeking medical attention. The majority of these patients are unvaccinated and are inevitably hospitalized. This has caused tremendous strain on our public system.

The situation is compounded by the fact that a number of the nurses who are trained to care for COVID-19 patients have migrated to other countries with more lucrative compensation.

Consequently, PMH has implemented several measures to manage the increase in COVID-19 patients presenting at the Hospital. These include –


limiting the use of the Emergency Department to emergency cases only; suspending out-patient laboratory services, elective surgeries and in- persons appointments at specialty clinics;
not accepting telephone calls;
the establishment of a Whatsapp text messaging system to fill
prescriptions;
a drop-off system for items such as drinks non-perishable food and
clothing; and
reduced hours at specified clinics.
On behalf of the Government of The Bahamas, special thanks are extended to all the nurses, doctors, emergency medical services, and other essential healthcare workers who have toiled and labored throughout this pandemic. We know you are exhausted from the effects of the pandemic. Please know this - we appreciate your continued dedication and devotion to caring for COVID-19 patients. Again, you make us proud to know that all front line workers have embraced the collective vision to keep The Bahamas safe.
..TO CONTINUE SEE ATTACHED
ALSO See attached Update #483 - Ministry of Health - COVID-19 Report (110)






© Copyright 2021 by thebahamasweekly.com

Top of Page