BAIC chairman Edison Key (right) views cobia grown at the Cape Eleuthera Institute. Dr. Andy Danylchuk is centre and BAIC Handicraft Development and Marketing manager Donnalee Bowe is at left. (BIS Photo/Gladstone Thurston)
DEEP CREEK, Eleuthera - The prevalence of lionfish in Bahamian waters has researchers at the Cape Eleuthera Institute concerned.
"Over the last two years we have been seeing an increase in the number of lionfish from north to south," said marine scientist Dr. Andy Danylchuk.
He suggested they may have crossed over from Florida to The Bahamas when category-five Hurricane Wilma took that route in October, 2005.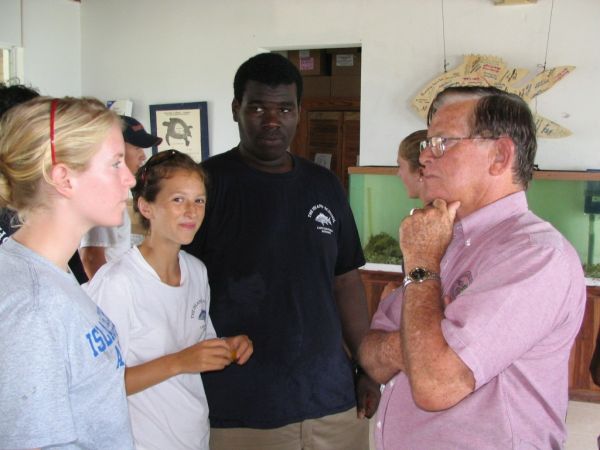 BAIC chairman Edison Key, MP for South Abaco, speaks to students at the Island School, South Eleuthera. (BIS Photo/Gladstone Thurston)
A team from the Bahamas Agricultural and Industrial Corporation (BAIC) headed by chairman Edison Key toured the Institute and its sister, The Island School, during a weekend visit to South Eleuthera.
Notable for their stunning fins and spines, the colourful lionfish generally have a striped appearance, bathed in red, brown, orange, yellow, black, or white.
These voracious predators are very venomous . When hunting, they corner prey using their large fins. And, in a lightning quick reflex, swallow the prey whole. Lionfish have no known natural predators in Bahamian waters.
The Cape Eleuthera Institute is focused on research (marine and terrestrial) and sustainable systems design.
During a university course at the Institute in August, Dr. Danylchuk and his team did an extensive survey on the prevalence of lionfish between South Eleuthera and Governor's Harbour.
"Predominantly, we looked at a lot of the major tourist beaches, places where tourist may be encountering them, because they are quite dangerous," he said. "We are seeing a rapid increase in their numbers."
He noted that lionfish are found in the waters of nearby Florida. After Hurricane Wilma which came from west over Florida to east across The Bahamas, "we saw a lot of different species we had not seen in The Bahamas for a while.
"It is reasonable to believe that some of the lionfish made it over to the waters of The Bahamas at that time," said Dr. Danylchuk. "A bonefish that was tagged in the Florida cays was found off Andros after Wilma.
"We need to get some genetic samples of the lionfish in The Bahamas and then we can determine who their parents are."
An examination of their stomach showed they fed on fish that are important to the Bahamian industry including grouper, he said.
"Lionfish have no natural predators in Bahamian waters," said Dr. Danylchuk. "The Bahamian fish populations do not even recognize lionfish as predators.
"And since they are natural predators in Bahamian waters, you have a lot of fish that don't recognize them as a predators, and that's a serious problem."
A local fisherman learned the hard way this summer. "It was a really bad incident," Dr. Danylchuk recalled. "This fisherman came in, his hands swollen, and he was doubled over in pain. We gave him medical attention.
"I said, 'What happened'? He said 'There was this pretty fish and I touched it'."
Lionfish, once established, are likely to be around for a while, Dr. Danylchuck said.
"Right now, we're never going to get rid of them," he said. "Once an invasive species like that is here…it is going to be hard."
He suggested examining its habitat "to see whether there are certain parts of their life stage we can interrupt. But going out and just killing all the adults, you are going to spend millions of dollars trying to do that and in most cases that's not very successful."
In the meantime, public awareness campaigns could be initiated so tourists and fishermen can understand how dangerous they are, he said.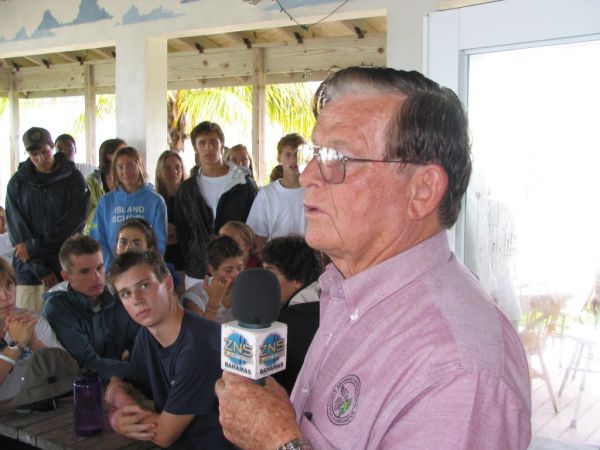 BAIC chairman Edison Key fields questions from students of the Island School, South Eleuthera. (BIS Photo/Gladstone Thurston)
RELATED ARTICLES:

If you get stung...by a Lionfish
Lionfish Threatens Fishing Industry
GB group conducting studies on Lionfish