Last Updated:

Feb 13, 2017 - 1:45:37 AM
---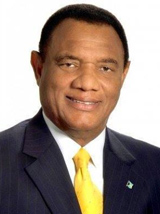 Abaco, Bahamas - Remarks By The Rt. Hon. Perry G. Christie, Prime Minister And Minister Of Finance At The Abaco Business Outlook at Great Abaco Beach Resort & Marina 22nd September 2016

It is truly wonderful to be in Abaco right now ladies and gentlemen and I say that particularly because so much encouragement and optimism comes from the knowledge that few destinations in The Bahamas or smaller destinations of the Region are as distinctive in character or as uniquely positioned as Abaco to deliver over the next decade and beyond exceptional levels of tourism performance, real-estate related enterprises and community development set in a most attractive environment.

If we closely examine the facts we can demonstrate that Abaco has consistently delivered historical growth trends based on steady and methodical performance in both its air and boating sectors. In fact, it is one of only a handful of islands in our archipelago that has experienced a kind of robust, organic and measured multi-sector development delivering economic returns that are the envy of other destinations within The Bahamas and in the Region.

In the first half of this year Abaco experienced incremental growth in each of its top ten US markets which puts it on track to deliver solid returns for the full year 2016.

With over ninety-nine thousand visitors coming by air to the destination in 2015, Abaco is also one of only three islands in The Bahamas that was able to meet or exceed the region's overall growth rate of seven (7.3) percent in foreign air arrivals last year.

Abaco's performance is magnificent when you place it in context because according to the Caribbean Tourism Organization, the Caribbean outpaced the rest of the world in global growth of international visitors for the second consecutive year, with a seven percent increase in the number of international visits overall, and double digit increases from the United Kingdom and South America in 2015.

Only three destinations in The Bahamas have been able to match that level of performance consecutively for two years running. They are Abaco, Bimini and Exuma, and of the three, Abaco consistently eclipses Bimini and Exuma in visitor volume by large margins.

According to the Caribbean Tourism Organization sixty percent of all travellers to the Caribbean came from the USA and Canada and so Abaco, like Bimini, Grand Bahama, Eleuthera and Exuma, is well positioned along the boating and flying routes of the Southeast USA, to capitalize on this traffic.

In the northern Bahamas, also lying along international boating and sailing routes, marina hotels function as anchor properties for their destinations. Abaco has more marina hotels than any island in The Bahamas, which, on the whole, have fared better than traditional hotel products. With over 17 marinas providing eleven hundred twenty four (1124) slips, Abaco has been able to capitalize on the naturally occurring pastimes of yachting, cruising and boating as well as private flying from both near and far-flung markets in the north-east USA and offer winning combinations of flying, fishing and boating and diving experiences for travellers.

There is no question that Abaco has developed over the years into a market leader, keeping ahead of trends and parlaying challenges into opportunities. Although others are catching up, Abaco is still ahead of the game, utilizing its strengths of location and physical diversity and optimizing on customer behaviours of an older and more affluent demographic to create a product mix that is unique among its competitive set.

In terms of room inventory, Abaco has seen robust growth in each of its product segments, some of which continue to outpace the performance of traditional hotels. Research has demonstrated that marina hotels properties, apartment/villas, vacation rentals, second homes and bonefish lodges collectively produce a higher and more distributed spend within destinations than traditional hotels. In fact vacation rental properties today account for almost 50% of the eighteen hundred fifty rooms (1850)on the Island. Although much of the business is still seasonal, the uptick in demand has caused many hotels to transition to year-round operations.

Despite infrastructural and utility challenges, Abaco has been fortunate in attracting experienced and quality developers willing to invest in training. There is also a high retention rate of employees within a motivated workforce willing to learn and put its best foot forward.

Foreign direct investment has increased significantly with several high end mixed use products coming on stream. The real estate component of these investments has resulted in the lowered cost of capital expenditure in what has traditionally been very high cost, high risk environments. This has given rise to very high quality product which has driven business and airlift and subsequently raised the investment profile of Abaco.

Ongoing developments include Baker's Bay Golf and Ocean Club, a high end, mixed-use resort development with expenditure in excess of $250 million for development of over fifty second homes, employee housing, Community Centre and Beach park as part of a phased, near billion dollar mixed use project.

An additional $50 million is being spent by land owners of Baker's Bay to develop the Dolphin Beach Resort on Great Guana Cay and to create housing for employees of Baker's Bay. At the Abaco Club at Winding Bay over $123million in capital works is underway to upgrade amenities and create new hotel and residential components.

Construction employment also continues at the Leeward Yacht Club and Marina which is undergoing a $3 million capital improvement initiative and at Schooner Bay which includes expansion of its residential offering and completion of the $2.5 million, 8 room Blackfly Fishing Lodge.

The recent introduction of the Treasure Sands Club, a high-end, innovative farm-to-table restaurant concept in Treasure Cay and a growing trend across the globe, provides a unique twist on upscale dining in Abaco. With an exquisite beach back-drop, Treasure Sands has given Abaco's visitors and residents the one thing they crave - more diverse and interesting dining options.

The Woodstar farm, at Treasure Sands, with an 80 foot high-tech barn and greenhouse, provides locally grown produce to the restaurant, support fora school lunch program for pre-schools in the area and operation of a farmer's market for the community of Treasure Cay. The farm also provides educational opportunities for children to experience more holistic and organic culinary and lifestyle development. The owners are now diversifying into development of 10 rental cottages to further enhance their business.

The performance of these new developments and of traditional hotel businesses will continue to give Abaco more leverage with its supplier network of airlines such as Delta, which inaugurated twice weekly service to Marsh Harbour from Atlanta, and with traditional and online operators all of whom are attracted by the destination's strong following of loyal consumers and those seeking new and trending destinations.

Supporting these initiatives, the development of the North Abaco Port will better facilitate the shipment of supplies to the Island, thereby reducing construction timelines and costs and encourage more timely and cost-effective industry development.

Abaco has also been gaining traction in the agricultural sector. The Bahamas Agricultural and Industrial Corporation and the Government have large tracts of farmland for leasehold to farmers to create more entrepreneurial activity and improve quality, access and marketing of locally produced goods. This will also inevitably strengthen the network of agricultural production at the national level.

In a sense Abaco has always been at the forefront of innovation, leading the way as a pioneer in mass production of organic poultry Abaco which is sold nationwide by the Abaco Big Bird Poultry Farm.

While Abaco is second only to Bimini as the deep-sea fishing capital of The Bahamas, it's performance in industrial fishing is second to none with much of the seventy ($70) million per annum industry of seafood exports being sourced mainly from Abaco's local fishing businesses.

All this should leave no doubt as to Abaco's considerable clout as an economic contributor and its growing dominance as a tourism player at both national and international levels.

In terms of public sector activity ongoing investment continues in infrastructural improvement initiatives such as road works in North and South Abaco. On Moore's Island, the $5 million investment to extend the airport runway, complete sea wall repairs, replace water mains and develop a new airport terminal will bode well for the future of that island's 600 residents.

As part of a Sports Master Plan being implemented by the Ministry of Youth, Sports and Culture, and the Government's commitment to the development of national sporting infrastructure, a major new sporting complex is getting underway in Marsh Harbour with ancillary tracks being placed in Sandy Point and Cooper's Town.

On November 10th of this year, my Government will launch the National Sports

Academy at what will become the University of The Bahamas. Moore's Island will the recipient of the first affiliated academy in December of this year and it's facility will include dormitories, soccer pitches and sports medicine practice, all in an effort to facilitate the training at home of young Bahamian athletes.

Ladies and gentlemen, these public and private sector initiatives provide for long-term construction and business development for local contractors, business suppliers, landscapers, tradesmen. In fact, the heightened level of business activity has created demand for a financial services sector in Abaco and five international and Bahamian commercial banks, along with the Bahamas Development Bank, now have a presence in Marsh Harbour offering a portfolio of financial services to a growing base of industries and entrepreneurs.

Their presence further validates Abaco's stature as a rising international tourism and investment centre and the increased level of economic activity has contributed to higher expenditure levels such that in 2015 Abaco delivered over $41 million in fees and taxes and Customs receipts to the Bahamas Treasury. This however, was without the requisite business licence, registrations fees and VAT contributions from vacation rental sales emanating from the two hundred fifty (250) second homes and rental villas, representing some seven hundred eighty (780) rooms registered with the Ministry of Tourism. This number represents less than twenty-five percent of the total number of certificates and permits issued for second homes in Abaco with the Bahamas Investment Authority, most of which are neither registered nor licenced with the Ministry of Tourism for commercial operation.

This situation should be rectified and all such properties, on a nation-wide basis, should be licenced and like hotels and other commercial entities, pay licence fees and taxes to the Bahamas Treasury.

Our developing communities throughout the Family Islands can certainly benefit from increased revenues from home rentals as many still lack services that would improve efficiencies and quality of life for citizens and residents. The Ministry of Tourism's registration drive for second homes is in full force, with notices posted in the Nassau, Grand Bahama and Family Island newspapers and so this issue is slowly and systematically being addressed.

Public sector funding also recently delivered the new Marsh Harbour Airport terminal and proposed runway extension to handle larger aircraft, making it possible to attract more direct airlift from destinations other than Florida and Atlanta.

The opening of the new mini hospital in Marsh Harbour later this year will provide residents with improved access to medical care and provide an added boost to consumer confidence in the destination as second home and extended stay option.

In addition to these improvements, Abaco now has a new Administration Building and an Office of the Prime Minister. The National Training Agency has implemented programmes and an Urban Renewal Programme support the efforts of Local Government.

And so, Ladies and gentlemen, as we look ahead, the level of optimism only grows with the knowledge that Abaco still has the potential for unlimited growth. Within another generation Abaco can be expected deliver further international access through an expanded airport with pre-clearance facilities and can anticipate at least 30 new small resorts and marinas and another 6000 second homes, driving infrastructure, capital development and new job creation – a feat not possible by many of its regional competitors.

With even newer technologies of the future, Abaco is also poised to benefit from a younger generation of experienced local entrepreneurs and skilled workers and a solid base of loyalty and preferential customers who are today the children of many of its second home owners and who tomorrow, side by side with Abaconians, may well become its investors in development of an even more exciting destination created in the place they now call their second home.

I would like to thank the Counsellors for inviting me here today and our hosts at the Abaco Beach Resort for their wonderful hospitality. I would be remiss if I did not thank the central and local support teams of the Ministry of Tourism led by Minister Wilchcombe and the Out Island Promotion Board, led by Kerry Fountain, our Local Government Officers and our investors for the hard work they are doing to keep Abaco and by extension, all of the Islands of The Bahamas, top of mind in the global marketplace.

Thank you!






© Copyright 2016 by thebahamasweekly.com

Top of Page