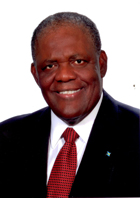 STATEMENT BY
RT. HON. HUBERT INGRAHAM
PRIME MINISTER
London, 23 October, 2010
I was deeply saddened to learn of the passing of my friend and colleague, the Hon. David Thompson, Prime Minister of Barbados, following a short but devastating illness.
Like all of his friends and colleagues I had hoped that this day would have been postponed. David has been a valued member of the Conference of Heads of Government of the Caribbean Community and his voice will be sadly missed in future deliberations.
Still a young man, David had much to contribute to his country and to our region.
On behalf of the Government and people of The Bahamas and on my own behalf and that of my wife Delores, I extend sincere condolences to David's wife, Mara, his three daughters, his parents and to the Government and people of Barbados at this time of personal and national bereavement.