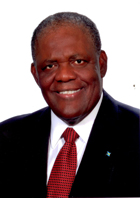 NASSAU, The Bahamas - Three decades of "rapid modernization" has distorted so much of the Bahamian value system and traditions that it will take a collaborative effort involving government, church and fraternal and community organizations to restore them, Prime Minister the Rt. Hon. Hubert A. Ingraham said recently.

Mr. Ingraham said the results have been an increase in crime which remains "too high now", and most alarmingly, rising domestic violence which continues to mar the country's social landscape.

"There is an urgent need for all the various social partners – government, the church and community associations, including fraternal organizations – to collaborate in addressing these challenges, independently and together, acting so as to meet the needs of the most vulnerable and needy in the community," Mr. Ingraham said.

"Many of our young people, particularly our young men, are in need of wholesome direction and guidance. Some feel overwhelmed and could benefit from learning better coping skills and improving their communication skills so that disagreements are not so easily escalated into violence," Mr. Ingraham added.

Addressing members and patrons attending the first annual Most Worshipful Prince Hall Grand Lodge White Tie Gala Ball held at the Wyndham Nassau Resort, Prime Minister Ingraham said he has always had a special admiration "for those Bahamians who spend so much time and effort in the work and witness of Freemasonry" in The Bahamas.

Prime Minister Ingraham said Freemasonry, in addition to building character in men, by extension, helps to build the moral and spiritual character of the wider community.

Mr. Ingraham said that unlike in earlier times, many young people are not the beneficiaries of a stable home life in which two parents, or other supportive family members, are committed to their upbringing, and where discipline and instruction for life are easily available.

The Prime Minister encouraged members of the Prince Hall Masonic Order to continue to increase their activities within the various communities "so that we may together begin to correct the social anomalies threatening our communities today."

"Lodges have played a significant role in the lives of thousands of Bahamians all over our islands," Mr. Ingraham said. "Like our churches, lodges and friendly societies have served both to bind people together and as instruments of community among people.

"The Masonic Order, in particular, based on fundamental Christian principles, has promoted severe discipline amongst its members, the great majority of whom I am told, attempt in their ordinary, daily lives to practice high morality and spiritual principles.

"I encourage you to review your agenda and programmes so as to include an even stronger stand in support of our young people," Mr. Ingraham added.

The Gala White Tie Ball was held to honour the contributions to Bahamian society of three of the country's nation-builders and sons – His Excellency the Hon. Arthur Dion Hanna; His Excellency the Hon. Sir Clifford Darling, (both former Governors-General) and the Hon. Sir Clement T. Maynard, a former Deputy Prime Minister who held several ministerial posts.

Lady Zoe Maynard received the plaque on behalf of her late husband who was honored posthumously, while Reverend Dr. C.B. Moss received the plaque on behalf of Sir Clifford Darling.

Mr. Hanna and Sir Clement both received the highest honorary award conferred by the Prince Hall Grand Lodge, Past Grand Master status, while Sir Clifford received the highest honorary award that can be conferred by a Lodge – Past Master.

All three were active members of Prince Hall Lodges before duty to country called them to serve the Commonwealth of The Bahamas.

Prime Minister Ingraham applauded the Prince Hall Grand Lodge for the decision to honour the three Bahamian icons.

"These three men represent some of the best of The Bahamas and it is most appropriate that they are being held up as role models for the generations of Bahamians who follow them," Mr. Ingraham added.