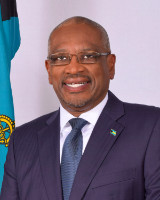 Statement on the Passing of Sir William Allen, KCMG
The Most Hon. Dr. Hubert Minnis
Prime Minister and Minister of Finance





Along with his former colleagues and many Bahamians, I was saddened today to learn of the death of Sir William (Bill) Allen, KCMG.




Sir William loved his country. He was one of the most accomplished Bahamians of his generation.





He joined the Bahamas Monetary Authority as Manager of Research in 1970. He was named Deputy Governor of the Central Bank, the successor to the Authority, in 1974.





Sir William became Governor on June 1, 1980 on the resignation of Mr. Timothy Baswell Donaldson from the post, serving until his retirement in 1987.





Sir William was called to further service of his beloved Bahamas when the Free National Movement (FNM) won its historic first victory in August 1992.




Having one of the best financial minds ever produced in our country, he was appointed to the Senate and served as Minister of State in the Ministry of Finance and Planning.




In November 1994, Sir William was elected to the House of Assembly for the Montagu constituency. Upon his election he was appointed Minister of Finance, a position he held until May 2002.




Her Majesty Queen Elizabeth II knighted him in 2000 in her New Years Honours List for his service to banking, civics and politics.




Sir William was instrumental in the Cabinet of The Bahamas in helping to transform The Bahamas after the Free National Movement's win in 1992.




The Bahamas was stagnant before the change of Government. The leadership of the Ingraham Administration, of which Sir William was a key part, led to record economic growth, infrastructure expansion across the country and the rebound of our international reputation.




The investments in the tourism sector and expansion of the Bahamian economy due to the policies of that Administration created new opportunity for tens of thousands of Bahamians.




The Bahamas was fundamentally bettered by Sir William's service. He was a man of integrity who gave his all to his country. I also wish to express my gratitude for his advice and assistance when I served as Leader of the Opposition.


On behalf of the Government and people of The Bahamas, and on my own behalf, and that of my wife, Patricia, I offer condolences to Sir William's wife, Aloma, his children, siblings and other family members and his many friends and former colleagues.

The Bahamas has lost a distinguished statesman. May he rest in peace.