Last Updated:

Mar 15, 2017 - 1:34:02 PM
---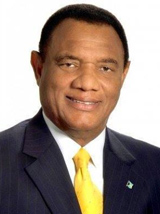 Greetings by the Rt. Hon Perry G. Christie, MP, Prime Minister at the 94th Biennial National Convention of Church of God of Prophecy East Street Tabernacle Monday, 13th March, 2017:

It is always a profound pleasure for me to join with the leadership of the Church of God of Prophecy in your 94th Biennial National Convention.

I recognize the leadership of the Church of God of Prophecy who are here assembled but in particular I would wish to recognize Bishop Sam N. Clements the General Overseer, Bishop Clayton N. Martin, the General Presbyter, Bishop Brice Thompson General Presbyter (Emeritus) and of course the National Overseer for The Bahamas and the Turks and Caicos Islands Bishop Franklin M. Ferguson.

My greetings go out this evening to all of the Bishops and other leaders of various Ministries within the church, and of course, to you, the wonderful people of God, wherever you have come from.

Together, you have continued to build on a great tradition that stretches back for so many years, evidenced in part by the fact that you are now in your 94th Biennial Convention.

God has been good to the Church of God of Prophecy and has continued to provide good and spiritual leadership and earnest followers who are people of God. This is manifested in your personal life, in your devotion to prayer, in your charitable acts and above all in the unstinting efforts that you continue to make to save souls.

There is not a time that I pass East Street and cannot be amazed by the vision of your earlier leaders who despite the stringencies of the time set out to establish a national church, one that would extend its roots to all corners of The Bahamas and the Turks and Caicos Islands and beyond.

None of this could have happened without vision, without faith in Jesus Christ and without that most sincere of belief that you were indeed, "Pressing toward the mark for the prize of the high calling of God in Christ Jesus!"

Tonight, I have come to bring greetings as Prime Minister on behalf of the Government of the Bahamas which I have the honour to lead, but also to be a part of this gathering, both here in the Tabernacle but also in the national audience, by way of live television, to hear the National Address to the Convention by Bishop Franklin Ferguson, the National Overseer.

I will listen attentively as undoubtedly there will be observations and recommendations which will cross over into the sphere of public policy. These observations and recommendations will rest squarely at the feet of my Government and we will study them and wherever practical take them into account as policy and as a plan of action as we have done in the past.

While noting this, let me take this opportunity to thank the leadership and members of the Church of God of Prophecy for the wonderful partnership it has forged with the Government and its agencies in a multiplicity of social and community programmes, including the Urban Renewal Programme.

Your presence in this community of East Street, now in the heart of my Constituency of Centreville has been impactful and has made a difference for young and old.
We must continue to work together.

You have heard it often said that it cannot be left to the Government alone to do everything. And even if it could what would be the point if the major institutions of communities such as the church are not in partnership and take carriage over some of these programmes. And so I thank you for all that you are doing.

My brothers and sisters, I can assure you, this evening, that as Prime Minister and as one who leads my team of Ministers and Parliamentarians we are always prepared to listen and to take on new ideas.

That is why we have been able to achieve so much over the last five years. By any measurement, by any yardstick we have accomplished that which we set out to achieve and more.

As look to the future we look forward to a future of security and progress for all of our people, young and old in every locale in The Bahamas. I call this future the new "Age of Development". This future is only possible, however, if every single one of you play your part.

This new "Age of Development" must be a new Age of Pioneers. Whoever you are, wherever you are, you will need to play your part. Your country needs you, and in return you should expect your country to deliver on the promise of those who came before us.

May God continue to richly bless each and every one of you in this place and within the sound of my voice as together, we press on to the mark!

Thank You.








© Copyright 2017 by thebahamasweekly.com

Top of Page