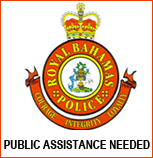 Nassau, Bahamas - Police on the Island of New Providence are actively investigating the circumstances surrounding the death of an adult male on Wednesday, 27th May, 2020.





According to report, shortly before 9:00am a male and female were driving on Lumumba Lane, when a black vehicle approached them and open fire hitting both occupants the body. The driver was able to reach the Fox Hill Police Station, while there the passenger succumbed to his injuries. The driver was taken to hospital where her condition is not known at this time.





Police are appealing to members of the public, who may have information that can assist with these investigation, to contact the Central Detective Unit at 502-9991/2, Crime stoppers at 328-TIPS (8477) or the nearest police station




Investigations are ongoing.




Please visit the Royal Bahamas Police Force Website at www.royalbahamaspolice.org or Facebook page at www.facebook.com/rbpforce for Latest News, Daily Crime Reports and additional Crime Prevention Tip.