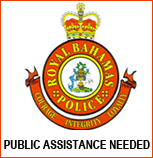 POLICE INVESTIGATES SHOOTING INCIDENTS




Nassau, Bahamas - Police on New Providence are investigation two shooting incidents Sunday, 19th January, 2020 which have left two adult males with injuries.




In the first incident, according to reports, shortly before 7:00pm, a group of men were standing in front of a home on Samson Street, Nassau Village, when two armed men came from a silver Honda Accord and opened fire in their direction, hitting one man before running away. Paramedics transported the injured man to hospital where he was treated and discharged.





In the second incident, according to reports, shortly before 8:00pm, a male was walking in the community of Glenniston Gardens Subdivision, when he was approached by a male armed with a firearm, who shot him before getting into a dark colour vehicle and speeding away. The victim was transported to hospital, where he was treated and discharged.

Police are appealing to members of the public, who may have information that can assist with this investigation, to contact the Central Detective Unit at 502-9991/2, Crime stoppers at 328-TIPS (8477) or the nearest police station.




Investigations are ongoing.





ILLEGAL FIREARM AND AMMUNITION RECOVERED-




According to reports, shortly after 4:00pm, Sunday, 19th January, 2019, Anti-Gang and Firearms Officers acting on information conducted a search of an abandon building on Laird Street off Baillou Hill Road and recovered a .22 revolver.



No arrest was made in this incident. Investigations are ongoing.




60 FIXED PENALTY NOTICES ISSUED TO DRIVERS BY MOBILE

DIVISION OFFICERS IN PAST 48 HOUR





Officers from the Mobile Divisions conducted road checks in various parts of the island. Their efforts, which were intended to educate, reduce crime, and to minimize the ability of criminals to commit criminal activity, resulted in the arrest of ten (10) persons for outstanding criminal warrants, wounding, and possession of unlicensed firearm over the past 48 hours.





Additionally, 60 drivers were ticketed for various traffic violations





CRIME PREVENTION TIP - CONFLICT RESOLUTION



Look for ways to settle arguments and disagreements without violence. Remember: if you resort to violence to settle disputes, a child may well follow your example. Be a good role model.
Use good manners to help ease tensions that can lead to violence. Teach kids that showing respect for themselves and for the needs of others can prevent crime.